From the open-air rooftop of the H Hotel, you can watch planes on runways at Los Angeles International Airport. Inside, you'll find plenty of airplanes too.
Original artworks in the 168-room hotel that's part of Hilton's Curio Collection bring the aviation vibe indoors to common spaces and rooms.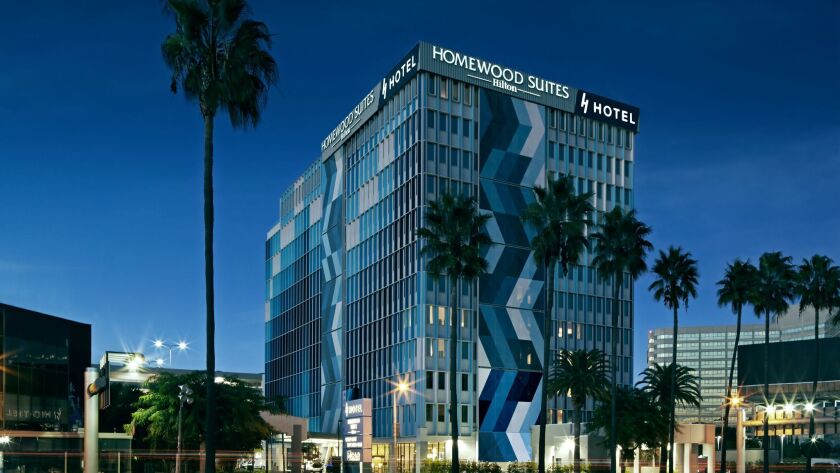 The hotel located at 6151 W. Century Blvd., in Los Angeles, opened in October. Nine Dot Arts curated the exhibition, which is not just reserved for guests. Anyone can swing by and take a self-guided tour. Here are some works to see.
Lobby area
When you enter the H Hotel, these airplanes, described as "rose gold paper airplanes," point visitors from the lobby to the restaurant. They're made of aluminum by San Antonio artist Patti Ortiz.
Lobby
"Cloud Nine" by artist Bill Brown evokes what you might see while in flight or on the ground and looking up. This isn't the only dreamy cloudscape either; there's one on a screen behind the check-in desk.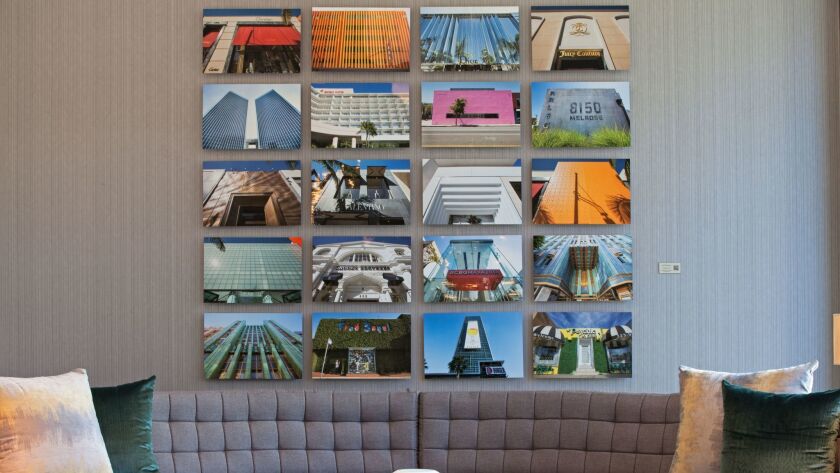 North lobby
"Facades of LA" evokes some of the city's most recognizable buildings, such as the Century Plaza Towers and Fred Segal. The pictures are the work of photographer Paul Brokering.
The coffee bar
L.A. artist Jim Darling designed "Plane Windows" (top photo) that feature abstract views of what fliers might see from their seats. The seven oil paintings on wood have been spaced out to approximate the windows on a real plane.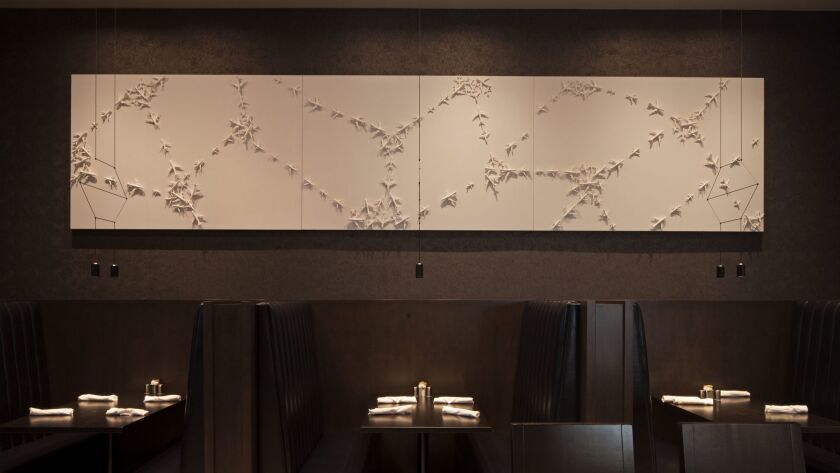 Waypoint Kitchen
Artist Dylan Beck created 150 ceramic planes and placed them on a wood panel to create flight patters of their own. It's located in the restaurant and titled, simply, "Planes."
Library
Ever wonder what LAX looks like from on high? Jeffrey Milstein took this aerial photo titled "LAX 4." It's a photographic print on aluminum.
Inside
Susan Logorecci created this snapshot of L.A. called "LLYWOOD." The work was made with colored pencils on paper.
Info: H Hotel, (800) 445-8667
ALSO
It was supposed to be a six-week gig. In 2018, Donny and Marie will notch 10 years in Vegas
It's back! Carnival revives traditional Baked Alaska parade on all 25 cruise ships
With renovations and new restaurants, LAX hotels are taking off
---