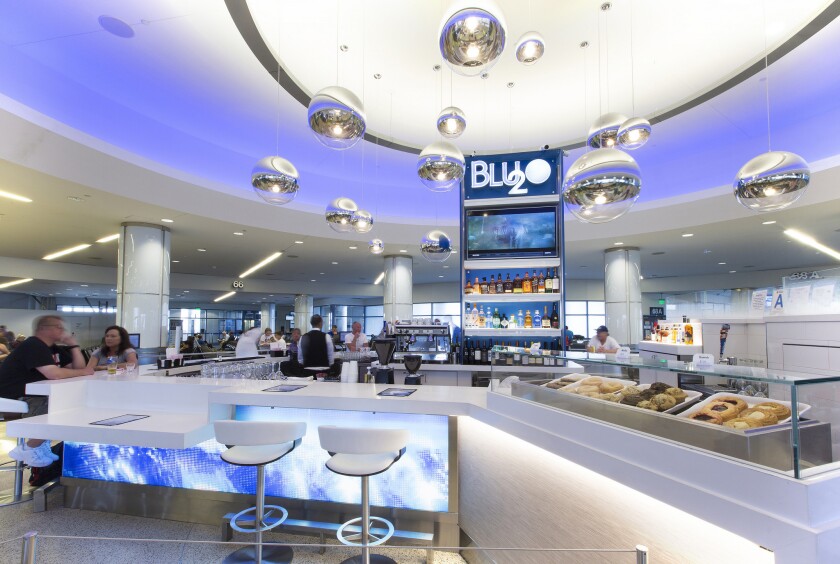 Los Angeles International Airport officials and their design partners have put the L.A. back into LAX with the unveiling Oct. 19 of the massive renovation of Terminal 6.
Westfield, the same company that has been remaking upscale shopping malls around the world, engineered the look with 21 new dining and shopping outlets and unified them in an L.A.-centric theme: Sunset Boulevard.
Though the new restaurants and shops weren't specifically culled from those along the famous boulevard, 14 of them are local brands, including Earthbar, the Golden Road Brewery's Point the Way Café, the Habit Hamburger Grill, Osteria by Fabio Viviani and the Wolfgang Puck Marketplace, which includes a pizzeria, wine bar and the Kitchen, a fast-casual restaurant.
To mimic a trip from downtown L.A. to the beach, the terminal's design details shift from industrial grays to blue-sky brights. After passengers clear the T6 TSA airport security checkpoint, they'll see concrete walls, a column covered in a mosaic of graffiti-painted tiles and industrial metal finishes. This DTLA has a Starbucks, a See's Candies and a newsstand branded under the banner of San Francisco-based Sunset magazine.
Guided by a winding ribbon of LED lights overhead and terrazzo floor beneath, travelers enter "West Hollywood," where they can buy lip gloss at a mini MAC Cosmetics store, monogrammed luggage at Tumi, vitamin elixirs at Earthbar, or tank tops at M.Frederic.
American's gates 66 to 69 are the "beach." How do you know? There's a round, blue-hued bar, Blu2o, and blue-sky halo in the ceiling.
Before the $70.5-million renovation, the terminal consisted of three sections: The original 1961 satellite that is now West Hollywood; the connector built for the 1984 Olympics (DTLA); and the 1990s south-end connector (the beach). The terminal fields flights from five carriers: American Airlines, Alaska Airlines, Delta Air Lines, Mokulele Airlines and Great Lakes Airlines.
As part of the ongoing, $8.5-billion modernization program, Terminal 6 joins the new Tom Bradley International Terminal and a remodeled Terminal 2, which opened in February.
The new design is meant to look and feel like an upscale shopping mall, said Keith Kaplan, vice president of development at Westfield. "The airport is the first thing, and the last thing, travelers see about L.A. Now, hopefully, when they see it, they'll say, 'This airport rocks.' "
Here's some of what you can find at the new terminal:
— Free water. A new hydration station includes tall spigots to easily refill water bottles. If you want to spend $5 on bottled water, you still can in plenty of places.
— Plentiful USB and electrical plugs at workstations.
— Optimal people watching. Strategically arranged seating in the dining areas improves sight lines to multiple gates, and the parade of humanity going in and out of them.
— A pet patio. Though outdoor spaces for pets is now an LAX requirement, this patio features drinking fountains, waste bags, artificial turf and, of course, a fire hydrant. And a hose.
— A nursing station. It's a private bathroom with a changing table, chair and three electrical outlets.
— Real plants in the Garden Terrace (between the "beach" and "West Hollywood") and natural daylight throughout the terminal.
— A $20 Wolfgang Puck logo tote back at the Wolfgang Puck Marketplace.
— An $11.70 Flax Master premium smoothie at Earthbar.
— $60 noise-cancelling headphones at Belkin.
What you won't find:
— Related improvements adjacent to T6, such as seating at the gates and parking structures. Los Angeles World Airports, which oversees four Southern California sites, gave Westfield and its partners the OK to rebuild concessions, not everything else.
— An entrance to the P6 parking structure from the upper level. If you want to enter P6 directly, follow the signs for arrivals on the lower level road.
— A dressing room at M.Frederic.
— Clocks. You have to look at the digital readouts on the many screens listing departures and arrivals.
ALSO
Here's why you may not get free drinks in Las Vegas anymore
First a cocktail ice bar wowed Las Vegas. Now there's a Caviar Room.
Pets on parade during run-up to Halloween at LAX
Top 17 for 2017: Best new attractions coming to U.S. theme parks
---