She set off to visit all 59 national parks, from Maine to Pago Pago
It takes at least 11 hours of flying for an American tourist to reach the National Park of American Samoa, which is enough to scare away most travelers.
But not Andrea Kalash, a 36-year-old nurse who showed up last year in Pago Pago, eager to hike and determined to complete a much larger mission: to visit every national park.
"I won't spend $100 on a pair of jeans. But I'll spend money on travel," she said. "It's well worth it."
In this 'weird, lost corner of America,' the beach of your dreams awaits in our most remote national park »
You might not spot them easily among the more than 300 million visitors who found their way onto National Park Service territory last year, but there's an unrelenting subculture of national park completists like Kalash out there.
Many are history buffs. Most are careful record-keepers who strive to keep their park passport books updated with all the newest locations. About 2,000 of them belong to the National Park Travelers Club, born in 2004.
In a typical year, by the estimate of Scott Burch, superintendent at National Park of American Samoa, about 40 visitors come to Pago Pago as part of a quest to visit all parks.
In fact, the National Park Travelers Club has now honored 43 people for visiting every unit in the system — not just parks but national monuments, seashores, recreation areas, historic districts and more. At the moment, there are 413 units.
Kalash isn't that ambitious. Her quest, begun in 2014, was merely to visit all 59 of the system's full-fledged national parks.
Mountains and flowers and glaciers make me super happy. I just want them to be part of my life. And I really love slot canyons.
Andrea Kalash
She got started when a list of the parks fell into her hands, and she realized she had already seen more than half of them without trying.
She decided to start trying — to see them all by the end of this, the NPS centennial year.
This isn't necessarily a project that family and friends expected from Kalash, who grew up in Duluth, Minn.
But that changed in 2008, when she started taking traveling nurse assignments.
Her first stop was Santa Rosa, Calif. Taking assignments that typically last 13 weeks, Kalash started spending her off-hours seeking hiking trails and open spaces.
"I was going to do it for two years," she said.
But it was more absorbing than she expected.
"Mountains and flowers and glaciers make me super happy," she said. "I just want them to be part of my life. And I really love slot canyons."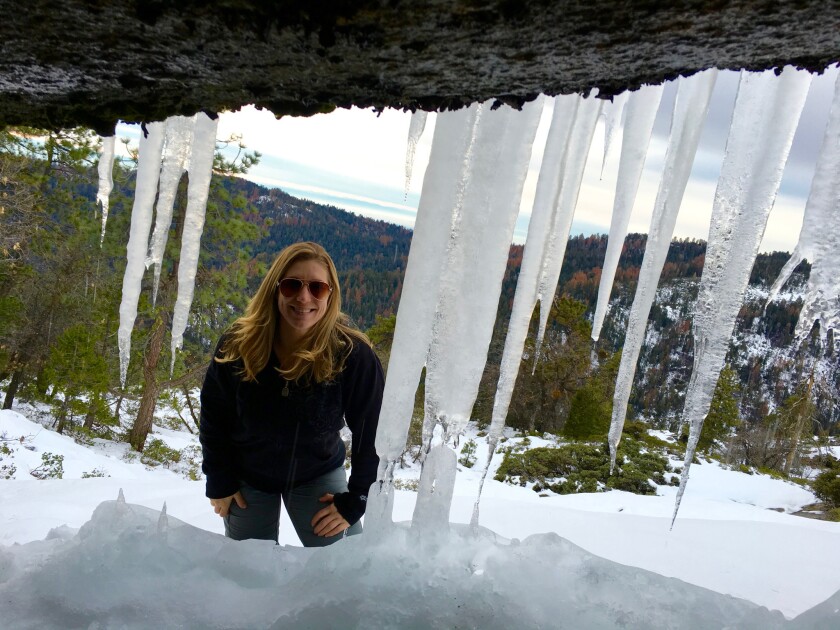 At every new park, she found herself eager to drive all the roads and hit every high point. In American Samoa she climbed Mt. Alava, which meant scrambling up rope ladders under a drizzle.
"I don't know what it is with me," she said. "I always want to accomplish something or have a goal. I love that feeling."
She has been to Yosemite about 15 times. Her favorite state is Utah (which has five national parks and too many slot canyons to count).
The happiest surprise of the project was her four days in Acadia National Park in Maine, because the trails offered so much more than just pretty seashore and because Bar Harbor was such a fetching town.
In some parks she spent a single day. In others, five to seven days. Though she has taken some solo trips, she has shared most with friends or family.
Full series: Celebrating our national parks »
By the end of 2015, she had accepted nursing assignments in California, Hawaii, Utah, Alaska, Arizona, Washington, Oregon, Wyoming, North Carolina, South Carolina and Vermont. She had reached more than 50 parks in 25 states and two territories.
By spring of 2016 she had just five parks to go, all in Alaska, none reachable by road.
In June, Kalash and friend Cheryl Tippie lined up jobs in Anchorage, and Kalash started talking to bush pilots.
By Aug. 10, she had hit all but one of the 59 parks.
On Aug. 11, she and Tippie flew from Anchorage to the remote hamlet of Gustavus, caught a shuttle bus, then met up with a ranger who took them out for a boat tour of Glacier Bay National Park. Mission accomplished.
Kalash jumped in the air for a commemorative snapshot.
As fun as the quest has been, completing it was "a huge weight off my shoulders," Kalash said. She estimated that the Alaska part of the project — by far the priciest — cost her close to $7,000. (She has no estimate for the project as a whole.)
She is now daydreaming again about slot canyons and Utah — to be more specific, house-boating on Lake Powell on the Utah-Arizona border. There's a map of more than 120 slot canyons around the lake's edge, Kalash said, "and I would love to see every single one of them."
Follow Reynolds on Twitter: @MrCSReynolds
See travel videos by Reynolds from around the world.
MORE NATIONAL PARKS
National park tips and photo ops
Olympic and Everglades national parks differ in most ways except one: Their survival affects ours
This is American history: Tule Lake, Manzanar, Port Chicago and César E. Chávez National Monument
Unplugging at Point Reyes National Seashore, home to a famous lighthouse, pristine beaches and off-the-grid peace
---
Get inspired to get away.
Explore California, the West and beyond with the weekly Escapes newsletter.
You may occasionally receive promotional content from the Los Angeles Times.