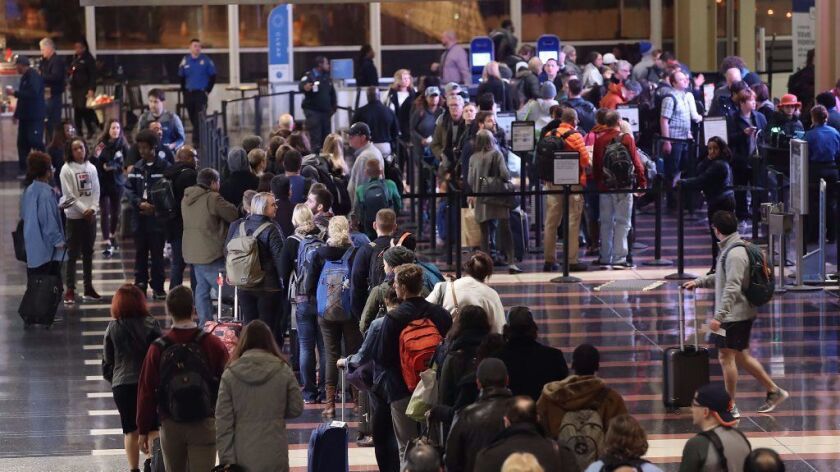 Take along rain gear if you're headed to Florida or the Pacific Northwest; sweaters and a knit cap for the Midwest and the Northeast; and if you're coming to Southern California for Thanksgiving, a swimsuit and sunscreen.
Those are the items you'll need according to Thanksgiving forecasts, as the jet stream, the upper atmospheric refrigerator coil that determines the nation's weather, pretty much behaves itself this coming week.
The worst time to leave Los Angeles for your road trip? That would be 4 p.m. Wednesday.
Other than in the sloshy Sunshine State, and the Northwest, roads should stay mostly dry for the holiday travel period, with few storms or other significant surprises for holiday travel by land or air.
Meanwhile, the worst time to leave Los Angeles for your road trip? That would be 4 p.m. Wednesday, according to a trends study by Google Maps. The best time: 4 a.m. that same day.
Yawn.
Post-holiday, SoCal roads will reach their maximum misery levels at 2 p.m. Saturday as shoppers and travelers hit the highways.
The holiday week weather outlook, by region:
A slight dip in the jet stream will affect travelers to Portland and Seattle, where rain is expected every day. Highs will be in the 50s and 60s till Friday, when temps will drop slightly.
Chicago will see mostly sunny skies and breezy conditions, with temps in the 30s and 40s. By Friday, highs will reach 50 before dropping again over the weekend. Conditions will turn much colder Sunday and into next week. Detroit and Minneapolis are expected to see much the same pattern.
A cold front is expected to push through on Thanksgiving. New York will see temperatures drop from the 50s and 60s on Tuesday and Wednesday to the mid-40s by Thanksgiving. Conditions will stay dry for the Macy's parade, forecasters say. Boston will follow much the same pattern, with Thursday the coldest day. By Friday, temps should be warming into the 50s before dropping again next week.
The big news here is the storm system stretching from Orlando and across Florida. Meanwhile, Nashville and Atlanta are expected to see clear skies and mild temperatures in the 50s and 60s.
San Francisco is expected to see rain this weekend. In L.A. the outlook is dry and warm as an oven, with highs near 90 on Thanksgiving, with even coastal cities such as Newport Beach reaching 80. Temps won't return to the 70s till the weekend.
California road condition hotline: (800) 427-7623.
ALSO
Why you should apply for or renew your passport before January
Why your rental car may cost you a whole lot more than you thought it would
Should you go to Cuba now? Here are some issues affecting your decision
---