Why you should apply for or renew your U.S. passport before January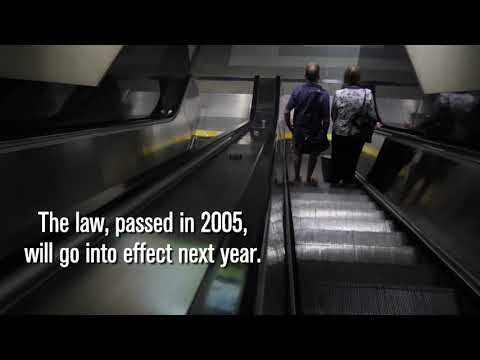 Real ID Act requires state driver's licenses to meet certain security standards or they cannot be used at airport security checkpoints. (Sept. 25, 2017) (Sign up for our free video newsletter here http://bit.ly/2n6VKPR)
Americans should apply for or renew their passports before January because processing times are shortest between September and December.
That's the word from the U.S. State Department, which each year declares September to be Passport Month. Demand for passports typically heats up in the new year and continues into summer.

For the record:
11:40 a.m. Oct. 3, 2017An earlier version of this article incorrectly said adult passport renewals cost $110 plus $25 handling fee. Renewals cost $110.
If you want to get your passport back quickly, now is the time to apply or renew.
By the way, more than 18 million passports were issued in the 2016 fiscal year, setting a record. The agency's website is expecting the number to hit 20 million this year.
But there's another reason to make sure you have a valid, up-to-date passport.
Something called the Real ID Act will go into effect in 2018. The law, passed in 2005, requires state driver's licenses to meet certain security standards to be considered a valid federal ID you can use at airport security checkpoints.
California is one of the states whose driver's license does meet the requirements. If you have a license issued by a state that's not compliant, a valid passport is your best bet for airport identification.
What does it take to get a passport? First-timers must appear in person. The State Department has been hosting what it calls Special Passport Acceptance Fairs around the U.S.
In Los Angeles, you can submit an application in person from 11 a.m. to 2 p.m. Thursday at Los Angeles' Main Post Office, 7101 S. Central Ave., Los Angeles. You must fill out the application (which you can download here) and bring proof of citizenship and specifically sized photos (read all the requirements here).
You can also apply at the Los Angeles Passport Agency (West L.A. Federal Building, 11000 Wilshire Blvd., Suite 1000, Los Angeles), but you must make an appointment in advance.
It costs $110 for adults to apply, plus a $25 handling fee. This doesn't include expedited requests. Renewals cost $110.
You don't have to appear in person to renew a passport. Renewals are best done by mail (you'll find forms here) and before it expires.
It can be important to renew early because many countries require that "U.S. passports to have at least 6 months of validity and some require two blank pages for entry," the agency's website says.
Still have questions? Visit travel.state.gov or call the National Passport Information Center at (877) 487-2778.
ALSO
Good news, travelers: Your new California driver's license may be golden in the coming years for airport security
Will a passport card work as identification to get you on a plane? That's a definite maybe. Here's how to know
Get our L.A. Goes Out newsletter, with the week's best events, to help you explore and experience our city.
You may occasionally receive promotional content from the Los Angeles Times.