Travelers face major detours with 101 Freeway closed until Monday between Carpinteria and Santa Barbara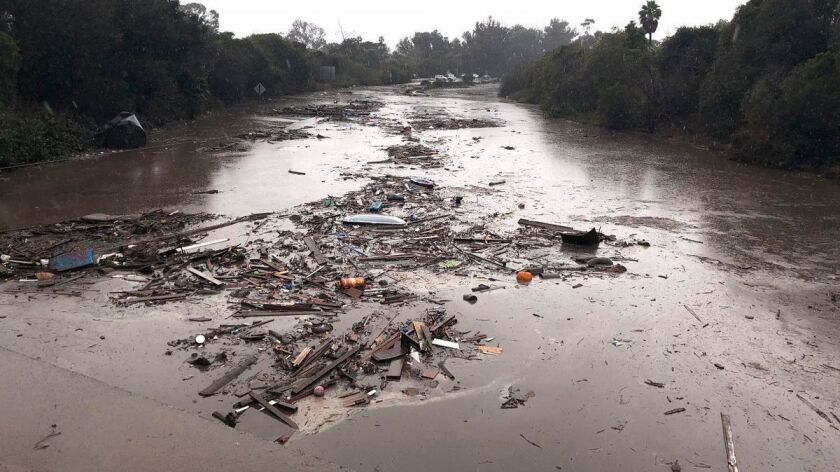 Travelers in the L.A. area seeking to reach Santa Barbara by car or train will face major detours. Rain-spurred mudslides Tuesday have fully closed the 101 Freeway from Carpinteria to Santa Barbara through at least through Monday afternoon, according to Caltrans.
Caltrans tweeted early Wednesday afternoon that U.S. 101 is now open to Highway 150.
"Water, mud and debris continue to move, hampering Caltrans progress in clearing U.S. 101," the statement released Wednesday said. "The creeks and exit paths for water are clogged due to downstream blockages and much of the water is not dissipating and receding as hoped."
Also, service remains suspended on popular Amtrak rail routes between Oxnard and Santa Barbara.
Island Packers is ferrying passengers from Ventura Harbor to Santa Barbara Harbor until the 101 Freeway reopens. It costs $32 for adults each way and takes about an hour and 45 minutes. More details at Island Packers Cruises, (805) 642-1393.
The 101 Freeway is closed in both directions from Highway 126 in Ventura north to the Milpas Street exit in Santa Barbara until further notice, according to Caltrans.
Slides in the Montecito area came from hillsides that had been stripped of vegetation by the Thomas fire.
Parts of California highways 33 and 192 in the Ojai and Santa Barbara areas also are closed.
Travelers hoping to drive north to Santa Barbara have no choice but to drive around the affected road closures. Caltrans recommends taking Interstate 5 over the Grapevine. You can then cut west on alternate routes such as Highway 166 to Santa Maria and travel south to Santa Barbara.
Also Tuesday, all northbound lanes of the 5 Freeway at the 118 Freeway were closed. A jackknifed big-rig had fallen from the interchange onto the 5.
In addition, Amtrak's popular Pacific Surfliner and Coast Starlight rail service, as well as Thruway Bus connections between Santa Barbara and Oxnard, are suspended too.
Union Pacific railroad has suspended all service on tracks in the affected area. However, trains north of Santa Barbara and south of Oxnard are operating normally, according to an Amtrak statement.
The storm turned deadly Tuesday. At least 15 people were killed by mudslides in Santa Barbara County.
---
UPDATES:
1:40 p.m. Jan. 10: This article was updated to say the 101 Freeway was opened to Highway 150 and to reflect the closure is now from Carpinteria to Santa Barbara.
12:15 p.m. Jan. 10: This article was updated to say the 101 Freeway would remain closed until Monday afternoon and to add information about a water taxi between Ventura and Santa Barbara.
This article was originally published at 1:15 p.m. Tuesday.
---
Get inspired to get away.
Explore California, the West and beyond with the weekly Escapes newsletter.
You may occasionally receive promotional content from the Los Angeles Times.