Wow Air to start L.A.-Israel service in September. Tickets on sale now for $199 each way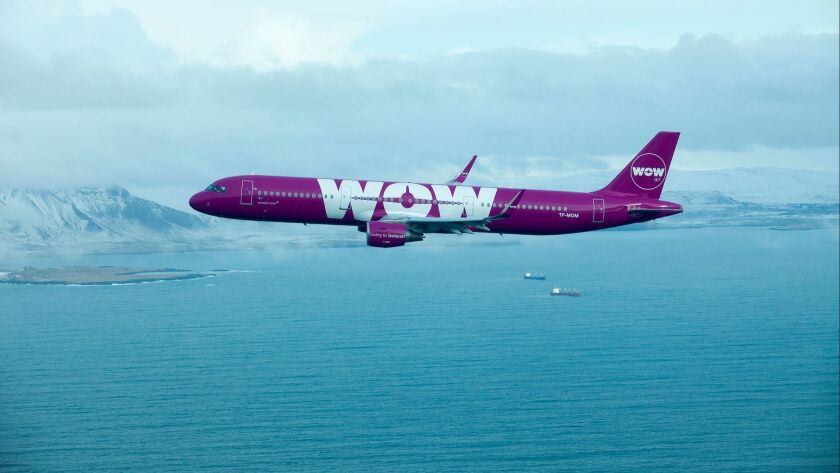 Super budget carrier Wow Air is now selling $199 one-way flights between L.A. and Tel Aviv. The service to Israel starts in September for the Iceland-based airline that charges fees for carry-on bags, seat selection and other flying "frills."
Flights to Tel Aviv's Ben Gurion Airport (TLV) from LAX begin Sept. 12. The airline is offering the new service from New York City, Boston, San Francisco and other cities.
Flights connect through Reykjavik, making this a really long haul.
I checked online Tuesday afternoon and found the $199 airfare from Los Angeles available on Sept. 19. The combined flight time, with a four-hour 40-minute layover at Reykjavik's Keflavik International Airport, is almost 21 hours.
A return trip on Sept. 27 costs $399 and also takes close to 21 hours. Total cost of the ticket without adding fees for luggage or seat selections: $568. Note too that tickets are nonrefundable.
Before you jump on this deal, know what you're getting into. Check out the airline's "optional" fee page. Carry-on bags cost $49 to $99, and checked bags cost $69 to $99 for each leg of your flight (in this case two). Selecting a standard seat assignment when you make your reservation will cost an extra $6 to $8 for each flight.
Wow Air even charges $17 per flight if you correct an incorrectly spelled name.
The airline began low-fare service from L.A. to Iceland and European cities last June.
Info: Wow Air
ALSO
Save $500 on Rocky Mountain National Park trip with REI Adventures
Readers' money-saving ideas keep your costs down and lengthen your vacation
$567 round trip from LAX to Ho Chi Minh City on China Airlines
---