Review: Disney's Cars Land feels like walking into a movie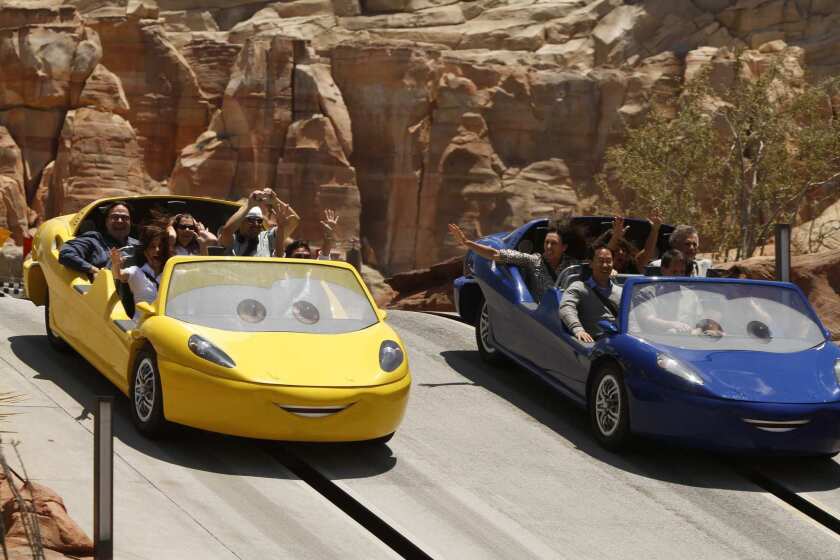 Like opening the door to Oz, walking into Cars Land at Disney California Adventure is like stepping into a real-life version of the fictional town of Radiator Springs from the 2006 animated movie.
PHOTOS: Preview day | Buena Vista Street | Cars Land | Radiator Springs Racers | Mater's Junkyard Jamboree | Luigi's Flying Tires | Cars Land origins
The enveloping and breathtaking new 12-acre land takes you to another world and makes you forget that the Anaheim Convention Center is just behind the towering, man-made mountain range.
While most people will approach the new land from the impressive photo-op entrance along Route 66, I prefer entering from the Pacific Wharf food court area, where you can truly appreciate the immense scope of the immersive 125-foot-tall Cadillac Range. It's almost as if the 280,000-square-foot, crescent-shaped rock-work mountain reaches out and hugs you.
The last time I was this impressed by a theme park land was when I walked into the Wizarding World of Harry Potter at Universal's Islands of Adventure in Orlando.
REVIEWS: Cars Land | Radiator Springs Racers | Mater's Junkyard Jamboree | Luigi's Flying Tires |Buena Vista Street
Visitors who have been anxiously peering over the construction walls won't be disappointed when Cars Land finally opens June 15 as the final piece in a $1.1-billion expansion at the Anaheim theme park. Cars Land is like walking into the movie.
As you enter Radiator Springs along Route 66, you pass Fillmore's hippie geodesic dome and Sarge's military Quonset hut before reaching Sally's deliriously wacky Cozy Cone Motel.
At the center of town sits Flo's V8 Cafe, Ramone's House of Body Art, Luigi's Casa Della Tires and the Radiator Springs Curio Shop on the four corners of the intersection. Off in the distance rise the tailfin-shaped buttes of Cadillac Range.
Convertible sports cars zip by on a nearby track with an audible vroom. The smell of fresh-baked pie emanates from the tables at Flo's diner. Even the manhole covers bear the RS insignia of Radiator Springs. At night the street shimmers with an irresistible neon glow that makes you want to move into the isolated desert town and call it home. A nightly neon lighting moment will be accompanied by the 1950s doo-wop hit "Sh-Boom (Life Could Be a Dream)."
The computer-animated Pixar movie about the journey of an anthropomorphic race car named Lightning McQueen offered few details about what happened inside the shops and down the side streets of Radiator Springs, creating a challenge and an opportunity for the artists at Walt Disney Imagineering to flesh out the back story of the town.
Quite naturally, Flo's became a 300-seat counter-service restaurant serving Route 66-inspired comfort food. Among the menu highlights: pork loin with Coca-Cola BBQ sauce, ugly-crust pies and an apple juice and passion fruit concoction called Red's Apple Freeze (my new favorite drink at the park). With a series of delightful automotive-themed chandeliers that are as creative as they beautiful, Flo's offers panoramic views of the picturesque town out of almost every window.
Across the street, Sally the Porsche has turned her Cozy Cone Motel into a series of walk-up snack stands selling novel twists on traditional theme-park pretzels, popcorn, ice cream and churros — all served in cones. The most inventive of the pun-filled creations: Chili Cone Queso, chili with cheese and Fritos served in an edible cone-shaped bread bowl.
Looking at the Cozy Cone makes me smile. There are cones everywhere, serving as streetlamps, flowerpots and fence posts. There's even a waterwheel out front made of little cones. My favorite touch: the old-school TV antennas atop each of the Caltrans-orange wigwam cones.
Next door at the Radiator Springs Curio Shop, the front of the store bristles with a cacophony of "last chance" signs typical of a Route 66 roadside souvenir stand. The visual chaos of the shop stands in stark contrast to the meticulously manicured environment favored in Disney theme parks. In fact, much of Cars Land looks like just the type of rundown and ramshackle tourist trap Walt Disney abhorred.
The new land features three rides, two that are wonderful and one that's less so. The surprisingly spry Mater's Junkyard Jamboree is a classic whip ride on a spinning teacup platform that packs a wallop. The disappointing Luigi's Flying Tires is a docile re-creation of the 1960s Flying Saucers ride in Tomorrowland. And Radiator Springs Racers combines a dark ride with a drag-race finale in one of the best attractions you'll find at any Disney park.
Disney officials are already preparing for waves of visitors to turn Cars Land into an ocean of humanity during the first few months following the grand opening. Imagine cramming every park visitor into a single land (with plenty of curious annual passholders thrown in) and you get an idea of what Cars Land will look like — at least for awhile. Expect multi-hour lines for every ride to snake throughout the land and spill into the park.
If you absolutely must see Cars Land in June, I recommend a midweek visit as early in the day as possible. Otherwise, it might be worth waiting until the initial traffic jam dies down a bit. Lightning McQueen and his friends will still be there.
---
Get inspired to get away.
Explore California, the West and beyond with the weekly Escapes newsletter.
You may occasionally receive promotional content from the Los Angeles Times.