Elvis impersonators are in the building for Presley's birthday concerts in Las Vegas
Elvis Presley may have left the building nearly four decades ago, but his voice continues to reverberate in Las Vegas as lookalike singers pay homage to the King.
Some Elvis tribute artists are year-round fixtures on the Strip, while others flock to Sin City each January to mark Presley's birthday. Presley would have turned 81 years old on Jan. 8.
Presley first performed in Vegas in 1956 at the now long-gone New Frontier. He went on to perform at various properties and for several years played to sold-out crowds at the International (later the Las Vegas Hilton) until his death in 1977.
Elvis Presley was just 21 years old and had recently released "Heartbreak Hotel" when he first played Las Vegas, at the now long-gone New Frontier, in April 1956.
(Las Vegas News Bureau )
With pouty lips and a pompadour, Justin Shandor resembles and sounds like a young Elvis Presley. He and his band will perform in Las Vegas on Jan. 23.
(M Resort)
Elvis Presley in 1969 at the International Hotel, which became a Hilton.
(Las Vegas News Bureau )
Elvis Presley, seen here on opening night, began a years-long tradition of sold-out concerts when he debuted at the International (later renamed the Las Vegas Hilton) on July 31, 1969.
(Las Vegas News Bureau)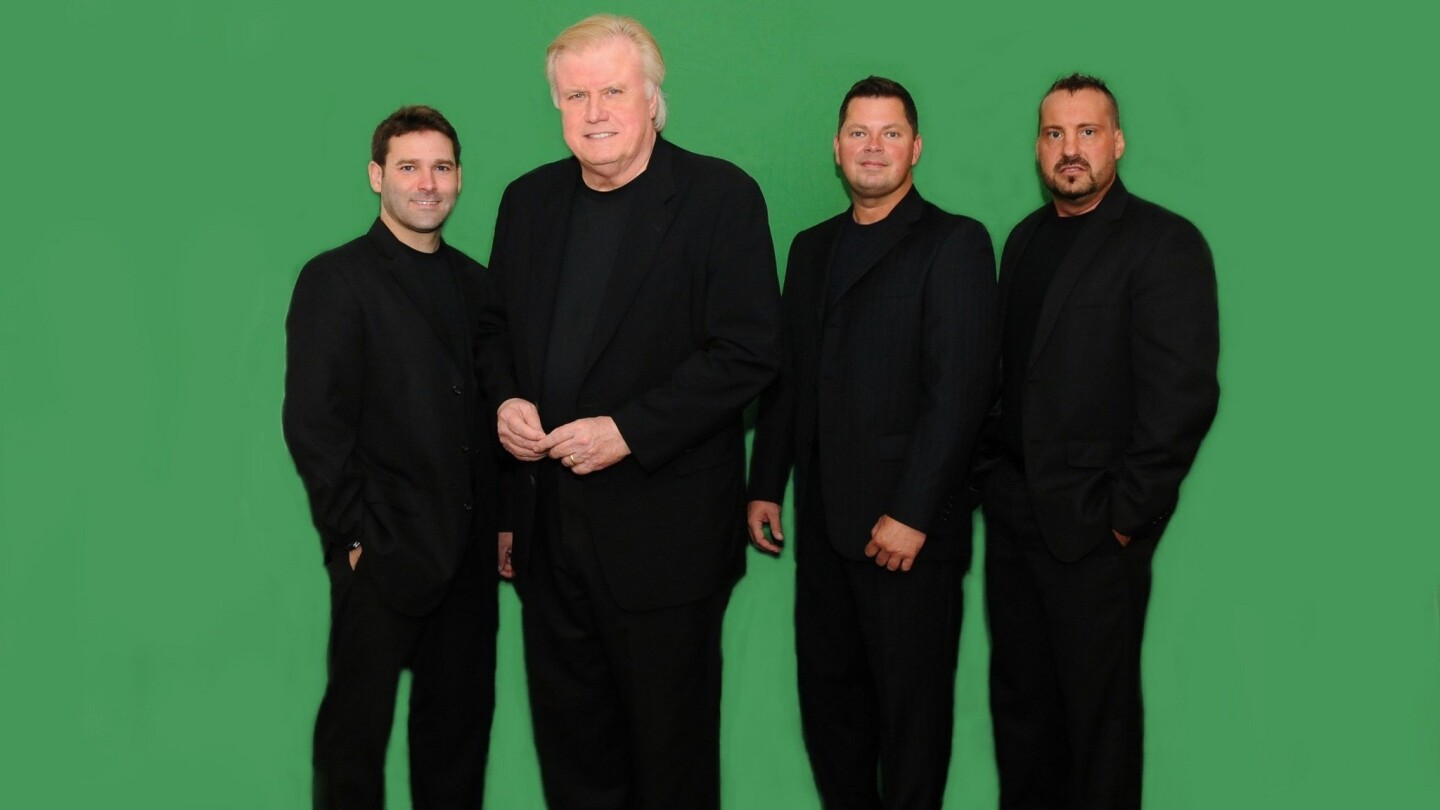 The Stamps Quartet will join in a celebration of the King's life on Jan. 8 and 9. Lead singer Ed Enoch sang backup for Elvis Presley for several years.
(Cannery Casino Resort)
Regaling audiences with not only his voice but his flashy jumpsuits, Elvis Presley entertains the packed theater at the Las Vegas Hilton on Aug. 17, 1971.
(Las Vegas News Bureau)
Sporting a jumpsuit much like those worn by Elvis in the 1970s, Bill Cherry will entertain audiences at the Orleans on Jan. 9 and 10. He has been performing as Presley since 1987.
(Legends in Concert)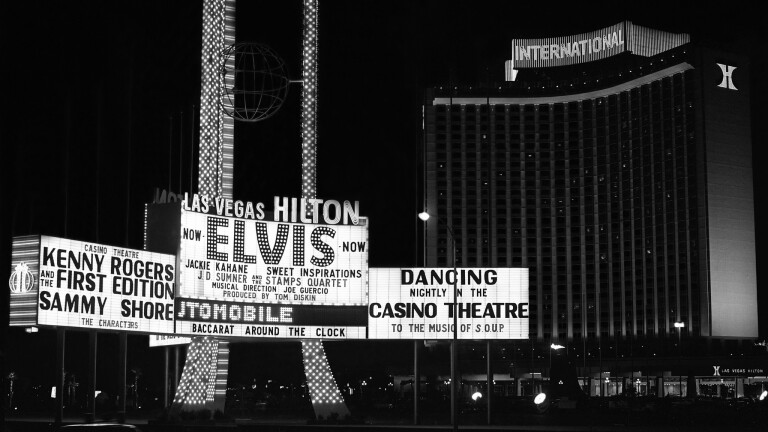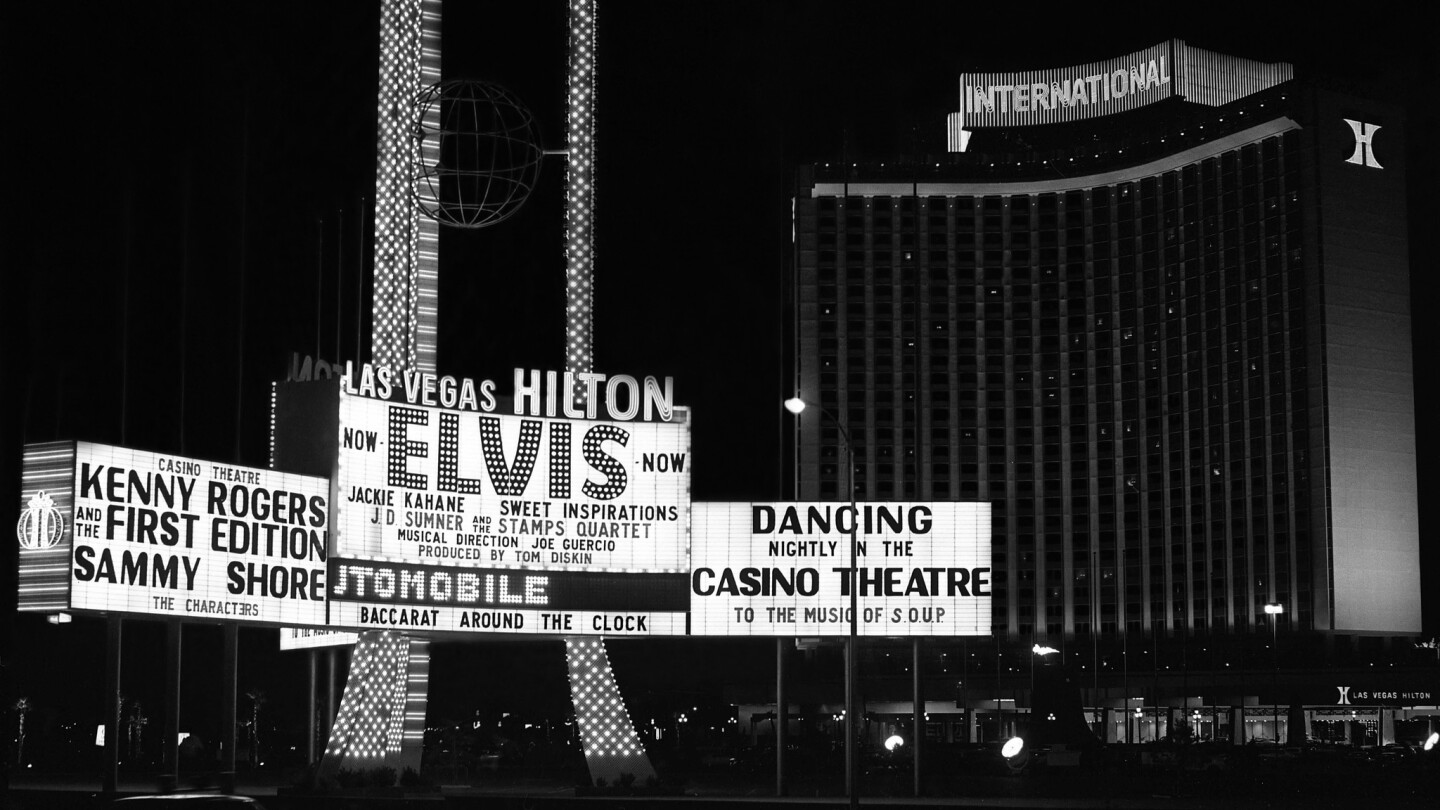 The Las Vegas Hilton advertises Elvis, with backup singers the Stamps Quartet, on the marquee on Jan. 26, 1972. Presley played to sold-out crowds at the hotel for several years prior to his death in 1977.
(Las Vegas News Bureau)
With a voice reminiscent of the King's, Pete Vallee performs in the Piano Room at Harrah's Las Vegas, using the name "Big Elvis." Vallee tips the scales at around 500 pounds.
(Star Entertainment Worldwide)
On Jan. 8, one of Vegas' longest-running, and most unique, Elvis impersonators, Pete Vallee, will celebrate with birthday cake in the Piano Bar at Harrah's Las Vegas.
Better known as "Big Elvis" – he weighs roughly 500 pounds – Vallee has a voice to match his outsized girth. During free afternoon shows at 2, 3:30 and 5, Big Elvis will be joined by other ETAs. That's performer slang for Elvis Tribute Artists.
The evenings of Jan. 8 and 9, singers and longtime friends of Presley will gather at the Cannery in North Las Vegas for "A Celebration of the King's Life."
Tribute artist Johnny Fortuno will be joined by the Stamps Quartet, which sang backup for Elvis for several years. Presley once described the group's leader, Ed Enoch, as "the best and most powerful lead vocalist in the world."
Tickets for the 8 p.m. shows are $15 and will be sold at the door.
"One Night With the King" will bring three tribute artists together at the Orleans on Jan. 9 and 10. The impersonators include recording artist Brandon Bennett; Bill Cherry, who has been performing as Elvis since 1987; and Kavan, whom the BBC named "the World's No. 1 Rock 'n' Roll Elvis" in 2007.
Tickets, which start at $19.95, are available online or by calling (702) 284-7777.
Later in the month, Justin Shandor, a young man who is considered one of the finest Elvis tribute artists, will bring his soulful voice to Henderson's M Resort, Spa-Casino.
In 2010, Shandor won the Ultimate Elvis Tribune Artist Contest at Graceland in Memphis, Tenn.
Accompanied by a 13-piece band, the Las Vegas resident will perform songs from movies in which Presley starred.
Tickets begin at $30 and are available online or by calling (800) 745-3000.
ALSO
Britney Spears' safety advice for New Year's: 'Arrive together, stick together and leave together'
Las Vegas: Nick Jonas! Fireworks! Eight places to party on New Year's Eve for $50 or less
Curling pros will square off at Continental Cup in Las Vegas (that's right, not in Canada)


---
Get inspired to get away.
Explore California, the West and beyond with the weekly Escapes newsletter.
You may occasionally receive promotional content from the Los Angeles Times.