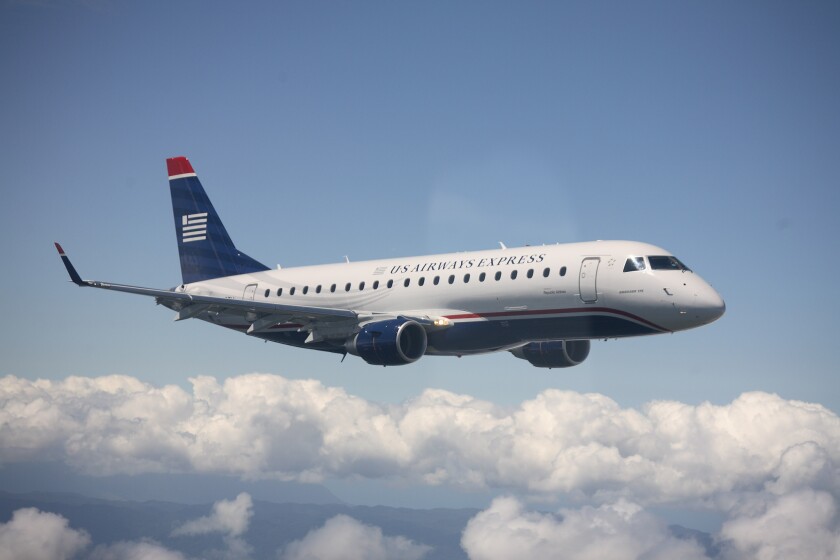 US Airways Express passengers flying out of Los Angeles International Airport need to check in at Terminal 4 starting Friday, an airport announcement says.
Flights used to operate out of Terminal 3 where US Airways' other operations remain.
The airline advises passengers to check their tickets or check with US Airways Express to make sure they know which terminal to go to.
There also will be signs in the airport to reroute Express travelers flying to Denver, Oklahoma City, San Jose, Houston, Phoenix and Tucson.
The terminal move puts US Airways Express alongside American Airlines and American Eagle service in Terminal 4. US Airways Express is operated by Mesa Airlines, which has hubs in Phoenix and Charlotte, N.C.
American and US Airways merged at the end of December and continue to work on blending operations. FAQs on the US Airways website say the parent company intends to continue regional flights at both airlines.
"We expect that the regional carriers we own – American Eagle and US Airways Express – will continue to operate as distinct entities, providing seamless connection service to the new American Airlines," the website says.
"Although they'll operate separately for now, all regional carriers for the new American are expected to eventually fly under the American Eagle name and livery."
USA Today reports that the two airlines will merge their frequent-flier programs next year. As of June 11, elite-level frequent fliers could receive same-day upgrade benefits on either airline.
---