National park tips: How to cross the Continental Divide in high style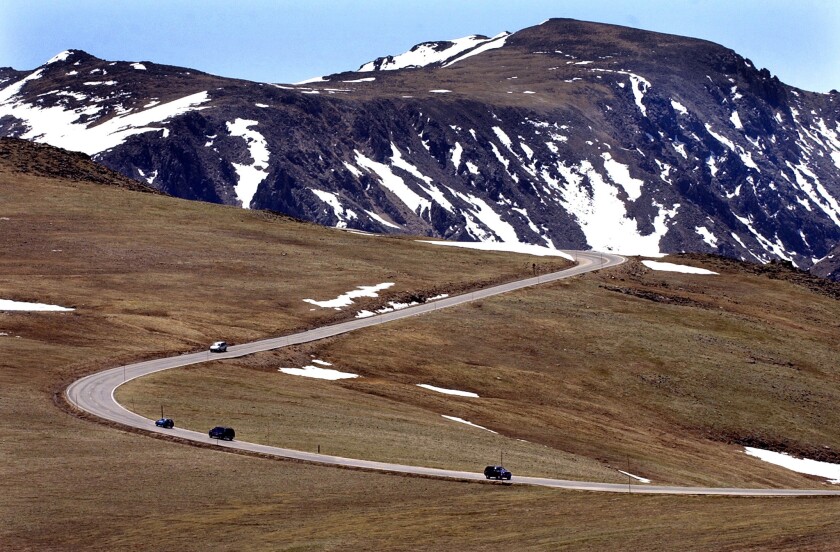 One simple tip will take you a long way in Rocky Mountain National Park: After the gateway town of Estes Park, Colo., about two hours outside of Denver, get on Trail Ridge Road.
Then stay on it, all 48 miles, and enjoy.
Completed in the 1930s, Trail Ridge Road is one of North America's most gorgeous drives, as will become clear as you gaze upon 12,000-foot peaks and cross the continental divide and probably glimpse an elk or a a bighorn sheep. It tops off at 12,183 feet, well above the tree line, which gives you big views in every direction.
8 of the most memorable drives in the West »
In honor of this year's National Park Service centennial, the Travel section is posting 100 park travel ideas and tips based on trips staff travel writer Christopher Reynolds has taken, along with photo-op advice from Times photographer Mark Boster. We'll post one per day through Dec. 31.
Follow Reynolds on Twitter: @MrCSReynolds
See travel videos by Reynolds from around the world.
ALSO
This patch of redwood country is prime driving
Is there a greater road in Montana than this? Doubt it
This rugged Death Valley road is a white-knuckle challenge for four-wheelers
Now two of Channel Island National Park's five islands are temporarily closed to visitors
---