Bucket list for loos? Guide to the world's most amazing toilets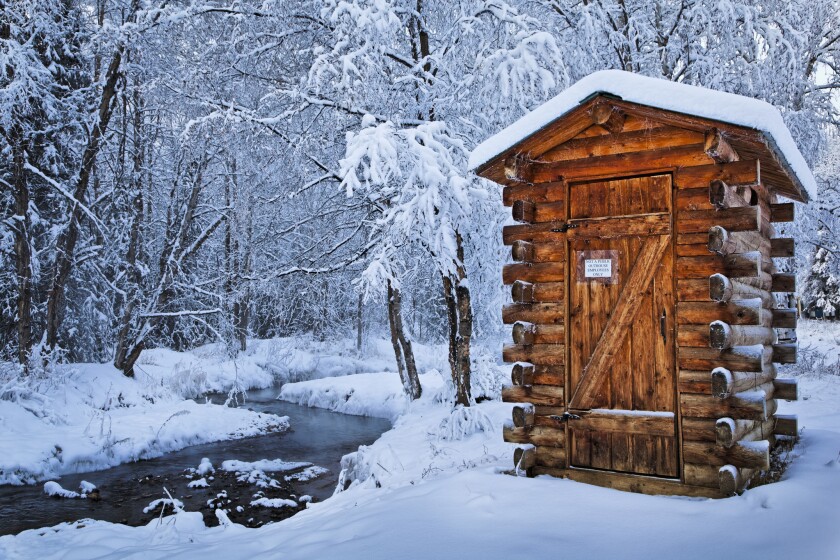 A log outhouse at Chena Hot Springs Resort, about 60 miles northeast of Fairbanks, Alaska. It's one of the toilets featured in Lonely Planet's "Toilets: A Spotter's Guide."
(Sunny Awazuhara- Reed / Design Pics / Getty Images/500px)
A portable toilet surrounded by wild dogs stands in the Utah side of Monument Valley in America's Southwest.
(Jure Kravanja / 500px)
Little "toilet island" in the middle of Caribbean sea off the coast of Placencia, Belize, one of the more solitary loos in "Toilets: A Spotter's Guide."
(Tomas Mähring/500px )
Toilets next to the road in Chott el Djerid, a large former salt lake in southern Tunisia. The ancient lake bed was the setting for Luke Skywalker's boyhood home in the 1977 "Star Wars" movie, according to the guide.
(Lucio Valmaggia /500px)
A washroom which taps its water from the nearby waterfall in Baiyang Trail in Taroko National Park, Taiwan.
(Jan Philipp Kohrs / 500px)
Lavatory with a special view in Jonsknuten, Kongsberg, Norway.
(Olaf Menz / 500px)
Who could resist seeking out a fountain made of 10,000 toilets, sinks and urinals at Shiwan Park in Foshan, China.
(Al Sol / 500px)
A toilet at the base of the Himalayan mountain Ama Dablam in Nepal is one of the loos featured in "Toilets: A Spotter's Guide." It's the perfect spot to admire the stunning 22,350-foot peak.
(David Ruiz Luna / 500px)
Toilets along the Tonto Trail in Grand Canyon National Park, Arizona.
(James Capo / 500px)
A loo with a view: This toilet in Thiksey Monastery in Ladakh, India, is located at Thiksey, a Tibetan Buddhist monastery.
(Bernhard S. / 500px)
Toilet within Fjallabak Nature Reserve, Iceland. It's on the northern end of the popular Laugarvegur hiking trail.
(Gísli Hjálmar Svendsen / 500px)
A loo in the rugged outdoors near Steamboat Springs, Colo.
(Guy Sagi / 500px)
The ultra-modern men's restroom at the Sony Center in Berlin.
(Werner Monatsspruch / 500px)
An outhouse with a view, which flushes itself twice a day. It's on the shoreline of Haida Gwaii (formerly known as the Queen Charlotte Islands) in British Columbia, Canada.
(Chris Kolaczan / 500px)
Two toilets made of palm tree leaves (his and hers) on Jericoacoara Beach on the west coast of Jijoca de Jericoacoara, Ceará, Brazil.
(Thomas Heinze / 500px)
A side profile view of a toilet designed for use in outer space.
(Copyright Adam Jamieson/Getty Images/500px)
Toilets are necessities, but they can also be things of beauty. Lonely Planet collects more than 100 around the world inside its new "Toilets: A Spotter's Guide," which features photographs and stories about the places we all use at one time or another.
"Whatever you prefer to call them -- lavatory, loo, bog, khasi, thunderbox, dunny, washroom or water closet -- toilets are a (sometimes opaque, often wide-open) window into the secret soul of a destination," the introduction reads.
With that in mind, the guide goes on to display photos of toilets that, um, will make you want to go -- visit, that is.
The visual journey will take you to remote, snowy high points as well as urban sites. (Take a look at 16 of them in the photo gallery above.)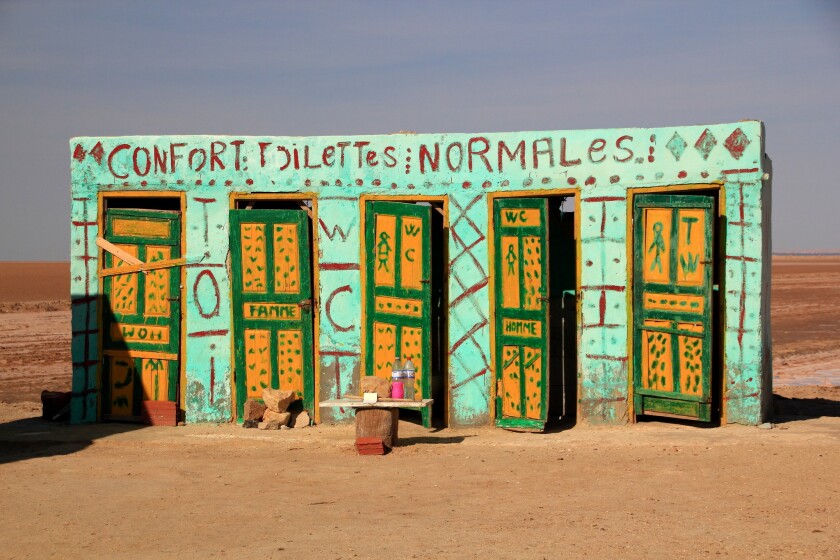 There's a toilet on its own island off the coast of Belize; a loo inside London's Shard skyscraper that offers breathtaking views of the city; two designed as grass shacks on a Brazilian beach; and lobster loos (designed like two claws) in Wellington, New Zealand.
Fifteen toilets in the U.S. are featured in the book. Among them are a vintage watch tower on Alcatraz Island, and a lone restroom in the California ghost town of Bodie.
The paperback is available now for $11.99.
Info: "Toilets: A Spotter's Guide"
ALSO
Paddle, hike and cycle on this tour of Peru's Sacred Valley
French cruise line announces sailings from U.S. to Cuba in 2017
For fall and winter travel, a $703 round trip on Virgin Atlantic from LAX to London
---
Get inspired to get away.
Explore California, the West and beyond with the weekly Escapes newsletter.
You may occasionally receive promotional content from the Los Angeles Times.