The 15 things to do in L.A. before the end of summer
According to the calendar, summer starts June 21 and ends Sept. 23. But for most people, the season actually begins on Memorial Day weekend and ends with the arrival of Labor Day, a 101-day period that holds the promise of adventure, discovery and the renewal of decades-old rituals. More important, it offers 15 full weekends between now and Sept. 1 to get out of the house and enjoy the bounty of outdoor life offered by the beaches, waterways, hills, gardens and vibrant neighborhoods of Southern California. Here, you'll find 15 ways to make the most of summer 2019.
May 25-26: Gidget had one. So did Frankie and Annette. Is there anything more quintessentially California than a bonfire on the beach?
"It's definitely a cool thing to do," said Jon Kincaid as he sat by his primed bonfire at Dockweiler Beach recently, with three grocery-store cords of wood standing at the ready. His date, Ashley Gomez, looked more cold than chill in the late-afternoon breeze.
The two just started dating a week ago, Gomez said, and she'd never had a bonfire at the beach, so Kincaid drove them from their homes in Glendale for an evening of cooking food on a stick over an open fire, with the cry of seagulls and ocean smells mingling with the thick aroma of lighter fluid. "It's been fun," she said somewhat grudgingly. "It's a more relaxing date than normal."
Nowadays it's not so easy to arrange a bonfire date. Complaints from residents and environmental concerns have closed most of the opportunities in Los Angeles County. Cabrillo Beach in San Pedro has a few pits, but the biggest crowds come to Dockweiler, at the western end of Imperial Highway in Playa del Rey. People come from all over the county to stake out one of the 60-odd, no-reservation pits before they're gone, said Nicole Mooradian, public information officer for the Los Angeles County Department of Beaches and Harbors.
"The pits are first come, first served," she said. "I've heard of people hiring people through the TaskRabbit app to just go sit there in the morning to reserve their spot."
Your best chance for a fire pit is to arrive before noon. Bring plenty of wood — Kincaid said his grocery store bundles last about 45 minutes — and a way to ignite your fire, such as lighter fluid, kindling or even paper plates. "You'd be amazed at the people I've seen here, trying to light their wood with a match," he said. "I'm like, 'Dude, that's not going to work.'"
Don't despair if you can't arrive early. Bring wood anyway, Kincaid said, and then ask someone if they're willing to share their bonfire. People underestimate how quickly their wood will burn, and they find themselves with a dwindling fire early in the evening, he said. "They're going to have to leave anyway, so if you have wood, you have something valuable to offer."
Dockweiler State Beach, 12000 Vista del Mar, Playa del Rey, CA 90293, includes 118 RV hookups; fire pits outside the RV park are open to the public. beaches.lacounty.gov/dockweiler-beach/ In Orange County, check out fire pits at Huntington Beach and San Clemente.
— Jeanette Marantos
June 1-2: Most visitors to the island of Santa Catalina, about 30 miles off the coast from Long Beach, stick to the quaint bayside town of Avalon. This is partly out of necessity: The number of vehicles allowed on Catalina is tightly regulated. (There is a 25-year waiting list to own a car on the island.)
But Catalina's rugged backcountry is stunningly beautiful, with pristine coves, pine forests, rare wildflowers, bald eagles, a unique species of fox and even herds of wild bison, the descendants of a dozen or so left behind by a Hollywood crew in the 1920s.
Thanks to hundreds of miles of trails and unpaved roads, the interior is accessible by foot or bicycle. But day-trippers who want to cover a lot of ground quickly should splurge on a jeep tour with the Catalina Island Conservancy, the largest private land trust in California. The open-air expedition circumnavigates the island's undeveloped coastline — a mini safari in the middle of the Pacific.
The Catalina Express (catalinaexpress.com) makes frequent ferry trips to Avalon from Long Beach, San Pedro and Dana Point; round-trip adult fares start at $74.50. The Catalina Island Conservancy (www.catalinaconservancy.org) offers several Jeep Eco Tours a day, with tickets starting at $80.
— Abby Aguirre
June 8-9: That L.A. has a navigable river surprises many folks. All they see are the concrete culverts. The water often looks more like the runoff of a Jiffy Lube than that of a great American river. And in no way does it qualify as a great river. Yet the L.A. River is undergoing a renaissance, making these kayak trips in the shadow of Dodger Stadium a sought-after summer experience.
There are two kayak stretches. One is a slow, dark-eyed bayou in the San Fernando Valley near the Sepulveda Basin. Beautiful, but lazy … a Disney theme ride for kids.
Better yet — more splashy, and with some zigs and zags — is this Glendale Narrows stretch. Sporty but not treacherous, the rapids meander between islands. "It's not for everyone," says L.A. River Expeditions founder George Wolfe, "but people who've got some kayaking experience, are reasonably active and have a good attitude will be rewarded with a … bucket-list experience."
L.A. River Expeditions; Season generally runs Memorial Day to Labor Day, www.lariverexpeditions.org/
— Chris Erskine
June 15-16: Beneath the Hollywood sign, at the end of North Beachwood Drive, awaits Sunset Ranch, a throwback stable where you've probably been vowing to take a ride for years.
This is the day. Sign on for a one-hour tour ($50 each), a two-hour tour ($75) or splurge on a two-hour Saturday afternoon tour followed by a catered barbecue dinner at the ranch ($125). If you're splurging, you start at 4 p.m., which gives you a saddleback view of the city from near the top of Mount Hollywood during golden hour, just before sunset .
The ranch, whose stables house about 50 horses, goes back to 1929 — when the sign above still said HOLLYWOODLAND and had flashing lights. For many years, the ranch's offerings also included a two-hour ride into the San Fernando Valley, dinner and margaritas in a Mexican restaurant, followed by a ride back. But after years of struggling to coax customers back onto their horses after the dinner, the ranch folk came up with the current barbecues instead. They're often accompanied by live music.
Sunset Ranch, 3400 N. Beachwood Dr., L.A., (323) 469-5450; https://www.sunsetranchhollywood.com/
— Christopher Reynolds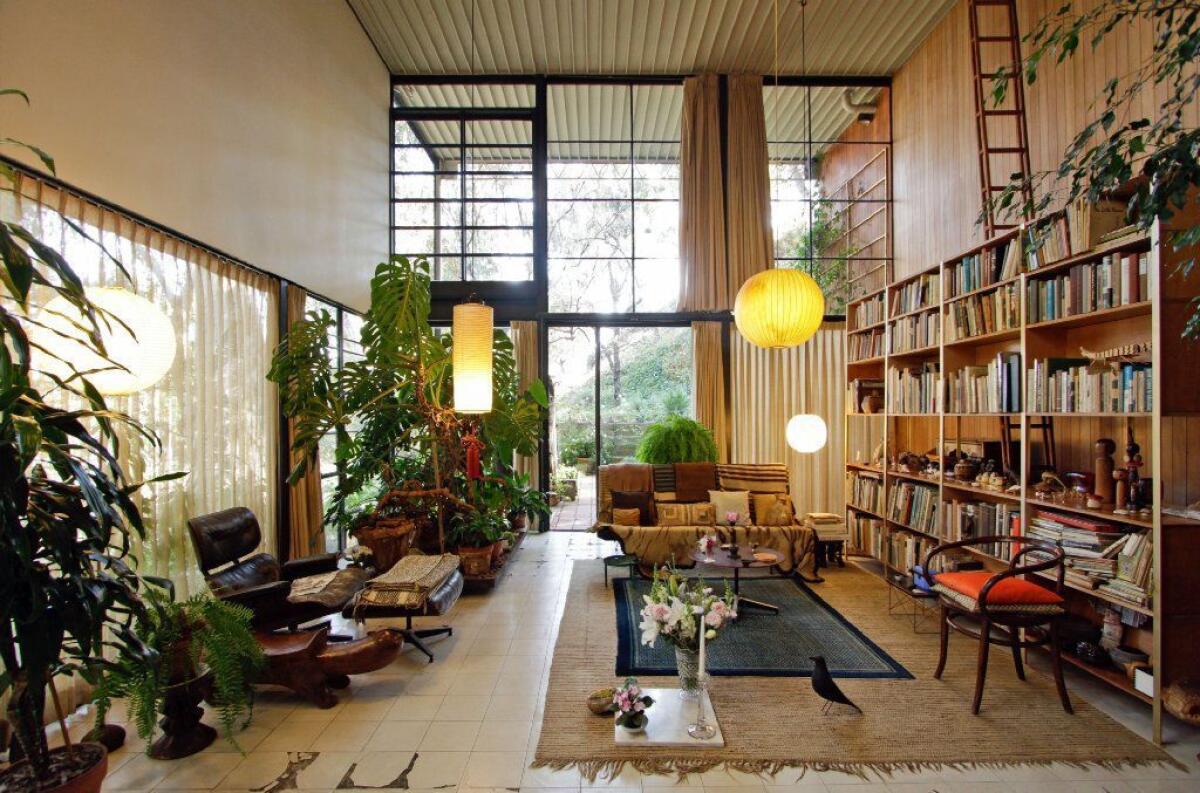 June 22-23: Three years before they built their famed Eames House on a bluff overlooking the Pacific Ocean, designers Charles and Ray Eames would picnic on the parcel that would eventually become their home. The picnics influenced their decision to preserve the eucalyptus-lined meadow and place their steel-and-glass prefabricated Case Study Home and studio on the hillside.
Seventy years later, you can picnic on the Pacific Palisades meadow just like Charles and Ray in a catered affair hosted by the Eames Foundation.
Park in the neighborhood and walk to the property which is at the end of a private drive. Arrive at 11 a.m. and explore the peaceful site followed by a picnic for four and an interior tour of the home and studio — a mecca of sorts for architecture fans — which have been preserved exactly how Ray left them when she died in 1988.
Eames Foundation, 203 Chautauqua Blvd, Pacific Palisades. Picnic and tour, $750 ($675 for members). Additional guests for an additional fee. Picnics are not offered on Wednesdays or Sundays. Book a visit at www.eamesfoundation.org or call (310) 459-9663.
— Lisa Boone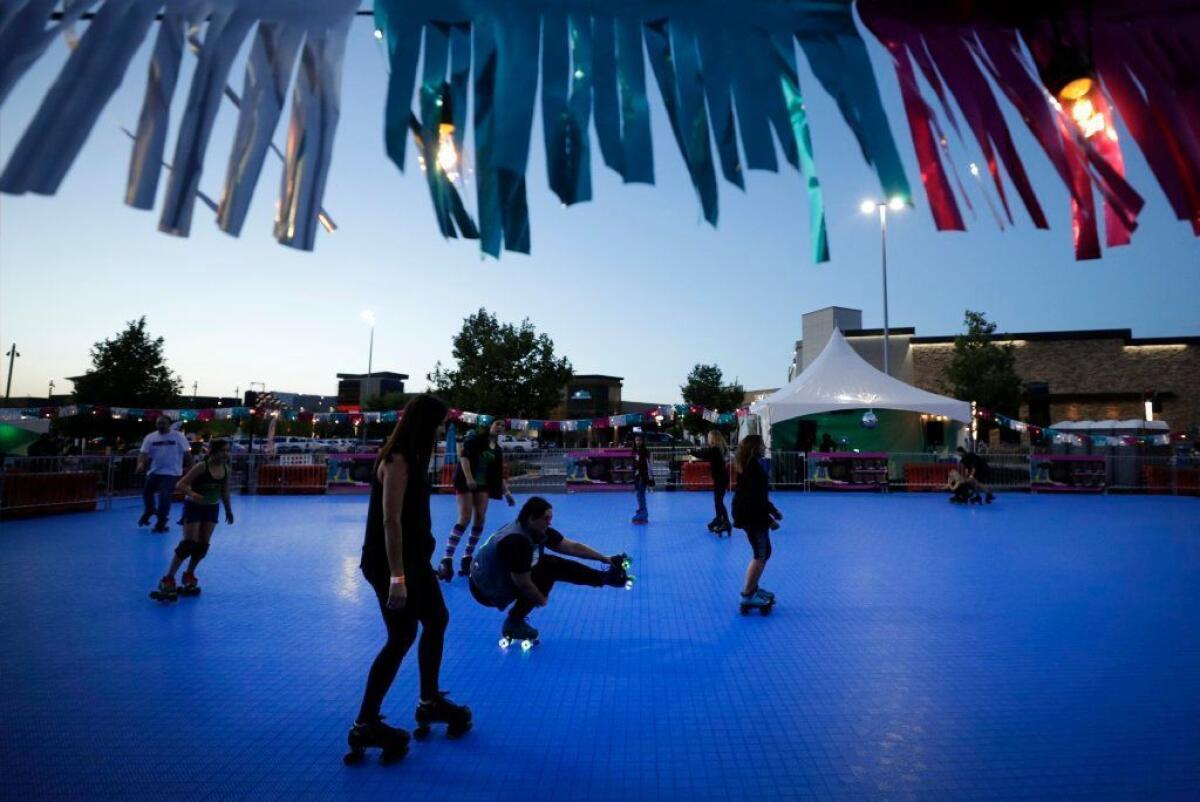 June 29-30: Let's declare this the summer of the roller skate, with pop-up outdoor roller rinks in Woodland Hills and Culver City.
Start by picking your dance theme: Do you want to roll to hit music from the '90s, Y2K and today'? Or "flower powerful" music from the '60s, or disco, pop and classic rock from the '70s? If you'd rather feel like you're in a scene from "La LA Land," then choose a "La La Sk8 Land" session, where you'll skate along to Broadway musicals. If you're going with a crowd — and why wouldn't you? — there are cabana rentals, so you can host a skate party. Expect games, impromptu contests and group skate sessions.
June 1 through June 30 at the Westfield Promenade, 6100 Topanga Canyon Blvd., Woodland Hills. July 6 through Aug. 4 at Westfield Culver City, 6000 Sepulveda Blvd., Culver City. Tickets start at $15, and include skate rentals, with discounts for skating packages and groups. popsk8.live
— Kavita Daswani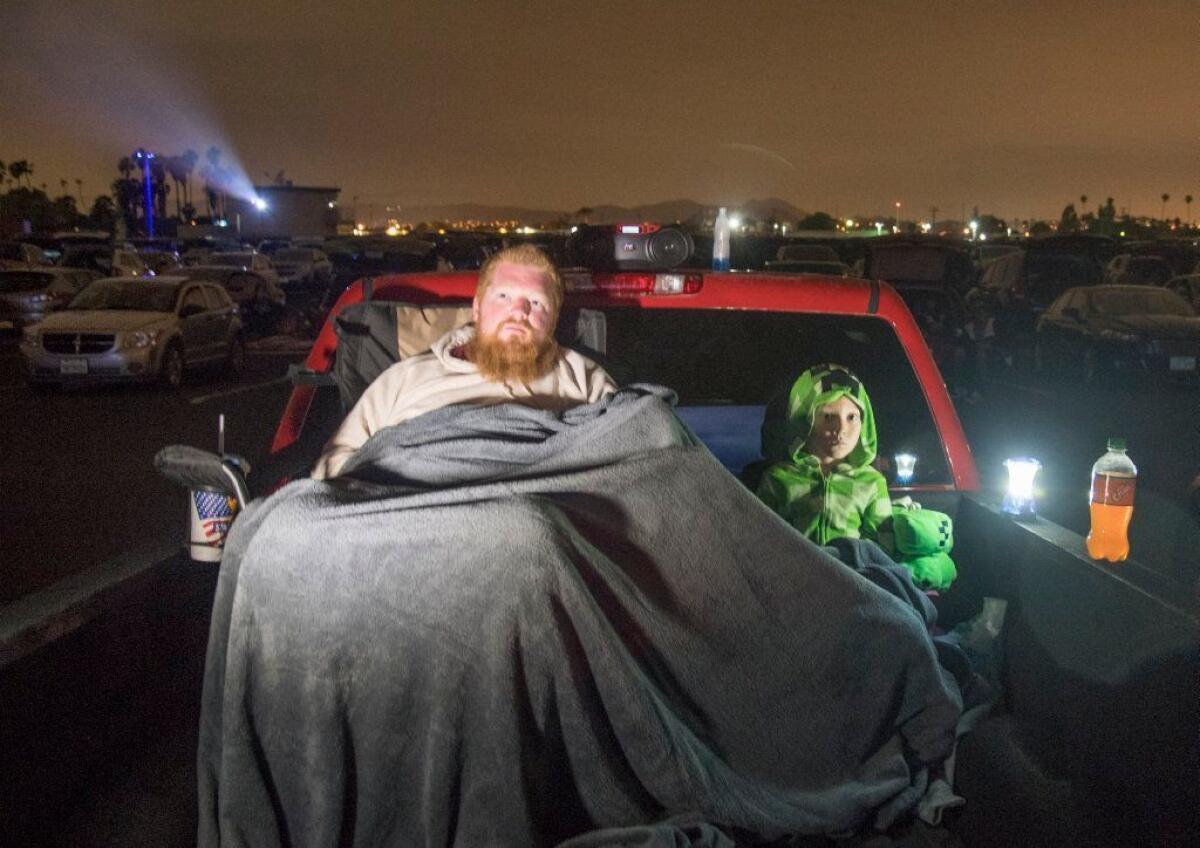 July 6-7: The drive-in theater may seem a long-gone relic of the 1960s and '70s. Not so in Riverside, where the Van Buren, established in 1963, is one of the last remaining drive-ins in Southern California.
Yes, a few things have changed. The movies have high-definition digital projection now, so no more film reels suddenly jamming during the best parts. And the scratchy speakers you hung on your windows are gone too. Now you listen on the car radio or a battery-operated FM radio if you're worried about your car battery. But you can bring your own your own food and drink (no alcohol) and admission is $1 for children 5 to 9, and $9 for anyone 10 or older.
Movies at the Van Buren usually start around 8 p.m. — but if you want one of the best spots, be there when the gates open at 6 p.m. Lines start forming down Van Buren Boulevard at 5:30 p.m., especially on weekends or for new releases, according to manager Karla Nuñez, who has been working at the theater for 15 years, since she was 17, and now brings her own family.. (This weekend, "Spider-Man: Far From Home" is scheduled, so maybe get there early.)
Van Buren Drive-In Theatre, 3035 Van Buren Blvd., Riverside (Van Buren exit off the 91 Freeway, heading east.) vanburendriveintheatre.com
— JM
July 13-14: Ready for some old-timey cosplay? Pageant of the Masters in Laguna Beach has been staged for the last 85 years, one of Southern California's truly enduring traditions. Extreme makeup, carefully crafted sets and choreography transform volunteers into real-life paintings and sculptures with jaw-dropping results. It's a method called tableaux vivants, or "living pictures."
This year's "Time Machine" theme (from July 7 to Aug. 31) will feature more than 35 living works, including the clock sculpture outside Grand Central Station in New York City, Eadweard Muybridge's "MotionStudy," and Vermeer's "The Music Lesson," as well as the movie poster for the 1960 film "The Time Machine." Tickets start at $15 and include entry to the showcase of local artists, the Festival of Arts.
Pageant of the Masters, 650 Laguna Canyon Road, Laguna Beach, (800) 487-3378, foapom.com
— Mary Forgione
July 20-21: Del Mar might not be America's most famous track, just its best. Perpetually soggy Churchill Downs wishes it had half as much sun, never mind the sea breezes, the drop-dead-gorgeous crowd, the playfulness, the swoony sunsets. Del Mar feels fresher on every level, while retaining its sense of style and elegance.
This is Bing Crosby's baby. The co-founder personally greeted fans on the track's first day in 1937. In those days, racing ruled, and the track quickly became a major hangout for celebrities, including its biggest star ever, Seabiscuit. Del Mar has managed to stay relevant as the sport has faded, the old track leaning on a modern marketing campaign that stresses the tanned fans and party atmosphere over the horses themselves.
Even getting here can be special: jump aboard the Pacific Surfliner out of Union Station.
Del Mar Thoroughbred Club, 2260 Jimmy Durante Blvd., Del Mar; Season July 17-Sept. 2; www.dmtc.com/
— CE
July 27-28: Skip a sand-filled beach picnic in favor of a spread at a scenic overlook in the Santa Monica Mountains. L.A. is ringed by mountains (in case you haven't noticed) and a hike in Los Liones Canyon, the coastal-hugging southern slice of Topanga State Park, leads to perfect picnic spots with stellar views.
Pack food, a blanket and lots of water in your backpack, and trade flip-flops for sturdy shoes or hiking boots. Park for free at the end of Los Liones Drive in Pacific Palisades and start hiking up the trail, which is shaded in places and with boulders along the way for rest stops. After 1.3 miles, you'll round the corner to an open, flat spot where the coast unfolds.
Spread out your blanket and enjoy the vista of Santa Monica, the curve of the coast and the inland jumble of houses and buildings that, on clear days, includes downtown L.A. The popular view spot can get crowded; just walk a little farther up the trail and pull off. For even better views, hike the roughly two additional miles uphill on the fire road to Parker Mesa Overlook. Retrace your steps to return, and remember to pack out your trash.
Los Liones Canyon Trail, 510 Los Liones Drive, Pacific Palisades; bit.ly/topangastatepark
— MF
Aug. 3-4: Enjoy an alfresco concert on the lawn of the Huntington Library, Art Collections and Botanical Gardens at "Train/Glory," one of three concerts presented by the Pasadena-based orchestra Muse/Ique.
Pack a picnic or pre-order dinner and settle in to one of the reserved tables located in front of the Library Exhibition Hall as artistic director Rachael Worby, soprano Liv Redpath and the contemporary dance troupe Bodytraffic join the Muse/Ique orchestra in a concert of train-inspired American music.
Doors open at 6 p.m. Music begins at 8 p.m. Note: The botanical gardens are not open to the public during the concert. Tickets, $50 to $130. Muse/Ique also performs on July 6 and Aug. 24.
The Huntington Library, Art Collections and Botanical Garden, 1151 Oxford Road, San Marino. (626) 539-7085; www.muse-ique.com/events
— LB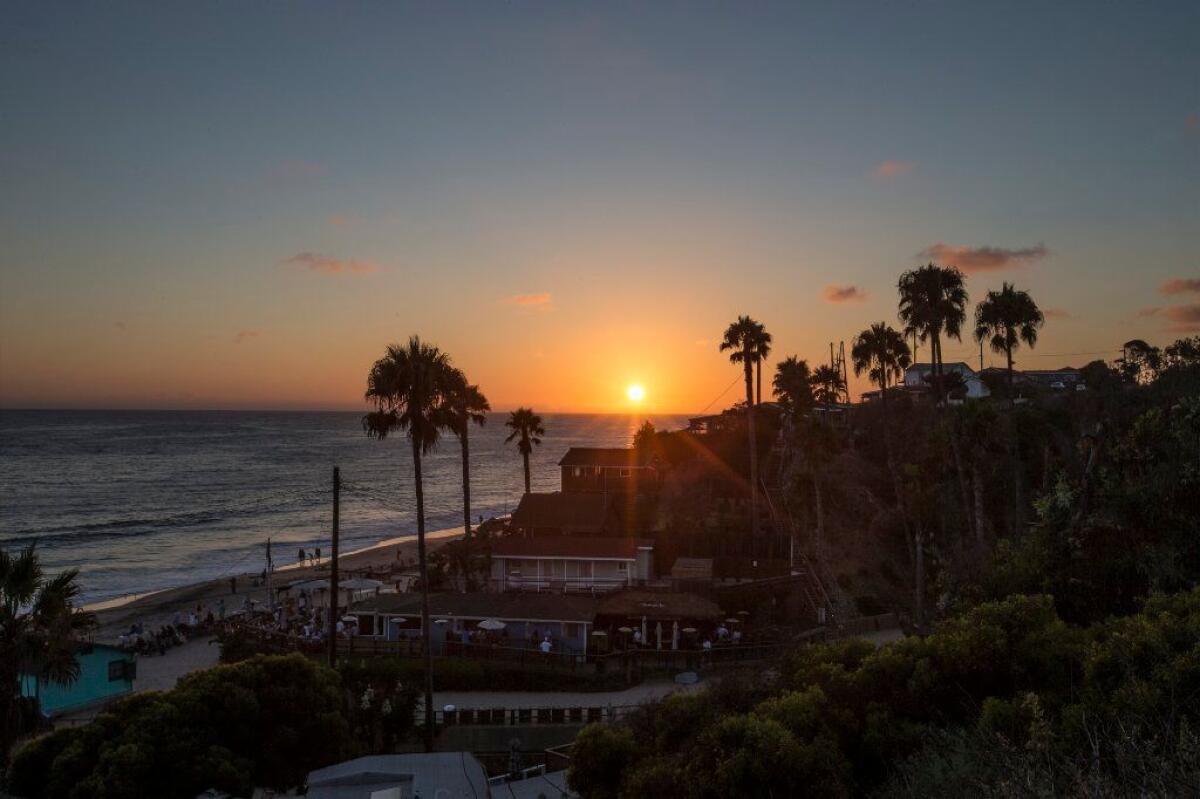 Aug. 10-11: As if you needed more proof that God has a crush on California. At dusk, Crystal Cove State Park gurgles and glows like a glass of Champagne.
On the south end of the sprawling park, past the fetching little shake shack, almost to the town of Laguna Beach, is the Moro Campground, a cluster of 60 tent and RV sites kissed by sea breezes and overlooking Crystal Cove's copper bluffs. Hike or bike to the Beachcomber Café for brunch, about a mile north. Surf or snorkel the waves, which stay warm thanks to the south Orange County currents. By August, you can dive in with barely a shiver.
In search of more solitude, campers can hike into the primitive back-country sites. But, trust me, you want to be on the water. Sites 51 to 60 put you in the front row.
Crystal Cove State Park Moro Campground, 8471 N. Coast Highway, Laguna Beach; reservations required; (949) 494-3539
— CE
Aug. 17-18: Minor league baseball is the ultimate screwball pitch. The Rancho Cucamonga Quakes offer a fetching version of it, in a curio ballpark that holds about as many folks as your backyard. That's part of the charm, of course.
You'll still feel the summer sun in your seats when you plop down in this 6,588-seat ball yard. You can often eavesdrop and chat with the players, some with big-time stuff. Mike Trout, Cody Bellinger and Joc Pederson all passed through this California League venue on their way to the major leagues.
Professional sports tickets jump every season, pricing out working families at an unconscionable rate. But for the Quakes, single-A farm club of the Los Angeles Dodgers, tickets behind home plate go for all of $13. This weekend, the Quakes play the mighty Vidalia Rawhide and Saturday is fireworks night.
LoanMart Field, 8408 Rochester Ave., Rancho Cucamonga, (909) 481-5000, www.milb.com/rancho-cucamonga/
— CE
Aug. 24-25: After the festive Long Beach Pride in May and June's L.A. Pride festivities in West Hollywood, why not keep the LGBTQ celebrations going — this time, with the fourth DTLA Proud Festival in downtown L.A.'s Pershing Square?
In the city-block park, festival attendees will discover a glitter bomb of activities. During the festival (21 and older for the weekend events), there will be an artist alley, DJs mixing tunes and the on-site Summertramp pop-up water park. Also in the mix will be nonprofit booths covering topics such as mental health, financial health, women's health and HIV prevention, and new this year, a marketplace highlighting LGBTQ entrepreneurs and small businesses and their products.
The newly formed organization overseeing the festival has a goal of earmarking festival proceeds for a DTLA Proud Community Center; $500,000 is being raised with the hope of opening the center in early 2020.
DTLA Proud Festival, dtlaproud.org; tickets: $5 pre-sale for Aug. 24-25.
— Marques Harper
Aug. 31-Sept. 1: Ever since "Soul of a Nation: Art in the Age of Black Power 1963-1983," opened at the Broad in March, it's been a hot ticket. The show, which originated at London's Tate Modern, and which features about 150 works from more than 60 artists — including several who made their reputation in the Los Angeles area — has sold out much of its run so far, with advance tickets being snapped up almost the minute they go on sale on the Broad website.
This weekend will be your last chance to see it in L.A.
The exhibit features such compelling works as "Mississippi freedom marcher, Washington D.C." by photographer Roy DeCarava and "Black Children Keep Your Spirits Free" by Carolyn Lawrence. But as Los Angeles Times art critic Christopher Knight wrote in March, "The show takes off in the fifth gallery, which looks at L.A. assemblage artists." In this room is Betye Saar's 1972 "I've Got Rhythm," and Noah Purifoy's "Watts Riot," made from salvage gathered in the wake of the disastrous 1965 event, which Knight called "arguably the most sensuously beautiful work of art ever wrenched from conflagration." (One of Saar's best- known works, "The Liberation of Aunt Jemima," is also on display at the Broad – a shoe-box-size assemblage that showcases a stereotypical mammy figurine, except this one is armed with a grenade and a rifle. "She was a symbol for both black civil rights and for women's rights," the 92-year-old Saar said in an interview earlier this year.)
The Broad releases individual tickets at noon on the first of every month for the following month, so tickets for this final weekend go on sale on July 1. Admission for "Soul of a Nation": $12-$18
The Broad, 221 S. Grand Ave., L.A. (213) 232-6200; thebroad.org
— Stuart Emmrich
Get our L.A. Goes Out newsletter, with the week's best events, to help you explore and experience our city.
You may occasionally receive promotional content from the Los Angeles Times.