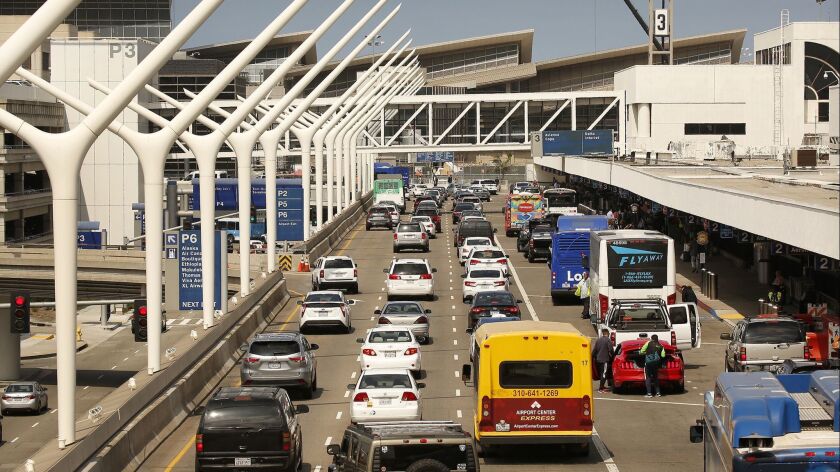 If we are fonder of airports than we've ever been, as a new study shows, Orange County's John Wayne airport is our heartthrob.
LAX? Not so much. The leaders of that mega-airport pack are Las Vegas McCarran and Orlando, Fla., International Airport.
Traveler happiness with airports increased to 761 out of 1,000 points, up 12 points from last year, according to a J.D. Power satisfaction survey released early Wednesday. John Wayne ranked No. 1 among large airports with a score of 815, five points ahead of Dallas Love Field (not to be confused with Dallas Fort Worth) and 9 points ahead of the vaunted Portland, Ore., airport, which finished at No. 3.
In the mega airport category, LAX tied with Chicago's O'Hare at 735, which kept ahead of the cellar dweller Newark, N.J., airport at 701. Leaders McCarran and Orlando tied at the top at 781.
The Inland Empire's Ontario airport, which has seen growth in passengers tallies since it came under the city's control, finished 16th of 21 in a medium size airport derby, led by the Buffalo. N.Y., airport.
But the medium category is tough, said Michael Taylor, travel practice lead at J.D. Power. "They have big plans for that airport," Taylor said. "They are doing OK."
The much-better-than-OK Orange County airport has become a "more serene place to be," Taylor said. It's quieter, thanks to fewer passenger announcements and removal of other noisemakers. Plus the food and beverage are clustered near gates, which helps passengers while away the post-security time, which averages nearly an hour at all airports.
Some of the larger airports are victims of their own success, Taylor said. LAX, for instance, was never constructed to handle the volume of passengers it handles, which was nearly 85 million a year, up from 60 million just a decade ago, according to stats from Los Angeles World Airports.
LAX is amid its $14-billion improvement project, which is not scheduled to be completed until 2023.
The survey calculated responses from more than 40,000 travelers who had used at least one airport from September 2017 to September 2018.
---