Imagine 2.2 million people — the equivalent of all residents of San Francisco, Fresno, Sacramento and Anaheim combined — flying every day.
Welcome to summer 2018, expected to be the busiest ever for air travel, the Transportation Security Administration said last month. Its employees will inspect about 5 million carry-on items across more than 25,000 daily domestic and international flights.
Sound daunting? It is. But the good news is that travelers who are informed and prepared may find running the gantlet between entering the terminal and arriving at their departure gates a bit less stressful; airports and airlines are seeking to improve security, baggage and other systems.
Besides those improvements, there also are big airport upgrades to meet the demands of the 21st century flier.
All in all, fliers should expect change, which is the new normal.
Tech and time
If you're an occasional flier, you'll see that things have changed in this digital era. Nearly three-quarters of fliers in 2017 used their smartphones for electronic boarding passes, according to the International Air Transport Assn., an airline trade association. Nearly half prefer self-service bag drop-off, either by printing luggage tags at home or at the airport, according to an IATA survey of more than 10,000 respondents.
LAX earlier this year installed 14 automated screening lanes for carry-on items in its international terminal. The system allows up to five people at one time in each lane to load belongings into bins, which then move on conveyor belts to X-ray machines. Wait times may be reduced by as much as 30%, a recent Los Angeles World Airports news release said.
Despite such improvements, a recent analysis of America's 50 busiest airports confirmed what many frequent fliers know: Expect one in four flights this summer to be delayed.
The worst delays are expected at Newark-Liberty, N.J.; LaGuardia, N.Y.; and San Francisco, the study by MagnifyMoney.com, a personal finance website, found.
The good news for Southern California travelers: Honolulu, Salt Lake City and Orange County's John Wayne Airport had the best on-time arrival rates.
LAX was the most improved, with on-time percentages that increased 5.5% in 2017, up from 2016. That may surprise some, given that the airport is in the midst of $14.4 billion in improvements, expected to be completed in 2023.
New flyways
If you live in Ventura County and are planning a trip to Phoenix or Seattle, you might consider flying nonstop out of San Luis Obispo. Alaska, American and United operate out of the airport, which opened its new terminal in November.
Compared with the labyrinthine LAX, SLO is easy to navigate.
"When we designed this new facility, we really tried to look at the best of what makes a small airport experience helpful," said Kevin Bumen, the airport director. "This includes short distances, almost to the point you do not need signage, as well as lots of curbside access, making the experience as simple as we could."
SLO has high ceilings and an abundance of natural light. There are six gates and, Bumen said, a "very flexible" security checkpoint area, which allows for up to three screening lanes.
The airport also is testing the use of a fragrance in the baggage-claim area to enhance the passenger experience.
"It's the fourth dimension of perception — sight, touch, sound and smell," he said. "We're not trying to emulate something you would immediately recognize, like a rose, but we are using something that is relaxing, like a spa fragrance. We wanted an understated freshness."
That freshness and the efficiency of a small airport, Bumen and county officials hope, will be memorable enough to attract repeat customers.
Changes abroad
Halfway around the world, Singapore's Changi Airport, frequently cited as one of the world's best, has made improvements.
In 2017 the airport served a record 62 million passengers, about 22 million fewer than LAX, according to Los Angeles World Airport statistics on domestic and international passenger travel.
Passengers in Changi's new Terminal 4 probably endure fewer frustrations than many passengers, thanks to state-of-the-art, self-service procedures with a catchy acronym: FAST (Fast And Seamless Travel).
In Terminal 4, which opened in October, facial recognition software is used at immigration and boarding areas, which are usually bottlenecks in other airports. Three-dimensional technology screens carry-on luggage, eliminating the need to remove phones, laptops, tablets and other electronic devices.
"For passengers, it will mean shorter queues and greater flexibility to check in at their own convenience, thereby enhancing their airport experience," said Poh Li San, a vice president of the terminal's program management office.
The airport also is seeking to engage travelers' senses and to enhance their adventures.
Those waiting for flights might find tranquility in the airport's butterfly garden in Terminal 3, where its 1,000 delicate flying insects represent more than 40 species.
Feeling nauseated after a long flight? Each of the four terminals has at least one medical clinic and pharmacy, two of which never close.
Chaos reduction?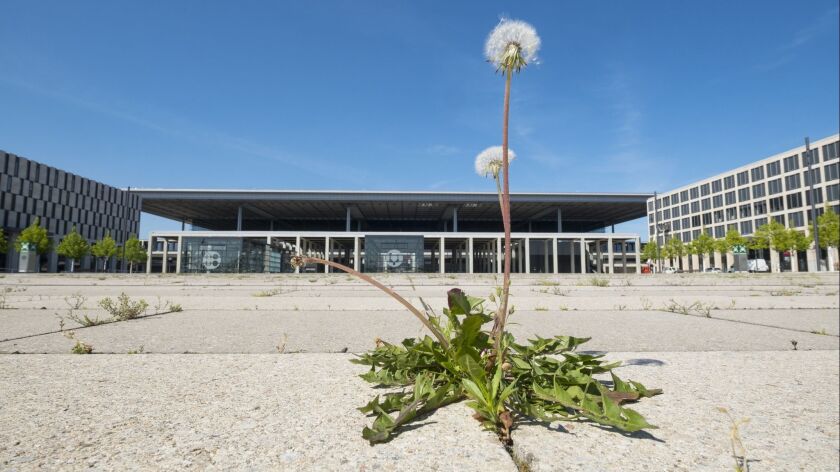 Shorter and less chaotic security is a priority for architects of the Berlin Brandenburg Airport, which when completed will allow passengers to carry liquids larger than 3.4 ounces. The designers of that German airport also think passengers should never feel lost or confused.
"It is important that passengers know where they are and where they must go," said Hans-Joachim Paap, associate partner at the Hamburg-based architectural firm that designed the airport.
"Usually this cannot be achieved with a guidance system but primarily by the building structure."
Paap also thinks retail outlets merit an open, spacious design.
"Passengers will only feel comfortable if they don't have a sense of being closed in by socks and bottles of whiskey," he said.
When passengers will begin buying that whiskey is unclear. Construction began in 2006, with opening planned for 2011. Indeed, several opening dates have come and gone.
The original cost estimate of 3 billion euros — about $3.5 billion — has more than tripled. Design issues have plagued the facility, and there have been allegations of corruption and bribery.
The latest guesstimate for opening is 2020.
Choices for Southern Californians
Southern California residents have plenty of options for air travel if they are willing to drive upward of 125 miles to San Diego to the south, Palm Springs to the east or Santa Barbara to the north. Among the airport choices for travel outside the continental U.S.:
John Wayne: Vancouver, Canada (WestJet); Puerto Vallarta and San José del Cabo, Mexico (Alaska)
Ontario: Taipei, Taiwan (China Airlines); Guadalajara, Mexico (Volaris)
Palm Springs: Calgary and Vancouver, Canada (Air Canada, seasonal); Calgary and Vancouver (WestJet); Toronto (Air Canada Rouge, seasonal); Edmonton, Toronto and Winnipeg, Canada (WestJet, seasonal)
Long Beach: Honolulu (Hawaiian)
San Diego offers many more options:
Calgary: WestJet
Frankfurt, Germany: Lufthansa
Honolulu: Hawaiian and Alaska
Kahului, Maui: Hawaiian and Alaska
Kailua-Kona, Hawaii Island: Alaska
Lihue, Kauai: Alaska
London (Heathrow): British Airways
Puerto Vallarta, Mexico: Southwest and Alaska
Cabo San Lucas, Mexico: Southwest, Sun Country and Alaska
Tokyo: Japan Airlines
Toronto: Air Canada Rouge
Vancouver: Air Canada Express
Southern California travelers will soon have more choices for flights to the Seattle area. LAX, John Wayne and San Diego are among Alaska's planned destinations for Paine Field, an airport near Everett, Wash., used by Boeing. The facility, 30 miles north of downtown Seattle, is scheduled to begin commercial flights this fall.
From Paine Field, Alaska will serve Las Vegas, Phoenix, Portland, Ore., San Francisco and San Jose. United is planning six flights daily from Paine Field to Denver and San Francisco. Southwest, the only other carrier operating from the airport, expects to announce its schedule later this year.
Big data means big changes in air travel.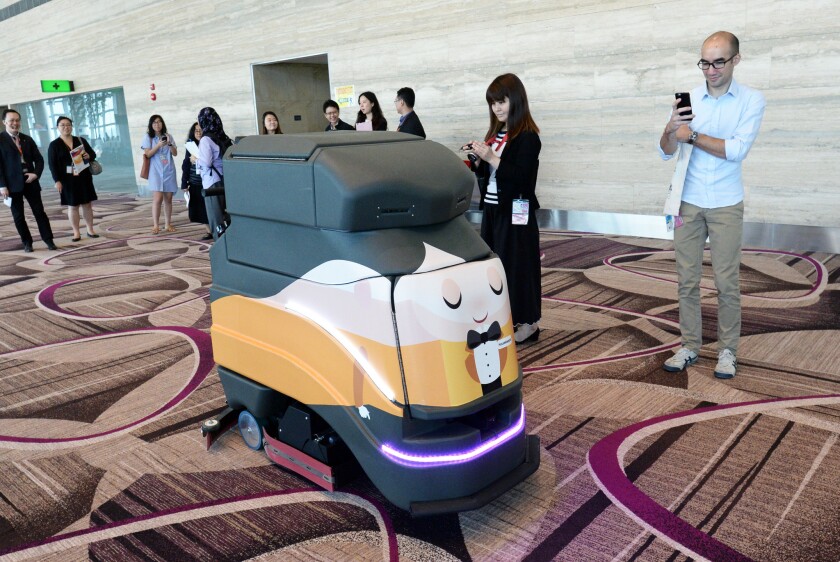 Artificial intelligence, or AI, is being tested at several U.S. airports, including LAX, to expedite procedures.
Travelers leaving LAX on some Lufthansa and British Airways' flights haven't needed boarding passes. Instead, their pictures have been taken, and biometric recognition systems verify their identity.
Flying into or out of Taipei's Songshan or Taoyuan airports, travelers who ordinarily interact with ticketing or baggage agents are engaging with the offspring of R2-D2, which answer questions.
Many passengers endorse the changes, which promise faster, more efficient service. More than 60% said they welcome biometric facial recognition systems, according to an International Air Transport Assn. survey.
IATA is championing its Fast And Seamless Travel, or FAST, initiative with airlines and airports to meet demands from consumers and the industry for greater convenience and lower costs. FAST has six self-service options for passengers, many of which are already available:
--Check in: Allows passengers to obtain boarding passes through websites, smartphones or airport kiosks.
--Baggage: Enables travelers to tag their check-in luggage themselves and deliver to either an airline representative or a self-service bag drop
--Documents: Allows passengers to scan passports or other travel documents at kiosks to verify data and to comply with destination and transit requirements.
--Rebooking: Gets travelers with delayed or canceled flights rebooked using their computers or smartphones or at a kiosk, avoiding long lines at customer service.
--Boarding: Lets passengers scan their boarding passes to gain entry to jetways through automated boarding gates, similar to those at a subway station.
--Mishandled luggage: Lets fliers report missing bags using a smartphone or kiosk.
As one might expect, robots represent another valuable — and entertaining — aspect of AI. At Singapore's Changi, they clean floors and carpeted areas throughout Terminal 4.
In one hour, a robot can sweep or vacuum an area the size of four basketball courts while avoiding obstacles and offering weary parents a much-needed distraction for children.
---