For travelers with mobility issues, here's how to navigate vacation rental properties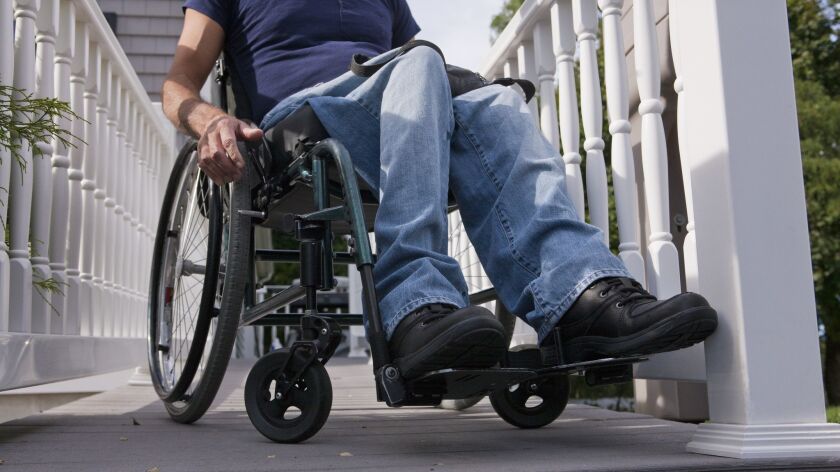 Among the hundreds of vacation rentals in Altadena, the cottage tucked away in Michelle Mapp's back yard is a nice find.
Private, fully equipped and reasonably priced, the cute studio has many sweet spots travelers want in a short-term rental.
It also has a ramp, a roll-in shower with grab bars and an electric adjustable bed, so it hits the mark for travelers requiring mobility access.
"We consider it a positive marketing angle,'' Mapp said of her property's disability-friendly features, and she promotes this in descriptions on vacation rental platforms.
But of 50 bookings she has made this year, just two have been for people seeking such options.
Could she be missing an untapped market? Airbnb thinks so.
The San Francisco-based company launched a campaign in Los Angeles to help entrepreneurs such as Mapp attract travelers with disabilities.
"We think there are a lot of homes in L.A. that already have accessibility features, but we need to educate owners,'' said Srin Madipalli, Airbnb's accessibility program manager.
In February, Airbnb acquired Accomable, an accessible travel platform that Madipalli founded. Since then, his team has been strategizing ways to make Airbnb a more accessible and inclusive operation.
L.A., with nearly 18,000 Airbnb hosts, is an important market for the company, he said. Madipalli's team has been cultivating key relationships within the disability community here, hoping to form natural synergies between an oft-misunderstood customer base and the fast-growing vacation rental industry.
"L.A. has just over 1.6 million guest arrivals per year, so it's a good area to pilot some of our work and see what the impact is,'' Madipalli said.
The awareness-raising campaign kicked off in November with an open house for the disability community and an education session for top hosts to demystify issues related to disability access.
"Some hosts have said their homes may be very old, or up three flights of stairs, and they want to know how to manage expectations," said Madipalli, who uses a wheelchair. "It's about us creating a safe space where hosts can ask questions and feel comfortable talking to me and my team.''
In 2019, Airbnb will offer free professional photography for up to 200 hosts in the L.A. area who have accessible properties.
These efforts follow Airbnb's announcement in November 2017 of 27 new accessibility filters that allow owners to address disability in a focused way instead of simply describing a place as compliant with the Americans With Disabilities Act, or ADA.
"We focus more on helping hosts explain what they have as clearly as possible and letting guests decide what works for them," Madipalli said.
This also helps disabled customers more quickly and accurately search for lodging that will work for them.
Using the filters, Mapp's listing tells you that there's a disabled parking spot in the driveway and that the cottage's entryways are at least 32 inches wide.
It's important that vacation rental owners understand what's at stake with descriptions. Those whose property descriptions are vague or misleading or who don't understand their obligations under federal and state disability access laws could be putting themselves at risk.
"At the end of the day, if you're not honest about your property or don't understand [access standards], you might check the box that your home is accessible but it's not,'' said Dana Barton, executive director of the Rocky Mountain ADA Center, which recently published a report on legal issues affecting the booming vacation rental business.
The center has received calls about disputes over service animals and vacation homes that are advertised as accessible but aren't, she said.
"Can you imagine showing up some place and you think you're going to spend a week there for a family vacation and can't get in?" Barton said.
Renters can avoid this drama by practicing exhaustive due diligence, said Melanie Fish, a spokesperson with HomeAway, an Austin, Texas-based online marketplace for vacation rentals. Its brands, including VRBO.com, list more than 2 million rentals in 190 countries.
The company recently launched virtual tours so customers can do a "walk-through" of a property before booking.
"After you find a home or condo you like, the best way to make sure it actually meets your access needs is to message the owners and ask any questions you have before you book,'' Fish said.
To illustrate, she pointed to a positive review of a wheelchair-accessible beach house in Massachusetts. After some discussions before arrival, the owner bought a piece of adaptive equipment for the guests' disabled son.
Tips from HomeAway for renters
►Read reviews and look through photos to get a better idea of what the owner and property are like..
►Get the name of an on-site contact or property manager who can help you in case any issues arise. Do this before your trip.
►Handle your booking through the HomeAway platform, which will qualify you for the "Book with Confidence" guarantee in case there's a problem.
Tips for owners
►Communicate and be responsive to guests' questions and needs.
►Provide detailed descriptions of your property. Include detailed accessibility information and include photos of everything.
►Include a virtual tour, if possible. The 360-degree tours give travelers a comprehensive, accurate look.
---
Get inspired to get away.
Explore California, the West and beyond with the weekly Escapes newsletter.
You may occasionally receive promotional content from the Los Angeles Times.