Antique-hunting in Arezzo, Italy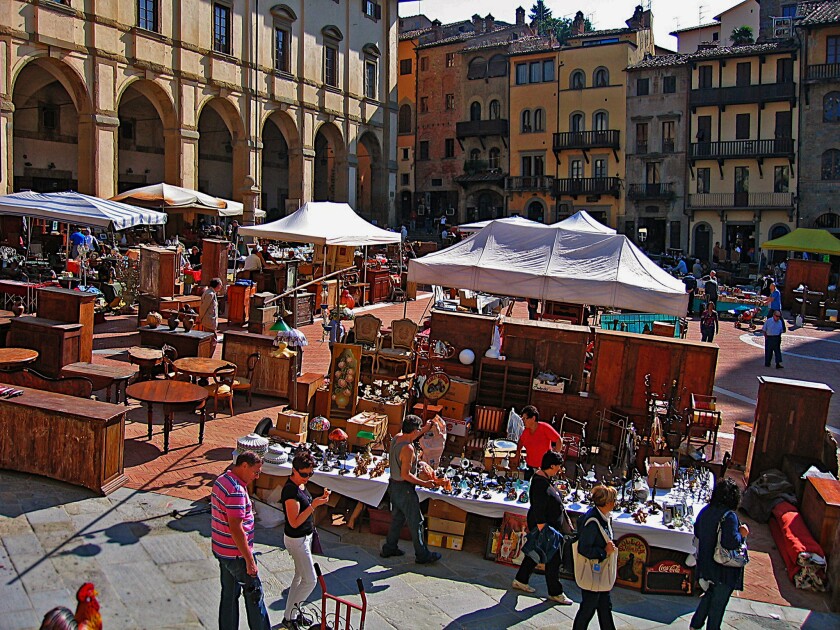 Reporting from Arezzo, Italy —
Prayerful angels carved from oak, grinning terra-cotta cherubs and gold pocket watches with time on their hands. All are stacked on the cobblestones of Arezzo's Piazza Grande.
Through the shutters of my hotel window, I watch vendors unload a treasure trove of antiques: gleaming wood dining tables, paintings, pottery, jewelry, copper pots and Murano glass. As dusk throws shadows across the square, I go out to reconnoiter, excited by the thrill of the hunt. Tomorrow, when the fair opens, I will buy a memento of my Tuscan travels — something artful, affordable, Italian. And small enough to pack.
The next morning, bright sun warms the sloping piazza, silhouetting Arezzo's turrets, ochre, rose and natural stone, against the royal-blue sky. By 9 a.m., I have joined the locals and tourists in search of rare finds and bargains. The Arezzo antiques fair, Italy's oldest and largest, takes place the weekend that includes the first Sunday of each month, just 40 miles from Florence. With 500 sellers from Calabria to Campania, Padua to Pistoia, merchandise fills the piazza, climbs up the hill to the cathedral and spills down the side streets past the Chiesa di San Francesco, home to Piero della Francesca's masterwork frescoes, "The Legend of the True Cross." The jewel-toned frescoes are reason enough to visit Arezzo.
Most items at the fair are from the 19th and early 20th century, but you can find treasures. A 15th century illustrated hymnal is not the memento for me, but it's in fine condition, pages intact. A few steps away I admire a beautiful replica of a 17th century Venetian intaglio dining table with three leaves, for $2,100.
"If you want the real thing, it's $17,000 in my shop in Padua," the owner says. I decline his offer to ship it to me in California.
"Business has slowed," says Giuglia from Florence, a vendor for the last 16 years. Gesturing to the Doulton figurines and Sheffield plates she imports from England, she sighs, "More Italian women are working outside the home. No one wants to dust or polish. A vase, two sprigs and two rocks — that's how they decorate now. Minimalista."
The slowdown can mean good buys. A couple opening a restaurant scored a dozen slightly beat-up but charming old copper pans for the equivalent of $125.
In the antique shops surrounding the piazza, I found everything my imaginary palazzo required, from carved stone mantelpieces to sparkling chandeliers, but not in my affordable, easy-to-pack category.
Although best known for the antiques fair and the Piero della Francesca frescoes, Arezzo offers an interesting mix of art and architecture — medieval, Gothic and Renaissance. Taking a break from browsing, I sit in the shade of a loggia, designed in 1573 by Giorgio Vasari, spanning one side of the piazza. It's a perfect place to people-watch while enjoying the local, hand-rolled pici pasta with a glass of ruby red Sangiovese, fresh green beans with just-pressed olive oil and an earthy, dark espresso.
Vasari was a native son, as was Renaissance poet Petrarch, who popularized the sonnet form. Their homes are open to the public.
After lunch, I walk to the top of the hill, past antique sewing machines, embroidered linens and musical instruments, to the cathedral, backdrop of a scene in the 1997 Oscar-winning film "Life Is Beautiful." Best-actor winner Roberto Benigni, who created and starred in the movie, was born nearby and used Arezzo locations throughout the film.
In the cool, dark duomo, I trade shopping for art — Piero della Francesca's fresco of Mary Magdalene and two fine glazed works from the Luca della Robbia workshop. If only I could take these home.
Back in the sun, it seems as though my search might be over. I am drawn to the warm patina of brass wall hooks arrayed on a table. At $10 to $12 each, I buy three. Not antiques, but they look old and lovely and are small enough to pack. Each time I use them, I'll be back in Tuscany for a moment.
Artful, affordable, Italian.
---
Get inspired to get away.
Explore California, the West and beyond with the weekly Escapes newsletter.
You may occasionally receive promotional content from the Los Angeles Times.