At this Beijing hotel, guests learn the art of shadow puppetry
My brush was tiny, more like something you'd use for nail polish. That was apt because I was struggling to paint the toenails of my dragon shadow puppet.
Dipping the silken brush into a pot of royal-blue ink, I tried to give its curving talons a proper pedicure.
Mao Zhongbo, our soft-spoken teacher, noticed my struggle and showed me how to keep my brush from becoming overloaded with pigment. It was an unexpected personal touch from the resident master at a Beijing hotel that strives to save the dying art of Chinese shadow puppet theater.
Shichahai Shadow Art Performance Hotel is a step back in time. Surrounded by a forest of ultramodern skyscrapers, this little inn is in a hutong, a neighborhood formed by a maze of alleys. Once you open the inn's massive wooden doors, studded with decorative cast iron and heavy ring knockers, you enter a calm, modern space with clean lines that direct your gaze to the framed shadow puppet art that decorates the walls.
The mission here is clear: to educate guests about a vanishing part of Chinese culture before it's too late.
Xian, China, beyond its ancient terra-cotta warriors »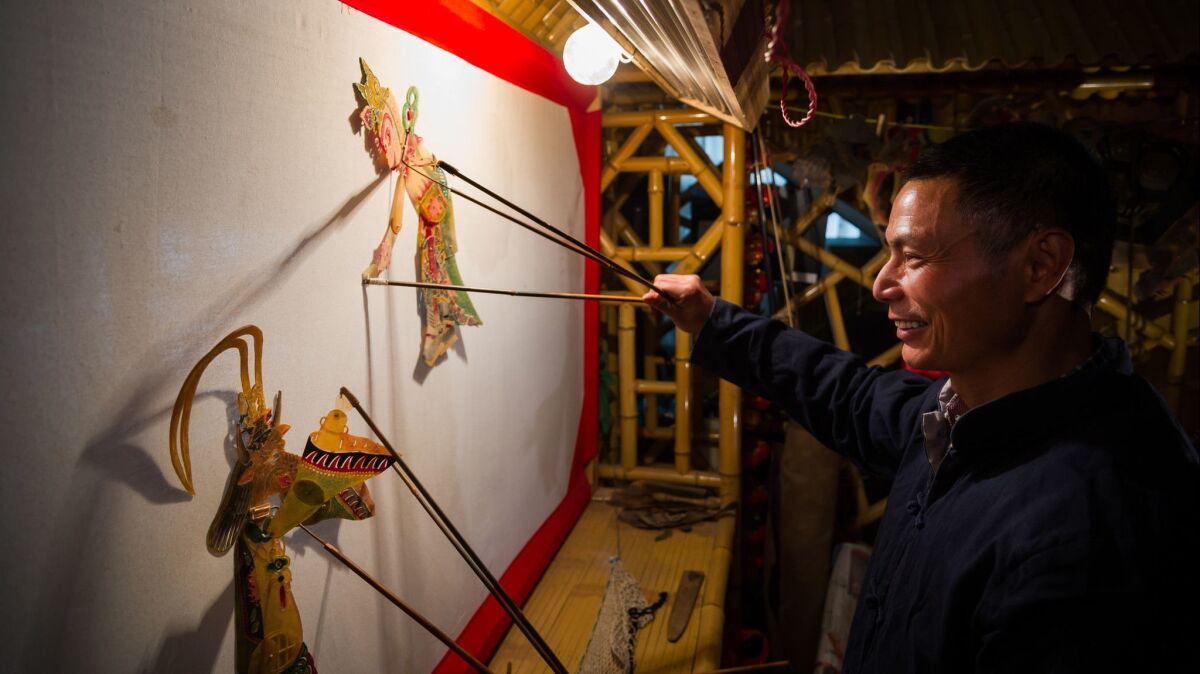 Out of the shadows
UNESCO's list of Intangible Cultural Heritage describes Chinese shadow puppetry as a "traditional performance art transmitted from generation to generation."
Until now, it has been difficult for foreigners to understand because its dialogue was delivered through an ancient form of Chinese operatic singing. "Even Chinese audiences would not understand the dialogue without subtitles," said Dave Bae, the hotel manager. "Now that the special kind of singing traditionally used is dying out."
And those who are most skilled at this puppet artistry are now in their 70s and 80s, Bae said, and interest in the art is waning.
"Since Chinese people aren't that interested anymore, we open it up to foreign guests. We welcome people from all over America, Europe and Asia."
This is why I visited last winter. As a longtime theater lover, I hoped to get a behind-the-scenes peek into a completely different performing art.
The 25-room inn provides English interpreters who help make the cultural offerings accessible to its guests. These include performances in the intimate puppet theater at the center of the hotel and several classes a week taught by master Mao.
A baseball trip through Japan is just what a jaded MLB fan needed »
One night, I watched Mao and several other hotel employees perform "Turtle and Crane," the classic tale in which an elegant crane helps a frog cross the river. When a sneaky turtle tries to bite the frog, the crane grabs the turtle by the neck and flings it into the water. The animals' supple movements made me forget that puppeteers controlled them.
Afterward, I joined other spectators behind the translucent screen and, with Mao's guidance, tried my hand at manipulating the many rods needed to make each puppet glide effortlessly. My awkward attempts to operate several sticks at once showed why it takes years to master something that looks deceptively simple.
I was more successful in the puppet painting class, my favorite activity. It required patience and concentration, like a moving meditation.
My jointed dragon, made of vellum-like leather and lacy filigree, was a challenge to paint. I modeled it after one in various shades of blue that Mao showed us at the beginning of class. That meant I needed to add just the right amount of water to my pot of blue ink to differentiate the colors of its scales, nostrils and claws.
Phu Quoc is now a global destination. Is that a good thing? »
Mine wasn't quite as subtly shaded as the model I worked from, but it did have, to my eye, an otherworldly charm.
Mao later attached its rods. Holding it gave me a visceral sense of connection to a timeless art form.
Roadshow roots
No one knows for sure how shadow puppetry started thousands of years ago, but in China it has served many purposes. In its heyday, it was the most popular form of entertainment, thanks to its simplicity and portability. Thousands of traveling performance troupes of musicians and puppeteers set up temporary stages in villages across the country to entertain the people, providing a sort of precursor to movies.
Shadow puppet plays were an essential part of celebrations at birthdays, weddings and funerals. Although much of it was aimed at the masses, members of nobility enjoyed it too, but they traveled with personal shadow puppet theater companies to keep themselves entertained.
Mao was 18 when he saw his first shadow play — it happened to be "Turtle and Crane" — in northern China. He found it "vivid and alive," he said. The traveling company was recruiting new members and accepted him.
He studied for three years with a master of the art, learning the skills that make the motions look fluid. "The right hand controls the puppet's arm and leg," he said, "your left hand does the head.
"But cutting out the puppet figures is the real art," he said, his face lighting up.
Mao worked with various troupes before joining the Shichahai Hotel when it opened in 2011. I asked him whether anyone could learn to be a shadow puppet performer. He paused, then answered, "Like ballet, some have a talent for this and some don't. Making a puppet seem real comes from the hands, the heart and the brain."
Why Asia? Why now? Here's why, from a writer who now calls it home »
It also takes a passion.
"Nowadays, the younger generation has movies, TV, video games," Bae said. "They are less interested in keeping this art alive."
At the end of my stay, I went to the lobby to retrieve my dragon shadow puppet. It was in a padded red satin envelope decorated with brocade dragons for the journey home. I noticed Mao teaching another class, speaking in animated Chinese to a group of local youngsters, hoping, perhaps, to inspire a new generation of masters.
If you go
THE BEST WAY TO BEIJING
From LAX, Air China and American offer nonstop service to Beijing, and Air Canada, All Nippon, American, China Eastern, China Southern, China, Delta, Hong Kong, JAL and United offer connecting service (change of planes). Restricted round-trip fares from $484, including taxes and fees.
TELEPHONES
To call the numbers below from the United States, dial 011 (the international calling code), 86 (the country code for China) and the local number.
WHERE TO STAY
Shichahai Shadow Art Performance Hotel, 24 Songshu St., ShiChaHai, Xicheng Qu, Beijing; 10-8328-7847. Doubles from $110, breakfast included.
WHERE TO EAT
KaoRouJi Beijing style BBQ, 14 Qian Hai Dong Yan, Beijing; 10-6404-2554. Award-winning restauran in central Beijing. Lamb is a specialty. Main dishes $13-$30.
Hongyuan Nanmen Shuan Rou Hot Pot No. 1, Nanguanmen Alley, Xicheng District, Beijing; 10-8233-7033. Traditional coal-fired bronze pots in which you cook your own meat and vegetables.
Quanjude Peking Roast Duck, 57 Dianmen West Main St,, Xicheng District, Beijing; 10-6612-855. One of a chain of restaurants with a 150-year history serving Peking duck. Main dishes $16-$64.
TO LEARN MORE
---
Get inspired to get away.
Explore California, the West and beyond with the weekly Escapes newsletter.
You may occasionally receive promotional content from the Los Angeles Times.