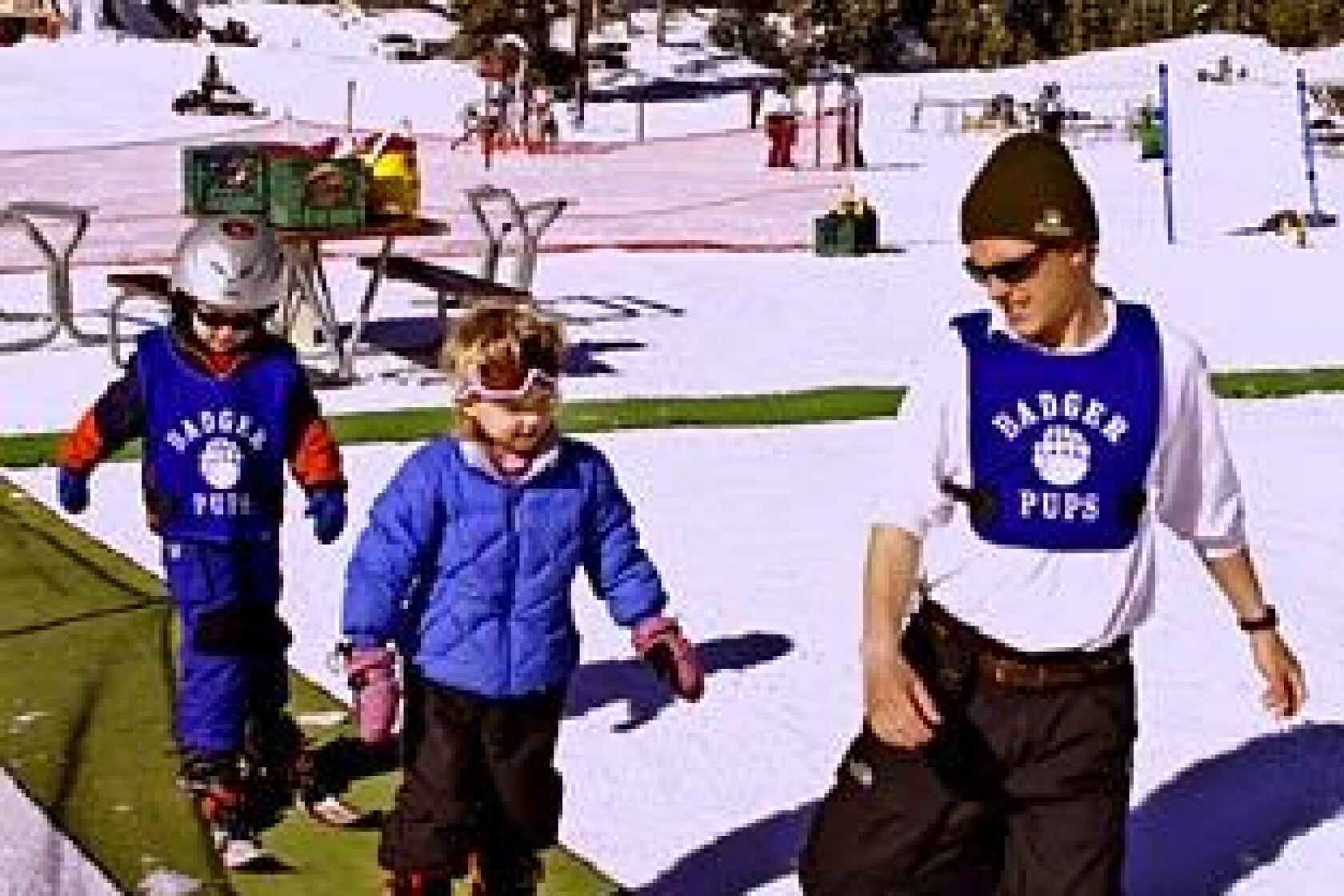 The chairlifts, now upgraded, are state of the art. The lodge has been freshened. Still belovedly the same, however, is the relaxed spirit that makes Yosemite's Badger Pass Ski Area so popular with families. Youngsters receiving their first instruction tend to bring smiles instantly to the faces of passersby.
(Dan Blackburn / Image Associates)
The lifts whisk skiers to more than 600 vertical feet of play space. Waits for the chairs are brief or nonexistent. On weekends, Badger Pass may host 1,000 skiers a day, but midweek there are fewer than 300.
(Dan Blackburn / Image Associates)
Cross-country skiing is particularly popular along Glacier Point Road, which offers a 21-mile round-trip trek with overnight lodging available.
(Dan Blackburn / Image Associates)
The lodge has been spruced up with fresh paint. There's also a new burrito bar for food fueling and people watching.
(Kenny Karst / nps.gov)
The views in winter are likely to bring out the John Muir -- or Ansel Adams -- in just about everyone. The Cathedral Rocks, north of Badger Pass along the Merced River, pose majestically at evening.
(Dan Blackburn / Image Associates)
Farther north in the park is Yosemite Valley, witnessed here at sunrise.
(Dan Blackburn / Image Associates)
If you go
THE BEST WAY TO BADGER PASS
From Los Angeles, take Interstate 5 north to California Highway 99 north to Fresno. From Fresno, take California Highway 41 north to Oakhurst and Yosemite National Park. To reach Badger Pass from the park's southern entrance, take Wawona Road to Chinquapin and turn right on the Glacier Point Road to Badger Pass. An alternate route, if road conditions are snowy and you are staying in Yosemite Valley, is to take California 49 northwest to Mariposa and pick up California 140 (the all-season highway) into Yosemite. Driving time is five to six hours.
WHERE TO STAY
Inside Yosemite, there are three choices in the winter months: Curry Village, Yosemite Lodge at the Falls and the Ahwahnee Hotel. Reservations can be made by calling (801) 559-4884 or online at www.yosemitepark.com. Doubles from $40 a night for a Curry Village tent cabin, $148 at Yosemite Lodge and $400 a night at the Ahwahnee. Be sure to check for special rates and Badger Pass packages.
Outside Yosemite, Tenaya Lodge is two miles from the park's southern entrance. 1122 Highway 41, Fish Camp; (888) 514-2167, www.tenayalodge.com. Doubles from $159. Cedar Lodge, 9966 Highway 140, El Portal, is eight miles from the park's main entrance. (209) 379-2612, www.yosemite-motels.com/. Doubles from $80. There are several motels in Oakhurst.
BADGER PASS SKI AREA
All-day lift tickets cost $42 for adults, $37 for ages 13 to 17, and $20 for kids 12 and younger.
The guided Glacier Point hut tour is $192 a person for one night, $288 for two nights. The self-guided hut tour is $121 a person for one night. For reservations, call (209) 372-8444.
Information on ski conditions, reservations, weather and road conditions is available at www.yosemitepark.com.
---