Enjoying Belize in the moment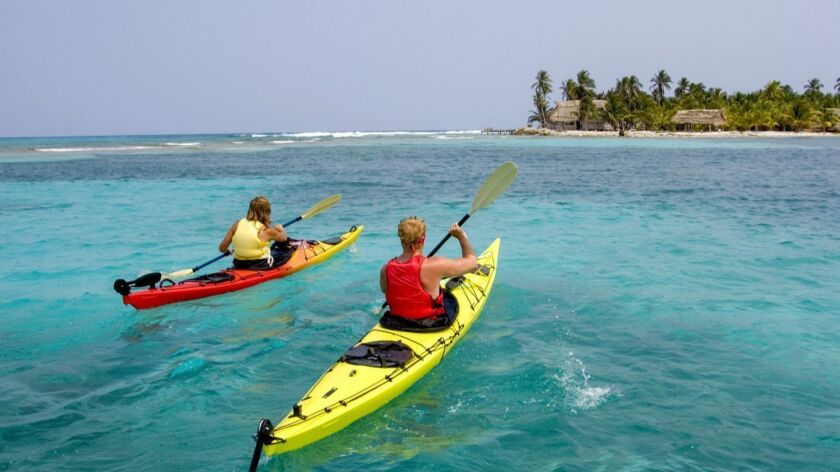 Reporting from Long Caye, Belize —
The kids had been waiting all week for the hermit crab races. When Luis, our lead counselor, announced the evening's activity, they shoved aside their slices of key lime pie and disappeared into the shadows of moonlit coconut palms in search of perfect crustacean competitors.
My 8-year-old, Reid, whom the counselors dubbed "Shark Bait" for his uncanny ability to spy sharks whenever snorkeling, was back within minutes, wielding a snapping blue crab the size of a dinner plate.
"I said hermit crab, man." Luis said in his Kriol-accented English.
Ten minutes later, Reid's older brother, Liam, burst into the sand-floored mess hall with a crab residing in a West Indian whelk shell the size of my fist.
"Now, that's more like it!"
Soon we were all huddled around a course of concentric rope circles, cheering on our motley crew of named, ambulating shells. The racers meandered this way and that, and sometimes — to the disappointment of their sponsors — plunked down in the sand for a rest. When one finally crawled outside the ring, it was met with great applause.
This was our final night at a week-long adventure camp on Long Caye, part of the Belize Barrier Reef System, a UNESCO World Heritage site. Much of our week's experience reminded me of my North American childhood summer camp, but with a tropical and a multi-age twist.
My family and I had met our fellow campers at a hotel not far from the Belize City airport. The next day we boarded Slickrock Adventures' boat for the 3½-hour ride southeast to Glover Reef, a coral atoll 54 miles in circumference in the Caribbean Sea.
We were greeted by a strong north wind and overcast skies as the rainy season drew to a close in mid-December, but our guides didn't blink. They battened down the mess-hall shutters and led us on the conch-shell-lined paths, assigning us to palm-thatched cabins, explaining how to conserve the solar-heated rainwater collected for showers, and introducing us to the island's patrol bunnies.
After a lunch of focaccia sandwiches and plantain chips, we pulled on our wetsuits and walked to the leeward side of the island, where we would spend much of our week snorkeling. As we juggled our gear and walked over sharp chunks of dead coral into the ocean, I had one eye on Reid and the other on my 70-year-old father whose balance is challenged by Parkinson's disease.
Luis immediately soothed my fears: He instructed Dad to lean on him as he helped him don his fins, and he assigned a guide to each of my kids. "We'll keep an eye on them," he said with a nod.
For the next two hours, we all snorkeled over gleaming white sand, conical sponges and varied corals — staghorn, brain, pillar and even fire. We popped our heads out of the water, excitedly asking our guides through snorkels, "What's that?"
A school of squid with their buzzing fins hovered mid-water not far from a sleek barracuda with a prominent underbite. Stoplight parrotfish tap, tap, tapped at the reef as I admired the iridescent blue spots of a juvenile damselfish.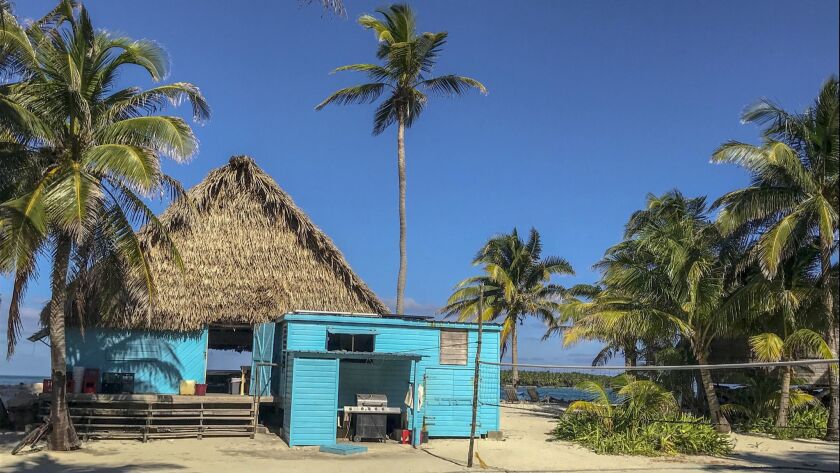 My brother, a scuba diving enthusiast, grinned in front of a school of blue tangs. Eleven-year-old Liam dove to the ocean floor to get a good look at a goldentail eel and then gracefully dolphin-kicked to the surface. And Reid, his eyes popping out of his head, pointed out a blacktip reef shark.
Each morning at breakfast our counselor guides enthusiastically announced the day's organized activities: kayaking over spotted eagle rays to the neighboring island, searching for octopuses on a tidepool walk, or snorkeling around reef patches with names such as Conch Central and Lobster Rock.
For the more adventurous, kite-boarding lessons and scuba diving were on offer. All new activities included thorough orientations to ensure we were safe.
On the surface, our group of 18 guest campers and four counselor guides wasn't an obvious match. We were nine families, ranged in age from 8 to 70, and spoke six mother tongues. Yet we quickly grew close. Self-selection certainly played a role. We had elected, many of us as return guests, to spend our vacation on an island 30 miles out to sea, without internet and depending on limited solar electricity and composting toilets.
The week's adventures also brought us together: gripping one another's arms each time we spotted a nurse shark, facing off in raucous evening games of naturalist trivia, and rescuing one another from rolled kayaks.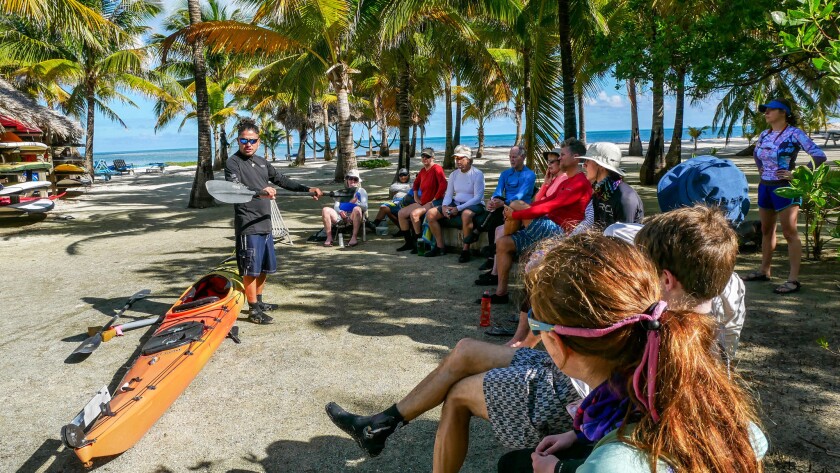 Most of all, we realized we were experiencing something special and fleeting. In 2016 and 2017, about half the coral died on Australia's Great Barrier Reef because of extreme heat. Almost a quarter of Belize's coastal coral was affected by bleaching in 2015 and 2016.
Yet here we were, exploring a protected, remote and still-vibrant corner of the world's second-largest reef system while under the care of highly capable local guides.
When the wind changed direction, we played in surf kayaks and learned to windsurf. Even Liam sailed his way across the bay on a board. On guided nature walks we sampled astringent coco plums and visited the resident osprey. We splashed through tide pools to admire brittle stars, camouflaged scorpionfish and juvenile pufferfish.
On days when the ocean was calm, we kayaked to new reef patches where giant lobsters undulated through the afternoon water, purple sea fans glimmered, fairy bassletfish swam upside-down, and porcupine fish puffed.
Evenings, we raced to the opposite end of the island to watch for the green flash just after sunset. Our guides organized us in games of island croquet: The mallet was a pendulous piece of dead coral tied to our waists, the ball was an orange stolen from the kitchen's juicer, and the laughter was full-bellied.
And then, of course, we ate: fish tacos, homemade cinnamon rolls and granola, chayote squash enchiladas, cauliflower with toasted cashews, pork chops, and cookies with strings of ginger embedded in every bite.
The only drawback to the amazing food was watching the cooks at the end of each meal dump leftovers into bins to be rolled to the island compost pit. I'm sure the resident crabs and iguanas enjoyed the Belizean stewed beans and coconut curry as much as I did, but I was struck by the waste, freed of the glossy resort walls that typically separate a tourist from signs of her impact on the local ecology.
At each meal, I shared a table with a different staff member: the jolly mestizo guide who sang whenever he found himself in a kayak; the Estonian kite-boarding instructor who spent her winters abroad; the guide from El Salvador who immigrated to Belize in the 1980s; and the young Mopan Maya guide who played cards with the kids and took them hunting for coconuts to sip on during happy hour.
My children are no strangers to travel — Liam has visited nine countries in his 11 years. We love to explore new places, almost never circling back to old destinations, but by the end of our week at Glover's Reef, each of the kids made statements that started with, "Next time we're on the island…." I didn't correct them. It's not cool to tell a kid on his last day of camp that he'll never be back. And, besides, my real thought was, yes, if we should be so fortunate.
Beyond Long Caye
To ensure that delays don't get in the way of the Saturday morning boat run to Long Caye, many choose to arrive in Belize City a day early, with time for a day trip.
Lamanai Maya Ruin Tour, Biltmore Plaza Hotel guest services; (011) 501-223-2302, guestservices@belizebiltmore.com. A fantastic one-day trip that includes a simple lunch, a guided boat ride with many stops to admire birds and a tour of Belize's longest inhabited Maya site, including Temple of the Jaguar. $120 per person.
Birds Eye View Lodge, Crooked Tree Wildlife Sanctuary; (011) 501-203-2040. Experienced as well as novice birders will enjoy this three-hour birding tour ($125 for up to three guests). The lagoon-side lodge offers reasonably priced doubles from $100 a night.
If you go
The best way
From LAX, Air Canada, American, Avianca, Copa, Delta, Southwest and United offer connecting service (change of planes) to Belize City. Restricted round-trip fares begin at $448, including taxes and fees.
Slickrock's guests meet at the Belize Biltmore Plaza Hotel in Belize City, a short 15-minute ($35) taxi ride from the Philip Goldson International Airport.
WHERE TO STAY
Slickrock Adventures, Long Caye, Glover's Reef, Belize; (800) 390-5715. The nine-night package costs $2,425 per person, with discounts for certain times of year, children or large groups. Includes seven nights on the island and two one-night stays at the Belize Biltmore Plaza Hotel. The ocean-side thatched cabins on stilts are simple but adequate with vinyl mattresses, solar showers and composting toilets. Delicious family-style meals, unlimited beer and soda, sporting gear, guided activities and transport to the island are included.
TO LEARN MORE
---
Get inspired to get away.
Explore California, the West and beyond with the weekly Escapes newsletter.
You may occasionally receive promotional content from the Los Angeles Times.