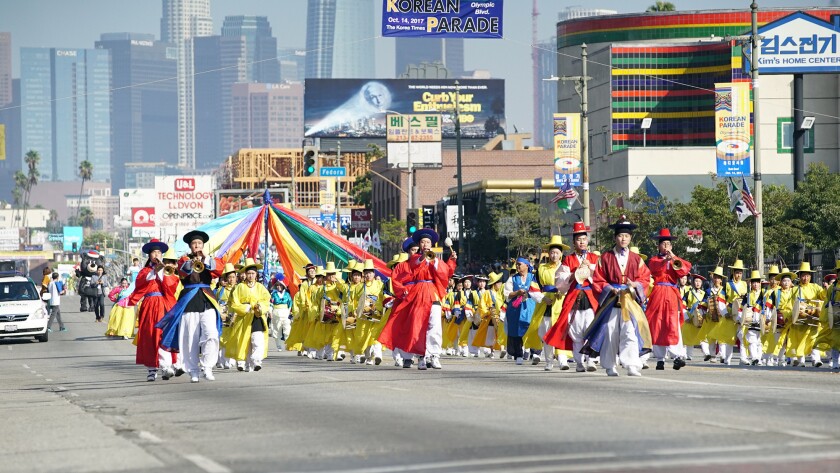 Whether you're feeling hungry or creative, you'll find plenty to do next weekend in Southern California. Choose from mural painting, sandcastle building, mole sampling and more.
Los Angeles
The 45th Los Angeles Korean Festival is a one-stop shop for Korean food, music, art and culture. Enjoy a parade down Olympic Boulevard, K-pop performances and lessons in traditional costumes, doll making, instruments and paper crafts. When you're in the mood to shop and eat, you'll find no shortage of lanterns, Korean beauty products, mung bean pancakes and Korean barbecue.
When: 10 a.m. Oct. 5-7
Cost, info: Free (concert extra). Family friendly. No dogs. (213) 487-9696, lakoreanfestival.org
Lompoc
Help paint the newest of Old Town Lompoc's collection of nearly 40 murals for Mural in a Weekend. "Chautauqua" will depict the educational and entertaining traveling shows popular in the 19th century. Dedication ceremony at 5 p.m. Oct. 7.
When: 8 a.m. Oct. 6 and 7
Cost, info: Free. Family friendly. Dogs OK. (805) 736-4567, lat.ms/muralinaweekend
San Diego
Pick up a new skill at Maker Faire San Diego, where more than 200 engineers, artists, scientists and other makers will convene for a two-day game of show and tell. Try your hand at robot building, learn how to make beer at home or find out how 3-D printers work.
When: 10 a.m. Oct. 6 and 7
Cost, info: $13-$39. Family friendly. No dogs. (619) 232-7502, sandiego.makerfaire.com
Los Angeles
Try as many as 30 varieties of mole, from poblano and vegan to green and manchamanteles (mole made with fruit), at La Feria de los Moles, a mole festival in Grand Park. Catch live mariachi music and a cultural parade, and brush up on your knowledge of mole at workshops and on a visit to the mole museum.
When: 10 a.m. Oct. 7
Cost, info: Free. Family friendly. No dogs. (323) 246-6430, feriadelosmoles.com
Newport Beach
Watch sandcastles, sand ships and plenty more come to life at the 57th Newport Beach Sandcastle Contest at Big Corona State Beach. You can go for a swim, buy a barbecue lunch, listen to music and visit the bubble-blowing area.
When: 10 a.m. Oct. 7
Cost, info: Free for spectators. Family friendly. No dogs. (949) 729-4400, lat.ms/newportsandcastle
Santa Monica
Coast, Santa Monica's yearly event promoting art, mobility and sustainability, is your chance to experience a car-free Main Street. Along the street party's two-mile route — which you can walk, bike or skate — are music and dance performances, art installations and workshops and interactive dance sessions. Those newer to moving on wheels can take safe-riding and helmet-decorating classes.
When: 10 a.m. Oct. 7
Cost, info: Free. Family friendly. Dogs OK. lat.ms/santamonicacoast
---