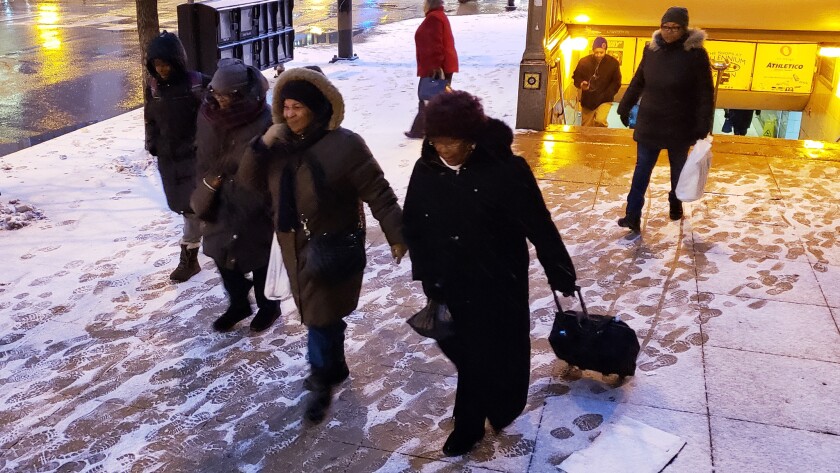 Chicago O'Hare International Airport had the highest number of flight disruptions Wednesday morning as a massive winter storm made its way across the U.S. It will bring snow, rain and an "icy mix" to parts of the Midwest and East on Wednesday evening.
As of Wednesday morning, more than 2,000 flights in the Midwest and Northeast had been canceled, and another 3,000 delayed because of the storm, according to FlightAware.
The flight-tracking website showed Chicago O'Hare as the worst place for disruptions between 7 and 11 a.m. CST, with 51 flights canceled and 163 delayed.
Baltimore-Washington, Reagan National and Dulles airports in the Washington area also showed significant flight problems, with a combined total of 84 flights canceled and 51 delayed as of Wednesday morning.
$32 to cross the Golden Gate Bridge? Settlement with Hertz puts an end to that »
The storm, which will continue to push east Wednesday night and Thursday, will affect 39 states, according to AccuWeather.
U.S. airlines are waiving change fees for travelers who want to postpone their travel this week. American Airlines issued a travel alert for airports in and around New York City, Washington, Philadelphia and other destinations.
United Airlines is allowing travelers to change their tickets for free for travel to or from 43 airports, from New York City to the Great Lakes area, Pennsylvania and Virginia. Southwest Airlines also warned passengers about flight disruptions and offered to waive change fees for destinations from Portland, Maine, to Washington.
---