Exploring Colorado's cannabis tourism scene in Denver
Reporting from Denver —
There's a first time for everything, I thought as I rolled into a Gas & Grass south of Colorado's state capital, pulling up next to a pump.
The station was pricey: Fuel cost at least 15 cents or more a gallon than at neighboring establishments, but this place combined the features of a traditional gas station with a marijuana dispensary,

For the record:
2:25 p.m. Sept. 26, 2016
A caption in an earlier version of this article referred to the Green Solution as the Garden Solution.
"Why is it so expensive?" I asked an employee who was checking a nearby pump.
She replied, "You get a 5-cent discount per gallon if you buy weed too."
Welcome to the entrepreneurial world of Colorado's green rush, the billion-dollar-a-year industry that has emerged since the state began permitting the sale of marijuana to adult recreational users two and a half years ago.
The legalization has given rise to a new genre of travel: cannabis tourism. California may be keeping an eye on such developments in Colorado because of a November ballot measure that would legalize adult recreational use.
In Colorado, for instance, you can go on a marijuana-friendly walking tour, get a pot-infused massage or go to an art class called "Puff, Pass and Paint."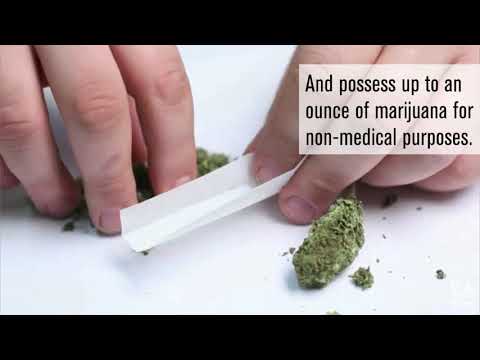 Proposition 64, a measure that would legalize marijuana for adult recreational use, has qualified for the California ballot.
23% of those surveyed said the availability of marijuana positively influenced their decision to visit.
— Colorado tourism study
Colorado set all-time records for visitation and spending in 2015, according to a July tourism study commissioned by the state. Twenty-three percent of those surveyed said the availability of marijuana positively influenced their decision to visit.
The flip side: 14% said it negatively influenced their interest in visiting.
I wanted to explore this travel phenomenon, so I spent most of my time in Denver, considered the hub of Colorado's recreational weed market.
I started with a self-guided tour on South Broadway Boulevard, known as the Green Mile because of the dozens of dispensaries in the neighborhood. Their green-cross symbol made them easy to identify. (Green, someone at a dispensary told me, because it's the "color of pot.")
The budtenders — yes, that's what they're called — tried to explain the differences between indica, sativa and hybrid plants; the effects of tetrahydrocannabinol, the key ingredient in pot. (See the glossary for more info.)
They also discussed the pros and cons of smoking methods, vaporizers, edibles and the salves and creams that supposedly reduce pain.
Much more complicated than I imagined. What if a customer just wants a joint? Is that available?
A worker at Ganja Gourmet, where the walls are decorated with psychedelic posters, replied, "Sure, $8.".
I moved on to Wellspring, a light-and-bright shop that looked like a small-town pharmacy.
"If you spend $50, you get a joint for a penny and 10% off edibles," one of the budtenders was telling a shopper.
There's that entrepreneurial spirit again, I thought to myself.
My mini-tour was interesting, but I was still confused. Unlike what you find at wine tastings or stops along a bourbon trail, marijuana has existed largely out of sight. I needed a guide to navigate this scene.
Enter My 420 Tours, one of a handful of companies in the city getting in on the pot industry by offering a variety of tours, classes and vacation packages. (My 420, pronounced "four-twenty," is named for April 20, a date that celebrates marijuana smoking. The origin of the term 4-20 is the subject of much discussion, although it most certainly pertains to pot consumption.)
In any case, you can get a two-and-a-half-hour, behind-the-scenes tour of a dispensary and a production facility ($49), take a two-hour cooking class where you'll learn how to "roll authentic sushi and perfect joints" ($69) or invest in a three-day immersive weekend vacation, including pot-friendly hotel accommodations ($1,295).
"With our tours, visitors get to see the latest the industry has to offer," said Danny Schaefer, My 420's chief executive. "We also offer a safer and better experience for consumers."
Schaefer estimates he serves more than 300 clients a week; almost two-thirds are seeking hotel reservations.
But finding a place to stay can be troublesome for tourists; laws prohibit using cannabis in a public area, and most hotels prohibit smoking in rooms.
With our tours, visitors get to see the latest the industry has to offer
— Danny Schaefer
Local tour companies have set up partnerships with some nationally branded hotels that allow the use of vaporizers. ("No open flames," a receptionist said when I called one hotel to double-check.)
Most of the accommodations don't advertise they allow the use of weed because of conflicts with federal laws prohibiting marijuana, Schaefer said.
Travelers can find Rocky-Mountain-High hotel listings in some local publications such as PotGuide.com, but no names, just such convoluted headlines as: "Downtown Denver Convention Center Nationally Recognized Hotel Includes Premium Vaporizer, Guide to the City, and Discounts."
Accommodations, cannabis friendly or not, weren't a concern for me; I was staying with friends.
My 420 Tour included a guided visit to a dispensary and a grow house (an indoor marijuana production facility).
Many Denver tour companies offer private or group tours on a bus, with educational talks about the differences in products.
"The camaraderie on the bus is amazing," said Brett Davis of Colorado Cannabis Tours.
"You get people from all over the world. They're all saying, 'Can this really be happening?'
"By the time the trip is over, they're all friends."
My group visited Native Roots, a large, trippingly cool dispensary in downtown Denver. There, I learned a little about edibles, which can be as basic as brownies and cookies or as sophisticated as drinks, sauces and gourmet truffles.
All are cannabis-infused and are a popular alternative to smoking.
Next on the itinerary was a grow house called Buddy Boy, where we wandered through eerily lighted rooms chock-a-block with budding pot plants, from 6-inch seedlings to 6-foot-tall giants ready for harvest.
Tim Nolan, the facility manager, told us there were 16 strains here, including Golden Goat, Durban Poison and Lemon Kush, adding that the plants live about 100 days. All of us shot selfies in front of leafy monster plants or giant bags of product waiting to be distributed.
Colorado may be on the cutting edge of legalized marijuana sales, but it isn't the only state where adult recreational use is legal. Washington, Oregon, Alaska and the District of Columbia have OKd its use. Of these, Washington and Oregon allow retail sales; Alaska and D.C. aren't quite there.
Then, of course, there's the California marijuana proposition. I asked Schaefer of My 420 whether he was watching the developments in the Golden State.
"We're super-excited," he said. "California is a target for our expansion plans."
Glossary
Dispensary: A store that specializes in legal marijuana sales.
Edibles: Marijuana-infused products that you can eat, such as baked goods, or drink, such as colas and coffee. (Read more below).
Indica: A type of marijuana plant that is said to produce a more relaxed high. Some people use it to induce sleep.
Cannabis: Also known as marijuana, Mary Jane, ganja and pot, among other names. Cannabis is a flowering plant that contains psychoactive ingredients and is used for recreational and medicinal purposes.
Sativa: A type of marijuana plant that is said to produce a more energetic high, although some people think it also causes paranoia or anxiety.
THC: Tetrahydrocannabinol,the chemical responsible for most of marijuana's psychological effects
Edibles
Marijuana edibles have turned over a new leaf. Gone are the days when brownies were full of enough sticks and leaves to choke a horse.
Today, food is infused with cannabis, usually in the form of cannabutter (cannabis and butter, natch). And it has expanded from brownies and cookies to all sorts of products, including colas, gummy candies, truffles and a host of other surprising foods.
The up side: Some advocates say it offers a high that is more relaxing than smoking pot, and its ingestion leaves no telltale smoke.
The downside: People sometimes overeat, which can unintentionally intensify the reaction.
Marijuana dispensary personnel — and the packaging itself— advise users to start small. Unlike smoking, which usually affects users fairly quickly, edibles work slowly. You have to digest them first.
Like all Colorado-sanctioned marijuana products, edibles are closely regulated, with portions clearly marked. One popular Denver edible is the Sweet Grass Kitchen snickerdoodle cookies ($25 for 10). One cookie constitutes one portion.
"Just don't eat it and think an hour later that it's not working," a sales clerk said. "People get in trouble when they take more because they think it's not working."
State Tips
If you're seeking your own Rocky Mountain High, consult Colorado's Good to Know website, before you go. Here's a summary:
Buying legally
Adults 21 and older can buy and possess up to an ounce of marijuana at a time from licensed retail locations.
Don't take it with you
It's illegal to leave Colorado with any marijuana products.
Where to use it
Hotel owners can ban the use and possession of marijuana on their properties, so check first to see if they're 4-20 friendly. Public marijuana use is not legal anywhere in Colorado, so you'll need to find a private residence or hotel/rental that allows it.
Don't reek up the ride
It's illegal to drive high and to use marijuana in a vehicle even as a passenger.
Dispose of leftover weed safely
Don't leave it in hotel rooms and never leave it any place where a child might find it. Good to Know suggests "using a secured container and in a safe place that's out of sight and out of reach of children, like in a large dumpster."
If you go
THE BEST WAY TO DENVER
From LAX, American, United, Southwest, Delta, Frontier and Virgin America offer nonstop service to Denver; Southwest offers direct service (stop, no change of planes); and American, Southwest, United, Virgin American and Delta offer connecting service (change of planes). Restricted round-trip fares from $198, including taxes and fees.
WHERE TO STAY
Don't assume a hotel allows marijuana use. Check with the lodging to see its rules on consumption.
Crawford Hotel, 1701 Wynkoop St., Denver; (800) 844-432-9374 or (720) 460-3700, www.thecrawfordhotel.com. Fantasize you're in a Pullman car during the glory days of train travel in this hotel set inside the city's remodeled Union Station. Other room designs include lofts and classic styles. Doubles from $359 a night.
Art Hotel, 1201 Broadway Ave., Denver; (303) 572.8000, www.thearthotel.com. The Art Hotel, adjacent to the Denver Art Museum, is true to its name, displaying contemporary art throughout the hotel and rooms. Open and airy. The year-old hotel has 165 well-furnished rooms and suites. Doubles from $245 anight.
Drury Inn and Suites, 4550 N. Central Park Blvd., Denver; (303) 373-1983; www.druryhotels.com. Denver's downtown may be where the action is, but it's also home to high-priced hotels. This Drury Inn is about six miles from downtown, but the ambiance and price are right, and it includes parking and breakfast. Doubles from $139 a night.
WHERE TO EAT
Cheba Hut, 1531 Champa St., Denver; (720) 974-1880, www.chebahut.com. If you have the munchies, Cheba Hut can satisfy them with toasted subs that have names such as Acapulco Gold (barbecue chicken), Humboldt (guacamole and veggie) or Magic Mushroom (portobello). The Phoenix-based chain has more than a dozen locations, including this downtown Denver shop. Subs from $4.
Stoney's Bar & Grill, 1111 Lincoln St., Denver; (303) 830-6839, www.stoneysbarandgrill.com. This funky downtown restaurant is named after its proprietor, not because stoners patronize it. But some cannabis tour groups do stop by for tacos, salads, burgers or to try some of the 17 beers on tap. Burgers from $6.
Union Station, 1701 Wynkoop St., Denver; (303) 592-6712, www.unionstationindenver.com. Choose from deli, bar, fine-dining or snack restaurants at this impressive Denver landmark, a historic makeover of the city's onetime transit hub. Among the choices: Get a burger or brat from Acme Delicatessen or comfort food from the Kitchen Next Door. Entrees from $12.
To read the article in Spanish, click here
TO LEARN MORE
Visit Denver, Denver Colorado Vacations & Conventions, 1575 California St., Denver; (303) 892-1505, www.denver.org
Get our L.A. Goes Out newsletter, with the week's best events, to help you explore and experience our city.
You may occasionally receive promotional content from the Los Angeles Times.