Norwegian Cruise Line sends a really big ship to L.A., and there may be more to come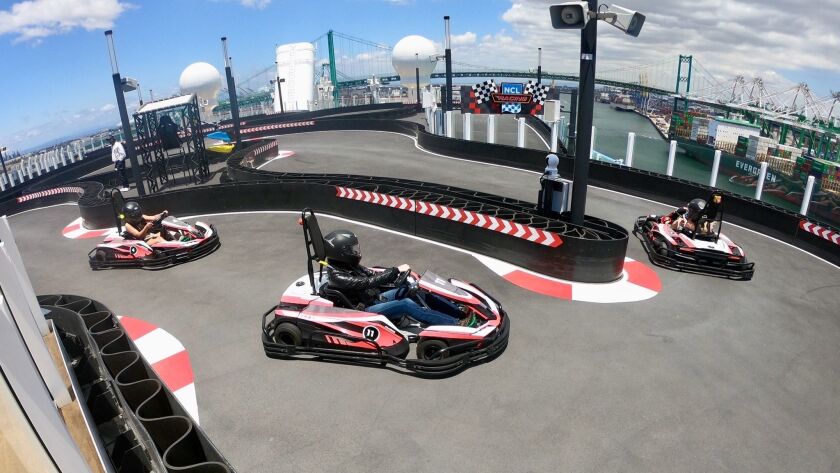 A colossal cruise ship sailed into the Port of Los Angeles over the holiday weekend. Maybe not the biggest in the world, but certainly the biggest to ever tie up at the port's docks at San Pedro. And there may be more giant ships coming this way in the future.
Norwegian Bliss, brand new, 20 stories tall and headed for a summer of cruising in Alaska, took a three-day detour while here for a spin down to Ensenada, Mexico, and back, carrying a shipload of VIPs, media and travel agents on a mini-inaugural cruise.
Visitors zoomed around the top of the ship in go-karts that topped out at 33 mph on a two-story, 2,000-foot track; tried their hands at laser tag; and jumped into a swirling tube ride that drops four stories to the main pool deck.
At night, they watched the live shows "Jersey Boys" and "Havana" in the main theater, or caught country music, pop or Beatles bands in various venues.
Bliss, which ranks among the top 10 cruise ships in the world in size, holds 4,000 passengers, a crew of 1,800 and is Norwegian's largest and newest ship, having launched in late April in Bremerhaven, Germany. During the last month, it made its way to New York and Miami before sailing through the Panama Canal, the largest cruise ship ever to do so, according to Andy Stuart, Norwegian's president and chief executive.
After leaving Southern California the ship headed for Seattle, where it will be christened and then begin weeklong round-trip voyages to Alaska on Saturday. Prices start at $999 per person, double occupancy, for an inside cabin.
It will return to the Port of Los Angeles in October for voyages to the Mexican Riviera, with three sailings this fall and two in April 2019. Cabin prices for the Mexican cruises start at $899 per person, double occupancy.
Will NCL offer more cruises from Los Angeles?
"Up until now it's been difficult because we couldn't take these big ships through the Panama Canal," said Stuart. "But the recent widening of the canal opens up many more opportunities for us. I would expect to see more NCL ships in Los Angeles.
"We shouldn't let the other guys [cruise lines] have it all to themselves."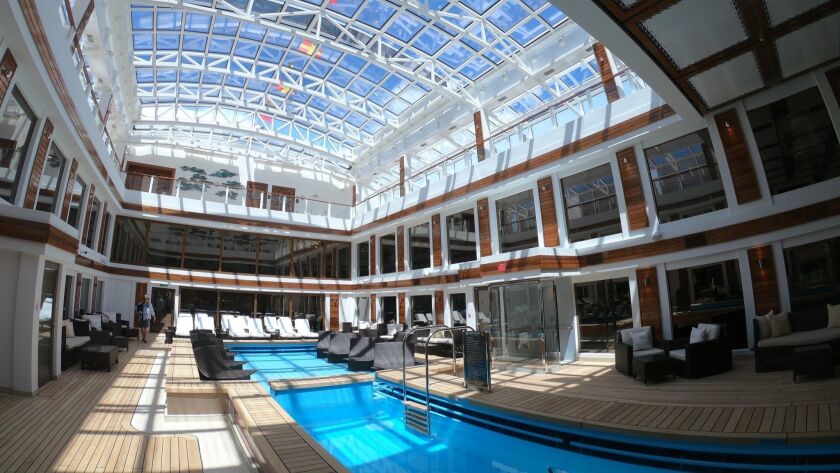 Among its other features, Bliss has a spacious 180-degree observation lounge — one of the biggest at sea, according to Stuart — that was designed specifically for Alaska trips. Passengers can sit inside out of the cold and view the icy glacial waters or just find a private area to read, nap or socialize. A separate, smaller observation lounge is found in the ship's exclusive Haven section.
Haven's prices are higher (a weeklong Alaska trip starts at $5,799 per person, double occupancy), but passengers have their own private area of the ship, with pools, a dining room, bar and other only-for-Haven-passengers perks. While the decor is handsome throughout the ship, the Haven area is particularly pleasant in a refined way.
New specialty restaurants on board include Los Lobos, a Mexican diner, and the Q Texas Smokehouse. For the first time, Norwegian has a branch of Starbucks onboard and a coffee and chocolate shop, Coco's.
Bliss was able to dock at the Port of Los Angeles without any problems, but a $30-million investment was necessary in Seattle because of the ship's size, said Stuart.
Info: Norwegian Cruise Line, (866) 234-7350 or contact a travel agent
ALSO
What will 2018 hurricane season bring to cruising: canceled trips or fair-weather sailing?
Ready to get away from it all? Try a world cruise. Four will depart from Los Angeles next year
Carnival adds more sailings to Cuba from four East Coast ports
---
Get inspired to get away.
Explore California, the West and beyond with the weekly Escapes newsletter.
You may occasionally receive promotional content from the Los Angeles Times.