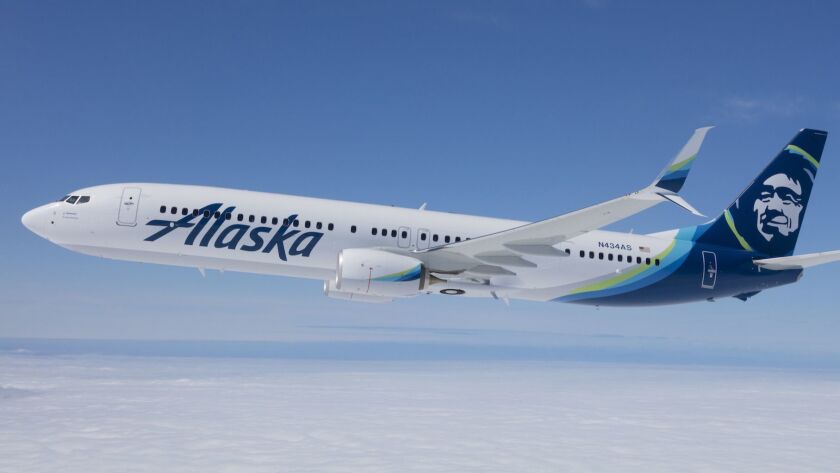 Cyber Monday is predicted to be the biggest online shopping event of the year, and airlines are doling out deals too. Check airline websites Monday for flash sales and other offers. Here's how some of the Cyber Monday discounts stack up so far.
More points for air miles: Several airlines will give you more than the usual points for dollars spent e-shopping at selected sites. Southwest Airlines and American Airlines have Web pages featuring partner retailers and the deadline for accruing extra points.
Air New Zealand: Los Angeles travelers can fly in economy seats round-trip from Los Angeles to London starting at $455, Rarotonga in the Cook Islands, from $545, Auckland, New Zealand, from $775, and Sydney, Australia, from $725.
Book starting Monday at Air New Zealand.
Alaska Airlines: The carrier is offering discounted fares across 475 city pairs. Prices for economy seats start at $39 each way for some destinations. Here are some sample one-way sale airfares from Los Angeles: $49 to San Francisco, $69 to Seattle, $99 to Chicago, $119 to Boston and $119 to Puerto Vallarta, Mexico.
Book starting Monday through Nov. 28 at Alaska Airlines.
Allegiant: The no-frills airline will offer up to 40% off airfares on all routes. It's also offering triple upgrades on rental cars and a third free night on vacation packages.
Book Monday only at Allegiant.
Air France: The airline promises reduced airfares to Europe that are good for travel between Jan. 16 and March 15.
Book through Nov. 28 at Air France.
Cathay Pacific: Save up to 60% on economy seats for flights between Los Angeles and Asia. Good for travel between Jan. 1 and May 15. Also, travelers can take $1,000 off business-class seats and $500 off premium economy seats by using the promotion code "HOLIDAY."
Book by Nov. 27 at Cathay Pacific.
CheapOair: The online travel airfare seller shows deals on several international carriers, including Fiji Airways. Sample round-trip airfares from Los Angeles: $678 to Sydney, Australia; $687 to Wellington, New Zealand; and $725 to Nadi, Fiji. Travel dates vary.
Book at CheapOair through Nov. 27.
Delta Air Lines: Delta wasn't saying as of Sunday night what airfare discounts will be like. But the airline's Cyber Monday landing page says: "From saving on flights abroad or booking that domestic flight at a discount, we're here to help you save more on Cyber Monday." Go to Delta for details.
Expedia: The online travel retailer is offering some discount coupons for flights, hotels and vacation packages from 9 a.m. to 3 p.m. PST Monday. Here's a sampling of coupons that will refresh every hour: Coupon 1, $100 off $200 flights and Coupon 2, 90% off in the Expedia App. Other coupons will be offered for hotels and vacation packages.
Book at the Expedia website or app until 11:59 p.m. PST Monday.
Fiji Airways: Fiji Airways launched a 48-hour sale that takes 56% off economy seats on flights between Los Angeles and Fiji. Round-trip tickets start at $729 between L.A. or San Francisco, and Fiji, and $749 to Australia or New Zealand. The offer is good for travel between Feb. 1 and May 31, and Sept. 1 and Nov. 10.
Book at Fiji Airways through Nov. 27.
Singapore Airlines: The airline is discounting airfares to Tokyo, Singapore, Seoul, Hong Kong, Frankfurt, Germany and other destinations.
Book Monday before Nov. 28 at Singapore Airlines.
Wow Air: The Iceland-based no-frills carrier is offering up to 40% all flights to all destinations. You have to use the promotion code "WOWCYBERMONDAY" and travel between now and April 2019.
Book Monday through Nov. 28 at Wow Air.
Twitter: @latimestravel
---