For a tranquil weekend getaway, try wine country -- in Carmel Valley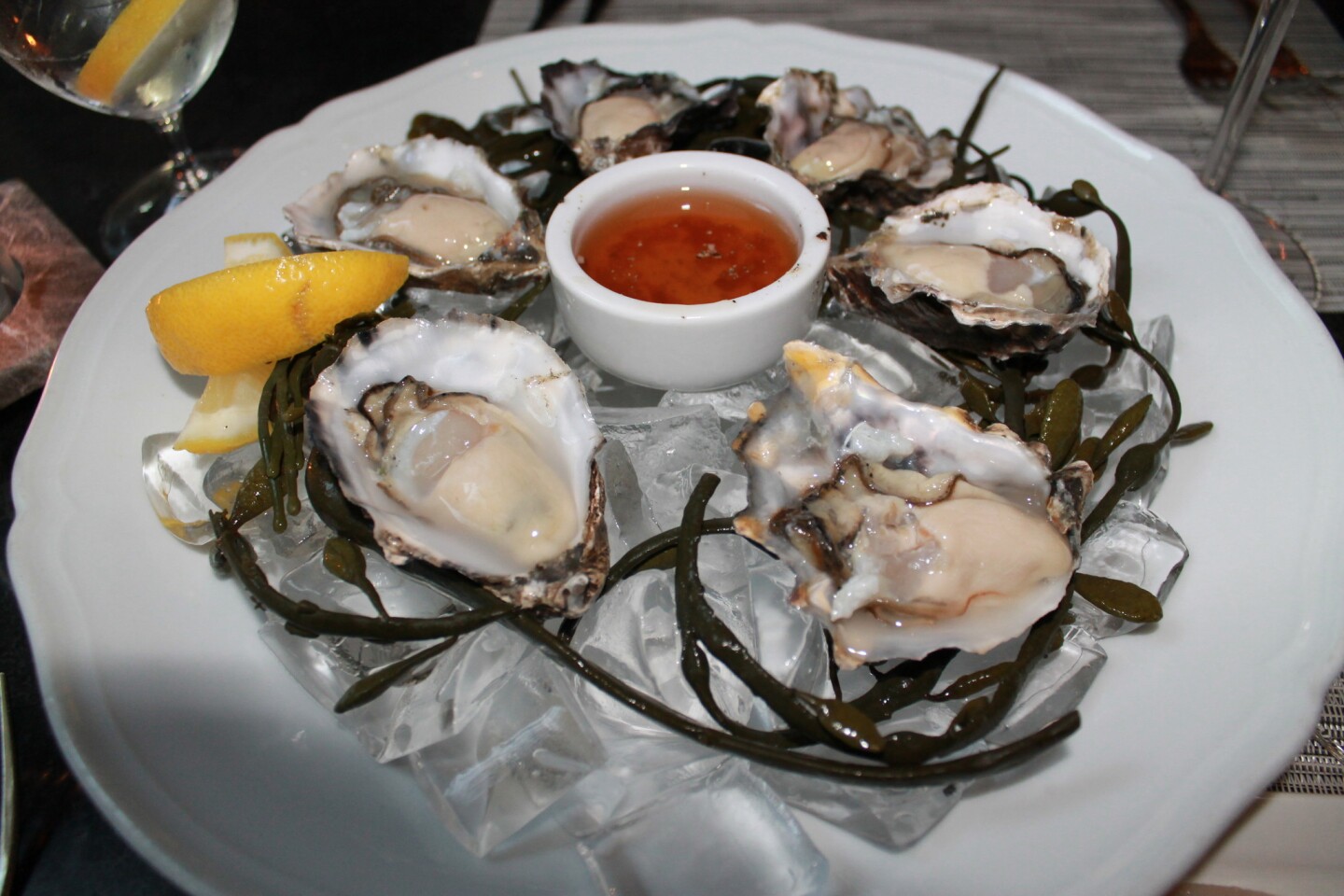 Oysters at Lucia Restaurant.
(Michele Bigley)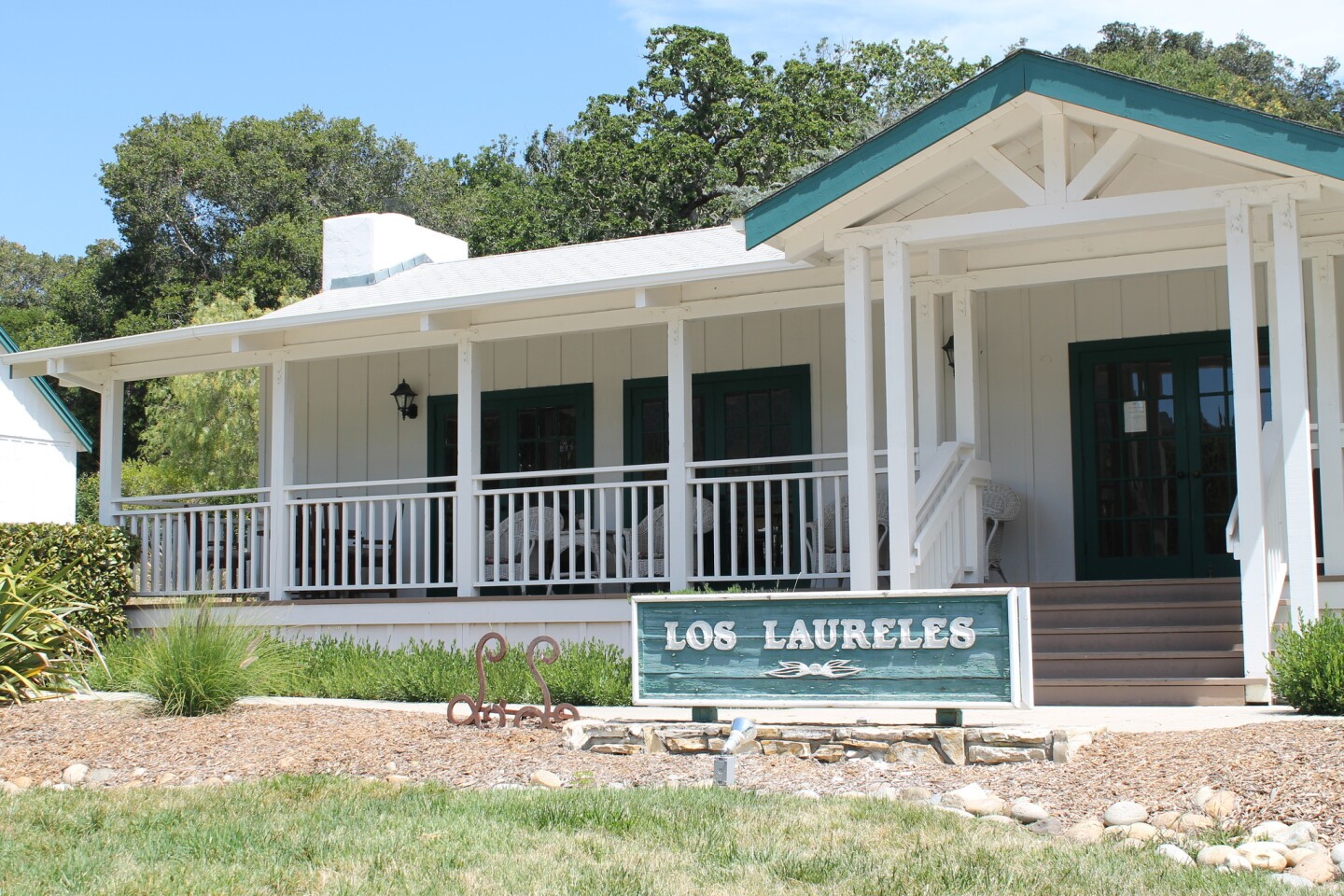 The exterior of the historic Los Laureles Lodge.
(Michele Bigley)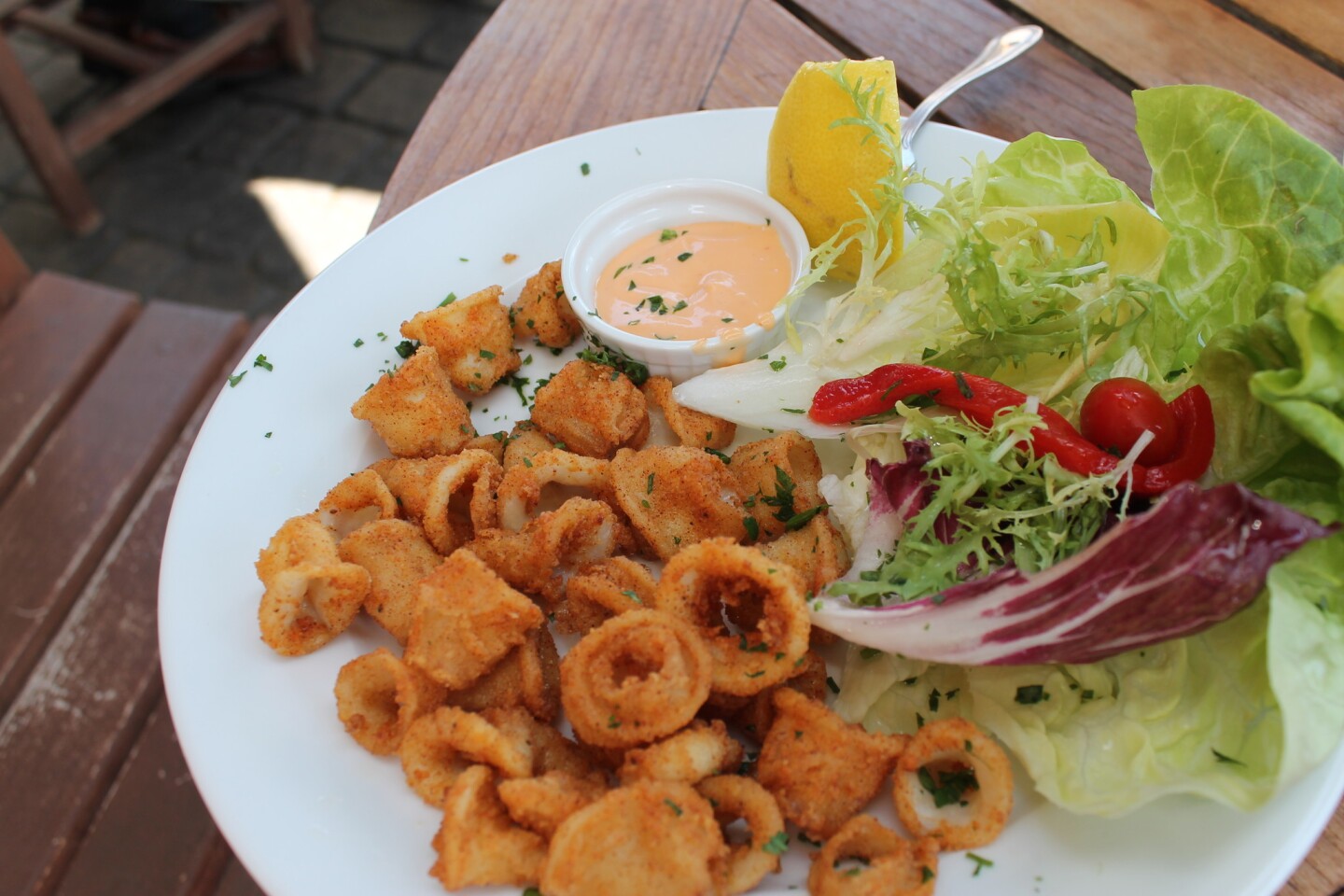 Calamari at Cafe Rustica.
(Michele Bigley)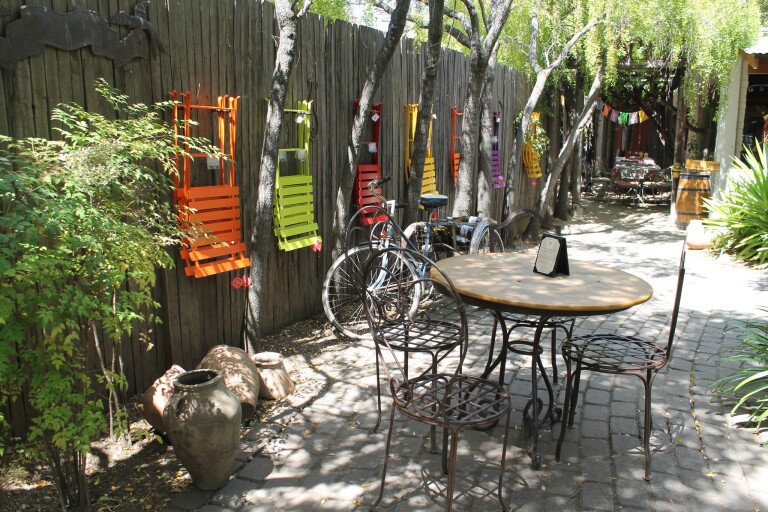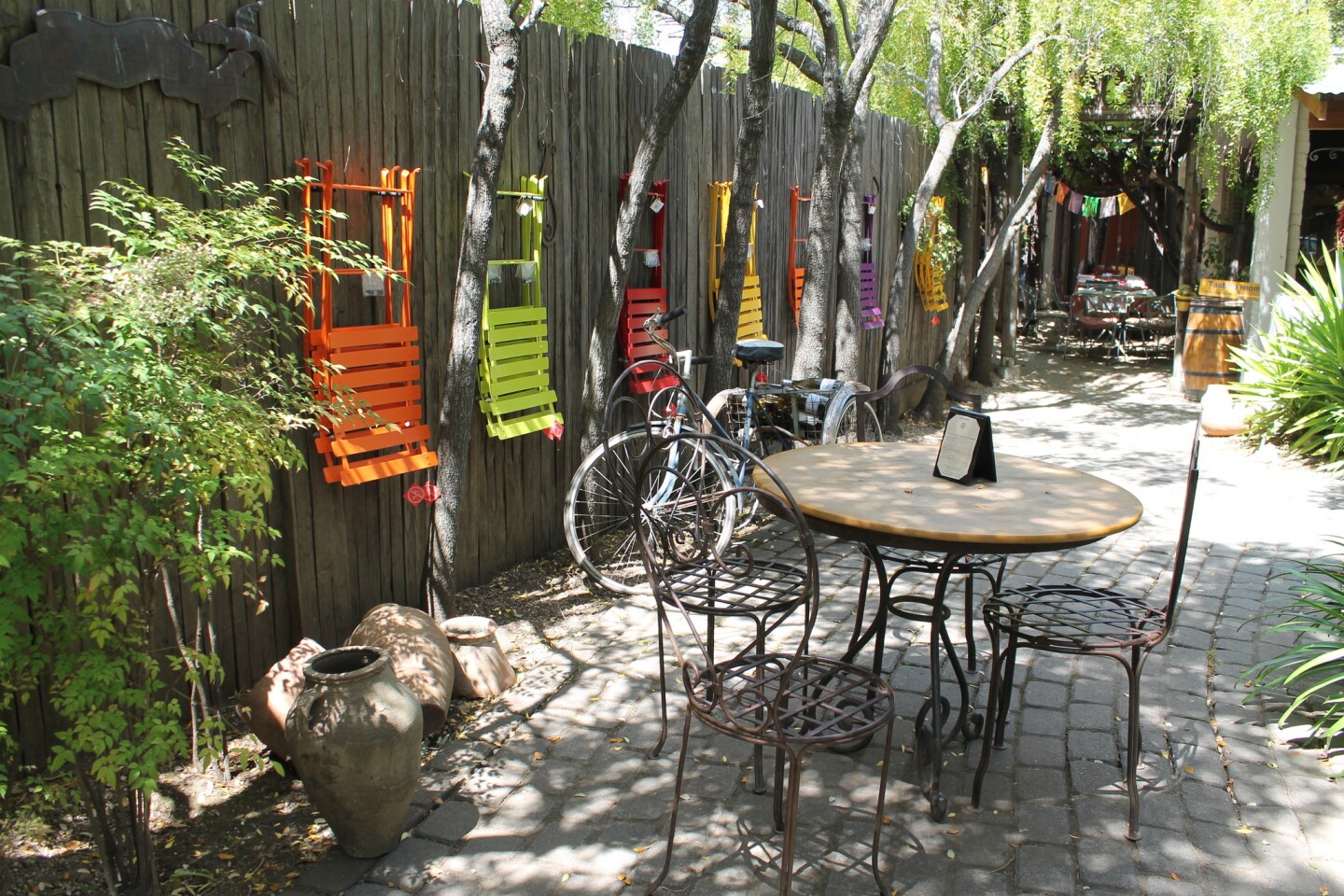 The patio at Georis Winery.
(Michele Bigley)
Artsy touches flourish around the Carmel Valley Village.
(Michele Bigley)
The wood fired pizza oven at Cafe Rustica.
(Michele Bigley)
Goat cheesecake at Lucia Restaurant.
(Michele Bigley)
Travelers hunting for a wine country escape — without the hordes of bachelorette parties — are flocking to Carmel Valley, a subdued community just 11 miles inland from Carmel where they can be wowed by sophisticated wines, innovative cuisine and a hidden Central Coast spa. The tab: $260 for two nights at Los Laureles Lodge; soaking in the hot tubs at Refuge, $44 a person; dinner at Lucia, $110 for two; pizza and salad at Café Rustica, $40.
The bed
Los Laureles Lodge (313 W. Carmel Valley Road, Carmel Valley; [831] 659-2233, www.loslaureles.com) wasn't always a knotty-pine country getaway with a pool, epic views of the valley and a down-home restaurant. Almost two centuries ago, the Boronda family is thought to have developed Monterey Jack cheese on the farm; Muriel Vanderbilt Phelps took the helm in the 1930s after the property had become a hotel. The room I slept in — a comfortable yet rustic number with thin walls, floral bedding and a continental breakfast — once was part of the stables for her racehorses. This lodge, the most central and affordable of the Carmel Valley hotels, is popular with wedding parties and summer sojourners, so book well in advance.
The meal
Cal Stamenov is considered among the finest chefs in Carmel Valley. His newly reimagined Lucia Restaurant (Bernardus Lodge & Spa, 415 W. Carmel Valley Road, Carmel Valley; [831] 658-3400, www.bernarduslodge.com) is the centerpiece of the posh Bernardus Lodge — the valley's most upscale accommodation. Treats such as Sonoma duck cassoulet and portobello mushroom soup are infused with richness and subtlety. Other choice dishes of the season include the fava, pecorino and artichoke salad topped with truffle vinaigrette, and chicken-fried quail with saffron horseradish crème. The next day, my husband and I craved a more low-key dining experience, so we headed to Café Rustica (10 Del Fino Place, Carmel Valley; [831] 659-4444, www.caferusticavillage.com), a wine country-style eatery in the center of the Carmel Valley village. The patio, with its arbor-covered trellis and views of the mountains, made the perfect spot for a simple pizza and hearty Caesar salad paired with a local Sauvignon Blanc.
The find
Down a long country road is Carmel Valley's best-kept secret — the plunge pools, eucalyptus steam room and sauna at Refuge (27300 Rancho San Carlos Road, Carmel; [831] 620-7360, www.refuge.com). The imposed silence, punctuated by the trickling of waterfalls and birdcalls, forces visitors to slow down, take in the soaring hawks and enjoy the quiet simplicity of resting in an Adirondack chair around one of the many fire pits. We followed the spa's advice and participated in the hydro thermal cycle — heat up, cool down, relax and explore. And in just a couple hours, our rejuvenation was complete.
Lesson learned
Tranquillity is on the menu even at tasting rooms, many of which feature abundant gardens with sitting areas. Save enough time to sip organic Chenin Blanc in Heller Estate's sculpture garden (69 W. Carmel Valley Road, Carmel Valley; [831] 659-6221, www.hellerestate.com) or in Georis Winery's artsy patio (4 Pilot Road, Carmel Valley; [831] 659-1050, www.georiswine.com).
MORE WEEKEND ESCAPES:
Looking for solitude? That's the lure of Los Ojos, N.M.
Avila Beach's gentle charm makes for a relaxing Central Coast getaway
For a weekend getaway with a touch of culture, head to Tubac, Ariz., where art reigns supreme
---
Get inspired to get away.
Explore California, the West and beyond with the weekly Escapes newsletter.
You may occasionally receive promotional content from the Los Angeles Times.