Roughing it in Arcosanti, Arizona, a sci-fi mini city said to have inspired 'Star Wars'
Arcosanti is an experimental and artistic town in central Arizona, about 70 miles north of Phoenix.
(Sam Lubell / For The Times)
One of the vaults, or covered work areas.
(Sam Lubell / For The Times)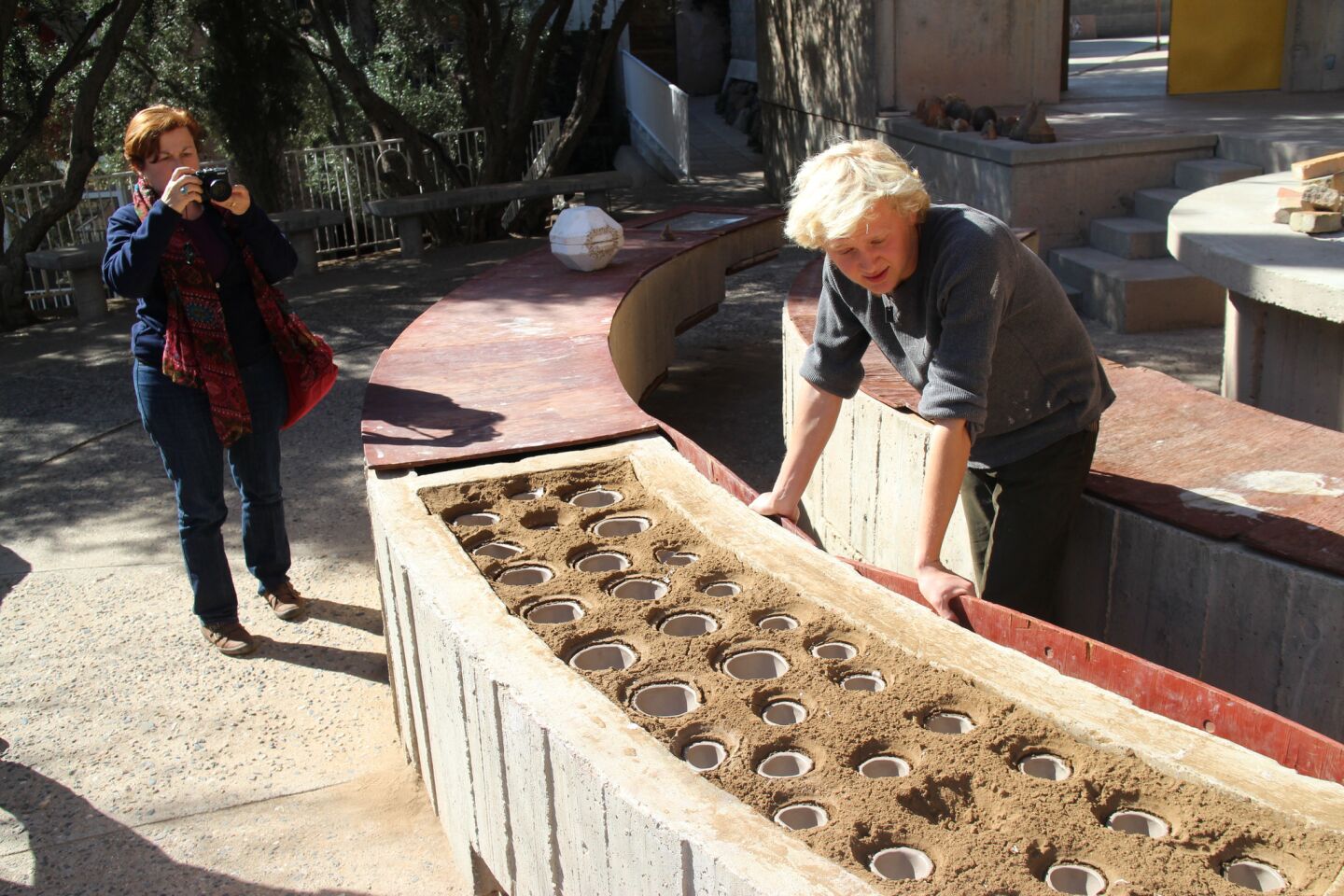 Ceramics apprentice Duncan Halleck, right, works on casting techniques.
(Sam Lubell / For The Times)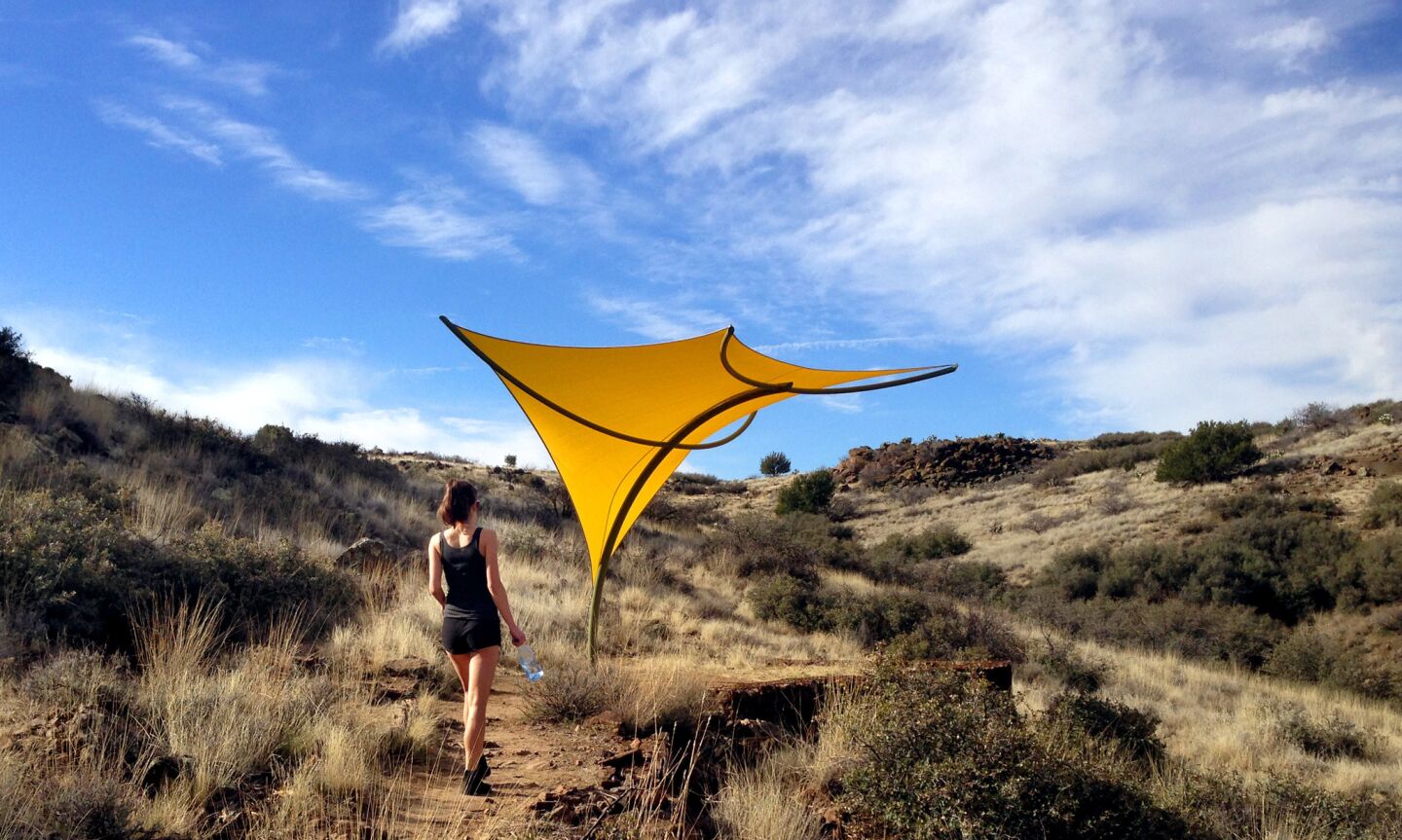 An artistic shade provider stands along side a hiking trail at Arcosanti.
(Sam Lubell / For The Times)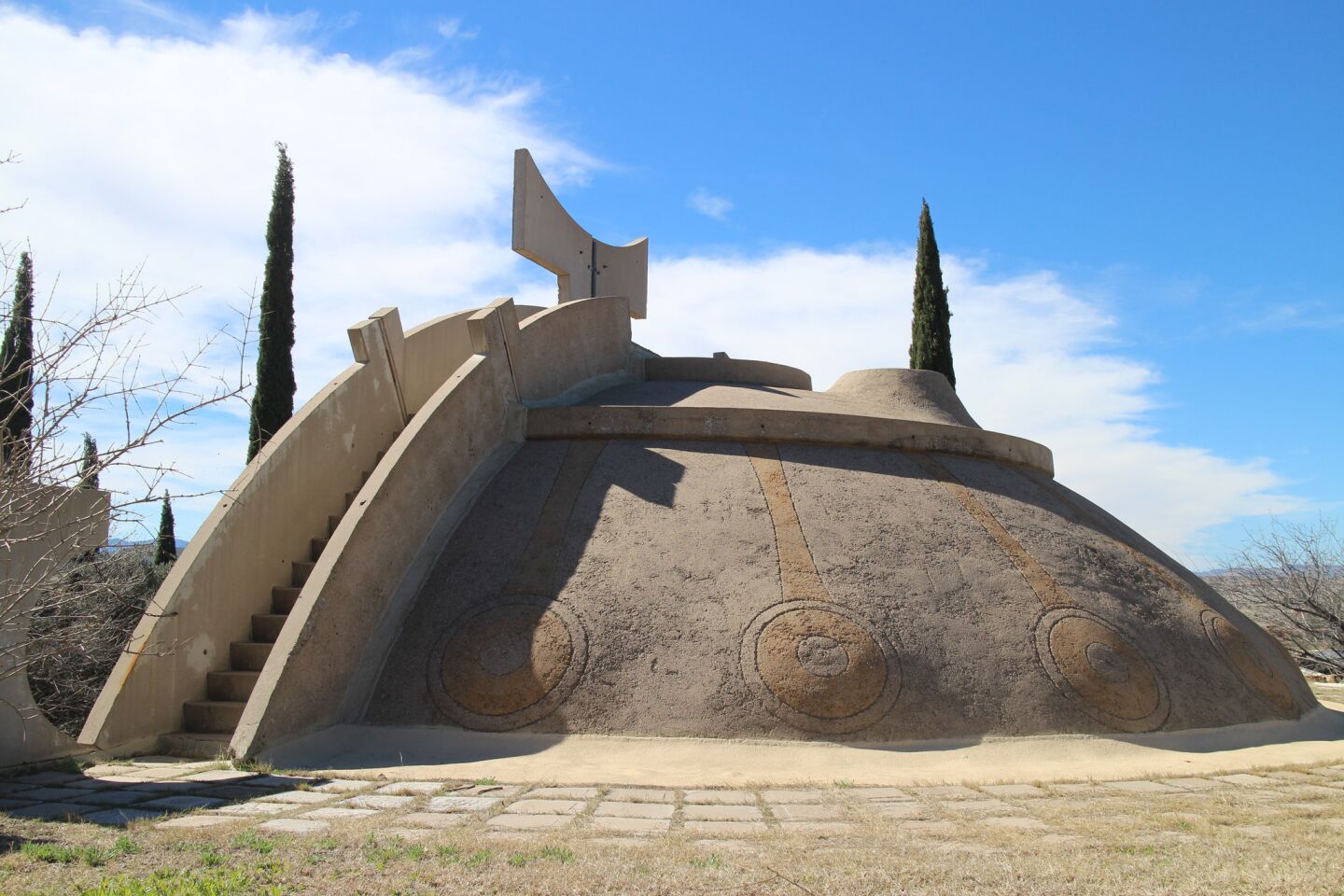 The Apse, where ceramics work is conducted.
(Sam Lubell / For The Times)
The interior of the Apse.
(Sam Lubell / For The Times)
One of the simple but comfortable guest rooms.
(Sam Lubell / For The Times)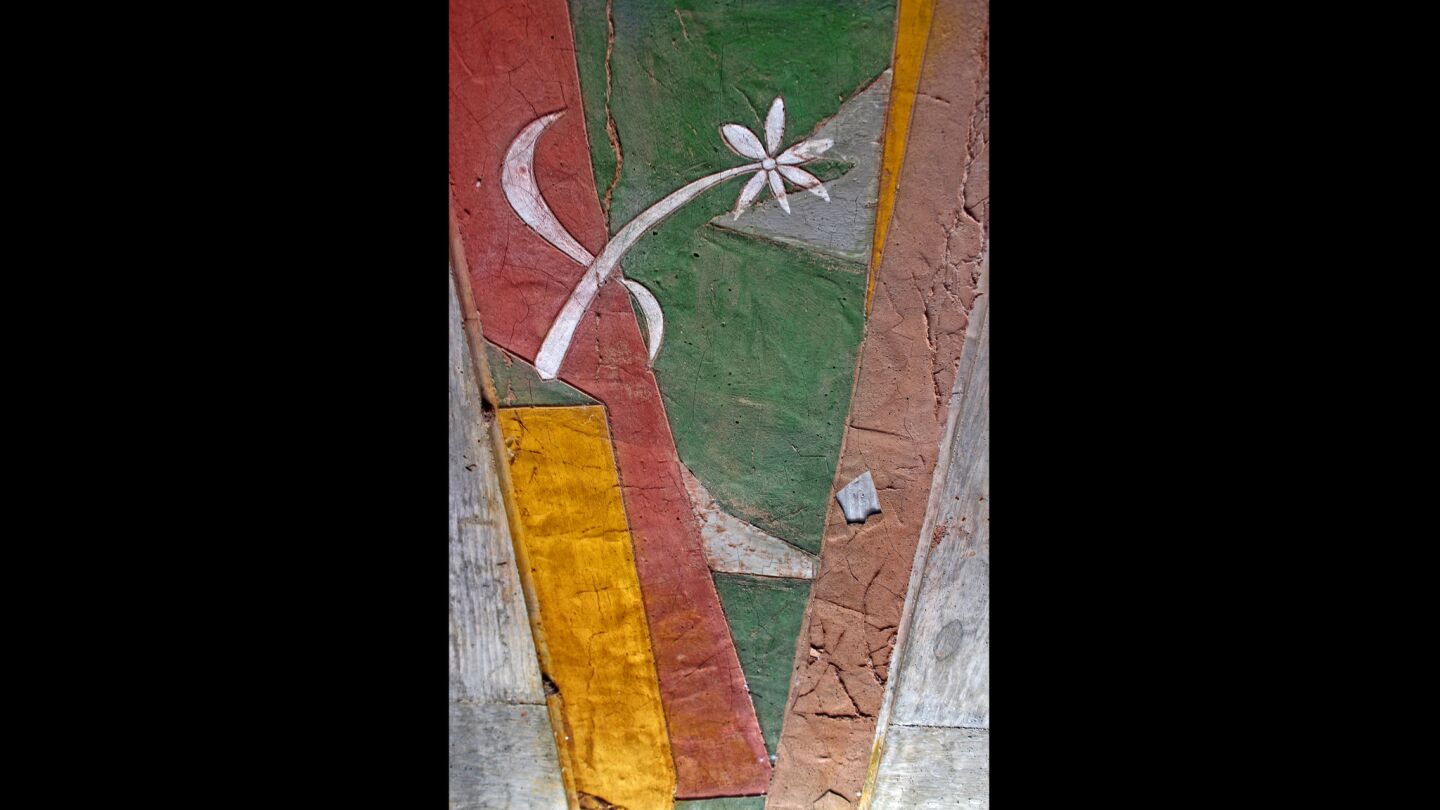 The ceiling of one of the guest rooms.
(Sam Lubell / For The Times)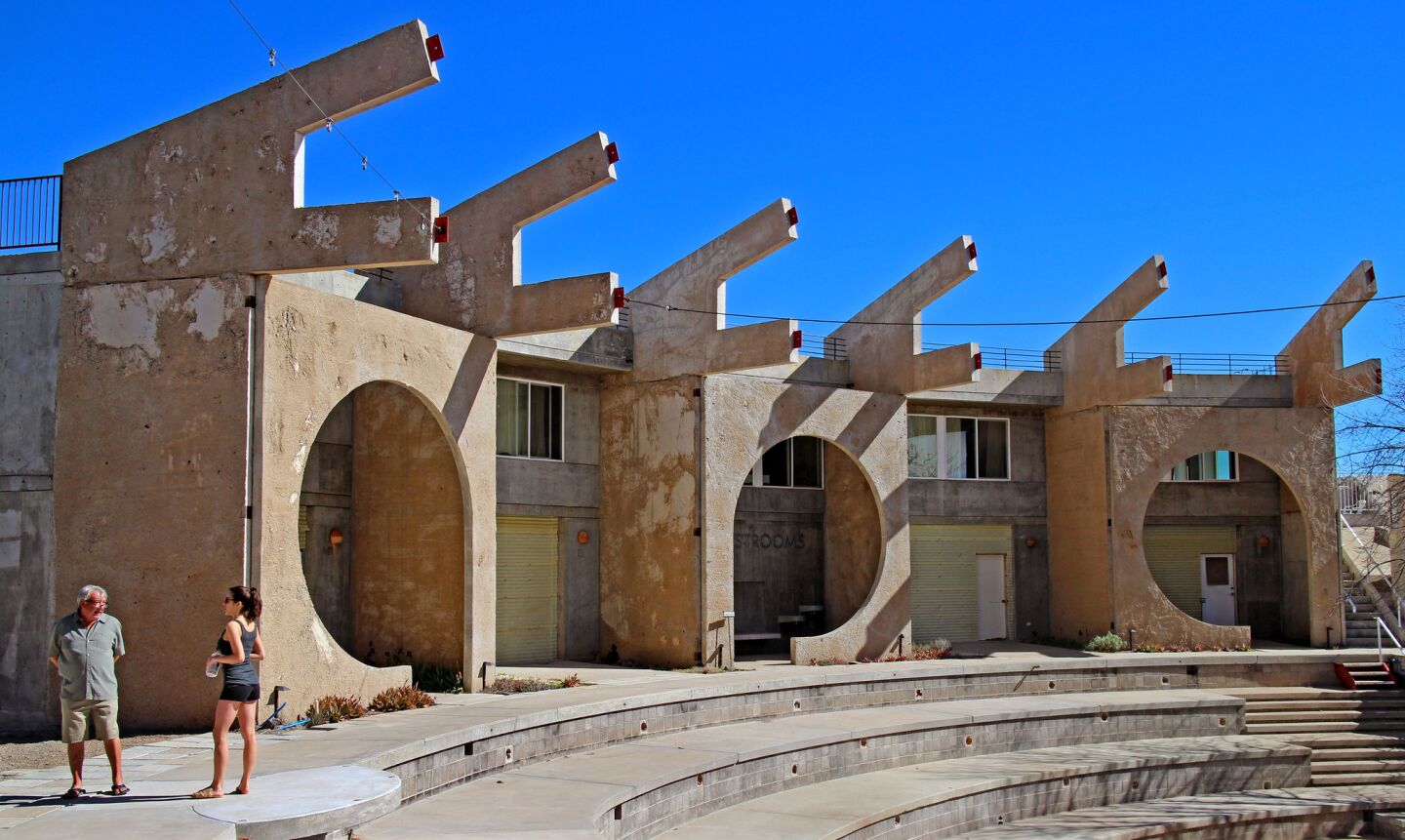 Housing units on the edge of an outdoor amphitheater.
(Sam Lubell / For The Times)
Biosphere 2 was an attempt at living in a closed ecological system. Visitors leave one of the domes after a tour.
(Sam Lubell / For The Times)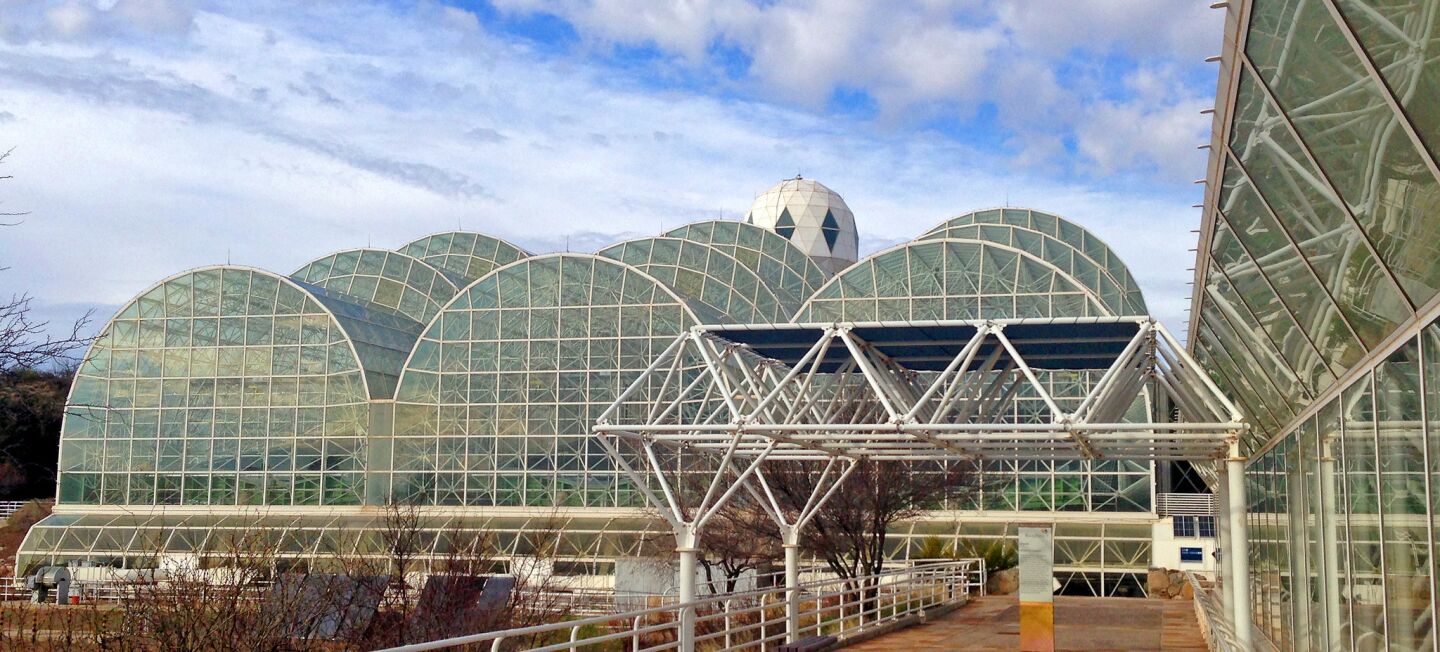 Biosphere 2 has become a science research facility in Oracle, Ariz.
(Sam Lubell / For The Times)
MAYER, Ariz. —
I love cushy resorts with their high-thread-count bed linens and fancy spas, but if you're willing to exchange upscale amenities for a cracked bathroom mirror and cobwebs, you might encounter something extraordinary.
That was my experience in February at Arcosanti, the rough-around-the-edges, experimental desert community about an hour north of Phoenix. Visionary architect Paolo Soleri dreamed it up in the 1970s as a case study for eschewing the anonymity and sprawl of growing suburbia.
Arcosanti is a winding, pedestrian-oriented "laboratory" consisting of tawny Soleri-designed living and craft-making spaces overlooking the empty Sonoran desert and grassland. Its dome- and bubble-shaped buildings, pierced by cantilevered concrete slabs, appear to be influenced by, among other things, 1970s Modernism, sci-fi futurism, Italian hillside towns and Middle Eastern villages.
The foundation of Soleri's philosophy is arcology, a combination of architecture and ecology. The concrete buildings were made to withstand harsh desert elements using minimal energy on a minimal footprint.
In the last 40 years, the mini-city has been constructed by more than 7,000 volunteers and is still being formed, but so far only 25 acres of Arcosanti's 860 have been developed. It's populated by 60 to 80 volunteers and apprentices, whose tasks are as varied as sculpting its famous bells, forming concrete and serving food.
The hanging bronze and ceramic bells, designed by Soleri and embellished by Arcosanti's apprentices, are for sale at the Arcosanti Gallery; proceeds help to fund the community's building projects. Their alien forms, imprinted with abstract shapes, look like odd, elongated versions of mushrooms, jellyfish and Native American pottery.
You also can stay at Arcosanti, where the prices are a reasonable $50 a night for one of 12 small guest rooms near its perimeter. A Sky Suite is available for those looking for more space and much larger windows for $100 a night. Staying here provides an intimate glimpse inside the place that you'll never get on an hourlong visit.
'Star Wars' set
When my girlfriend and I first arrived at Arcosanti, it seemed strangely familiar — as though we had landed on a "Star Wars" set. Indeed, George Lucas is said to have modeled Luke Skywalker's beige, dusty home planet on the place, and its unusual forms have seeped into popular consciousness through mass media.
We drove down a steep, precipice-hugging dirt road to our room, where a large window framed views of jagged desert cliffs and wild sagebrush. When I looked up, I saw the ceiling was painted with green, orange, brown and white murals of abstract organic forms. Maybe they were plants?
It was a surreal and relaxing environment but not luxurious. The paint was chipped, the bathroom was less than spotless and the room came with a few cobwebs.
Instead of turning me off, all that made me feel like an adventurer. Luxury digs would have defeated the purpose: If you were distracted by material items, you would never be immersed in the Arcosanti experience.
A heavenly shower
Visitors can walk around the property whenever and wherever they please, from the pool to the cliff-side sculpture garden to the greenhouse to the lookout on the far side of the canyon.
We discovered Arcosanti's elements almost by accident. We climbed atop the crescent-shaped amphitheater, which is sometimes covered by a Vietnam-era parachute for shade; walked under the South Vault, an open work area covered with orange and red curved concrete panels tinted with natural pigments; and strolled by the Ceramics Apse, where the bells are produced, a dome-shaped structure made of poured concrete mixed with silt and abstract, prehistoric-looking ornamentation. It looked as though it would be equally at home in an Aztec burial complex or on Mars.
Food at Arcosanti is not deluxe. Guests and residents eat in the cafeteria in the Crafts III building, where dinner for us was chicken fingers and salad. Breakfast was granola, bagels and yogurt.
It felt communal and free-spirited, and the setting couldn't have been more dramatic. The Crafts III building has round windows that overlook the mesa and a large central atrium that allows light to pour in through a skylight; an oversized balcony hangs above the landscape.
That night before bed, we stared at the shower of stars through the room's floor-to-ceiling window. Our loud neighbors snapped us out of our trance, so sleep wasn't as sound as we would have liked.
The next morning we took the tour to learn more about Arcosanti.
We discovered that Soleri had trained at Frank Lloyd Wright's Taliesin West in nearby Scottsdale. We were shown how the ceramic bells were cast directly in the earth, and how the brass bells were made from molten bronze sculpted inside aluminum molds.
We learned how Soleri moderated the temperatures inside the desert complex by using thermal cooling, solar orientation and swamp coolers.
We stared at Soleri's glass-clad office, where he had hatched many of his ideas; and we explored new construction, such as the Keystone Project, where flour is ground.
Test run
But nothing beat the experience of meeting residents such as Lance Cope, our tour guide, who has stayed at Arcosanti much longer than he ever anticipated; Duncan Halleck, a young apprentice who was learning to pour molten metal at the foundry; and even the local cat, Monsoon, who "blew in" during a storm.
Arcosanti was just a test run for Soleri, who wanted to build more ambitious cities on a denser and more intricate scale, changing the way our world developed.
In many ways, Arcosanti has been a failure. It is not self-sustaining, as Soleri had hoped. Food comes from a local farm or the property's chickens, but most is bought from the supermarket.
Its population isn't close to the 5,000 he anticipated, and the towers, elevators, escalators and moving walkways he imagined were never built.
Soleri died in 2013, and Arcosanti's residents are scrambling to find robust leadership. There never was much of a hierarchy or plan for succession.
"We're trying to figure that out," Cope told me.
Most income comes from the sale of the bells and, to a lesser degree, hosting workshops and events. Although construction continues, ambitious building seems to be over.
The city council recently halted a long-delayed project to build a solar "apron" over some of the living quarters.
Nonetheless, Arcosanti inspires creativity, community and a standard for denser, lighter living. It is one of the most fascinating places I've explored.
The effort to build and sustain such a utopian ideal is as awe-inspiring as the architecture and the surreal setting, which you can't fully understand until you've spent time inside, walking the paths with residents and wondering how it could all work in a perfect world.
::
Build your own tour of Arizona's architectural desert visions
Arcosanti is a great base from which to explore architecture in the Phoenix area. Perhaps the freedom of the desert or the influence of freethinkers such as Paolo Soleri and Frank Lloyd Wright made this region a haven for experimentation. Here are just a few examples that enliven an Arizona trip:
Cosanti, Paradise Valley
About an hour south of Arcosanti, the residence and sculpture studios of Soleri and his staff are in some ways more ambitious. Most of the complex's structures were built using "earthcasting," in which concrete was poured over shaped earthen forms.
They're dizzyingly diverse and strange. It's like giant pottery infused with Soleri's love of organic forms, bright, natural pigments and prehistoric ornament.
Info: www.arcosanti.org/cosanti
Chapel of the Holy Cross, Sedona
Perched on a cliff above the gorgeous red rocks of Sedona, about an hour north of Arcosanti, the small chapel, designed by the architecture firm Anshen & Allen, provides awe-inspiring views inside and out. Its slabs of textured stone and concrete make you feel as though you're praying inside a cave.
Info: www.chapeloftheholycross.com/
Taliesin West, Scottsdale
Wright's winter home and desert school was built in 1937, when empty desert dominated its location, not suburbia.
Like Soleri, Wright devised ingenious means for cooling his complex, with uptilted buildings, overhanging roofs and heavy masonry walls.
Nonetheless, the spaces are infused with natural light and a sophisticated originality. Students still build their own structures in the desert as part of their course requirements.
Info: www.lat.ms/1RILlCA
Biltmore Hotel, Phoenix
Designed by Wright and former student Albert Chase McArthur, the stunning hotel is clad with Biltmore Blocks, which are beautiful, palm tree-inspired variations on the textile blocks Wright used to construct homes.
Much was damaged in a fire in the '70s, but the hotel was renovated in 1992 and again in 2014. Make sure to visit the restaurant, Wright's at the Biltmore, with its gorgeous furniture and breathtaking Wright chandeliers.
Info: www.arizonabiltmore.com
Biosphere 2, Oracle
Known as the "largest science experiment in the world," the massive complex of glass palaces and bubble-like domes was built as a "closed ecological system," where explorers lived as though they were on another planet and had to be self-sufficient. That dream died, but its self-contained biomes — including a rain forest, wetlands, grassland, desert, coral reef and ocean — are now a research center owned by the University of Arizona.
Worth a visit, but not a close drive: It's about 2 1/2 to three hours from Arcosanti, straight through the desert.
Info:
www.b2science.org
::
If you go
THE BEST WAY TO PHOENIX
From LAX, Southwest, American, United and Delta offer nonstop service to Phoenix, and American, Delta and United offer connecting service (change of planes). Restricted round-trip fares from $190, including taxes and fees.
Arcosanti is about 70 miles north of Phoenix.
Arcosanti, 13555 S. Cross L Road, Mayer, Ariz.; (928) 632-7135, www.arcosanti.org. Open 9 a.m.-5 p.m. daily except major holidays. One-hour tour, $10 suggested donation. Guest rooms from $30 a night (shared bath) to $100 a night for the Sky Suite. Price includes continental breakfast.
---
Get our L.A. Goes Out newsletter, with the week's best events, to help you explore and experience our city.
You may occasionally receive promotional content from the Los Angeles Times.