Weekend Escape: Chill out at Big Bear Lake
Big Bear Lake is down a bit from the drought but still popular for boating and enjoying the area.
(Rosemary McClure )
Boaters enjoy Big Bear Lake.
(Rosemary McClure )
The great horned owl, like this on at the Big Bear Alpine Zoo, can kill and eat rattlesnakes.
(Rosemary McClure )
This black bear at the Big Bear Alpine Zoo is named Hucklebeary. He's the alpha bear in the pen despite having only three legs, which zookeepers believe was the result of a being hit by a car when he was just a cub.
(Rosemary McClure )
Some carved wooden bears get to roam free at the Big Bear Alpine Zoo.
(Rosemary McClure )
Dogs Darby, left, and Piper, right, enjoy the layout at the Big Bear Best Western Chateau.
(Rosemary McClure )
The Evergreen Restaurant has an artistically presented and delicious roasted tomato bisque.
(Rosemary McClure )
Those of us whose air-conditioning goes on strike every summer are always looking for a place to chill (in my case, with my dog).
Big Bear Lake, a (usually) snow-fed reservoir surrounded by the San Bernardino National Forest, offers trails to hike, a dog-friendly boat tour and, if you're lucky, temperatures so cool you may be forced to wear a jacket at night.
The bed
I wanted to stay near the Big Bear Alpine Zoo in Moonridge, so I tried a nicely landscaped lodge in the area, the Best Western Big Bear Chateau, where beds of flowers brightened the grounds and the words "free breakfast" beckoned.
Road trips: where to go and what to know
It wasn't hard to a find dog-friendly place to eat, including Grizzly's Bear Belly Deli & Cafe, about a block from the Best Western.
The meal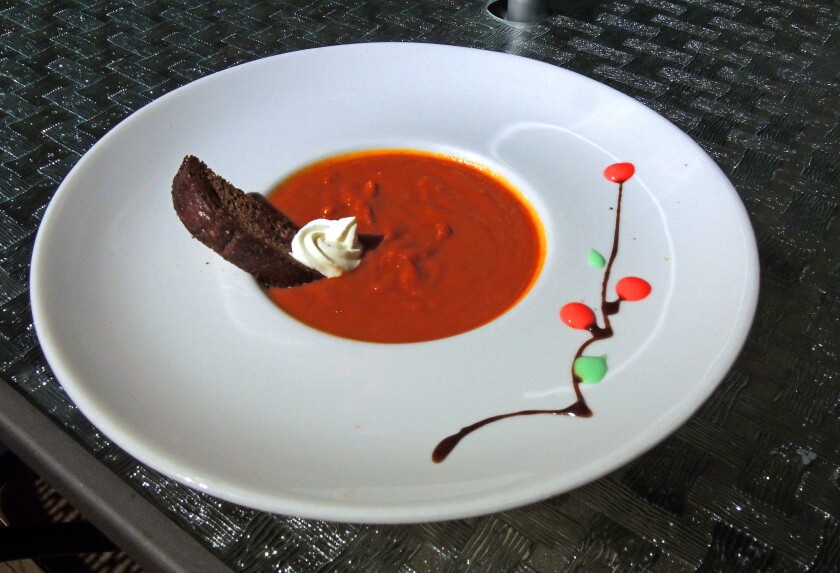 My favorite meal? At Evergreen Restaurant, which overlooks the lake.
The find
And the lake is still there, despite the paucity of rain. What better way to explore it than aboard Miss Liberty, a 64-foot-long paddle-wheel boat that allows well-mannered dogs. We cruised the lake for 90 minutes while the captain recounted the lake's history and clued us in on the celebrities who have homes along the shoreline.
The lesson learned
Later, at the Big Bear Alpine Zoo (which is also a rehabilitation center that returns 80% of the animals rescued to the wild), I saw three grizzlies; a three-legged black bear, a pack of white wolves and two snow leopards.
Miles one way from downtown L.A.
About 100
Resources
Big Bear lodging, www.bigbear.com; Best Western Big Bear Chateau, www.lat.ms/bigbearchateau; Grizzly's Bear Belly Deli & Cafe, www.bearbellydeli.com; Evergreen Restaurant, www.evergreenbigbear.com; Miss Liberty paddle-wheel boatwww.pineknotmarina.com; Big Bear Alpine Zoo, www.bigbearzoo.org.
Follow us on Pinterest:
Have an incredible road trip story or a useful tip? Share your memories and suggestions with us in the comments.
---
Get inspired to get away.
Explore California, the West and beyond with the weekly Escapes newsletter.
You may occasionally receive promotional content from the Los Angeles Times.