Kick-start an active new year with a wellness spa vacation in California or Baja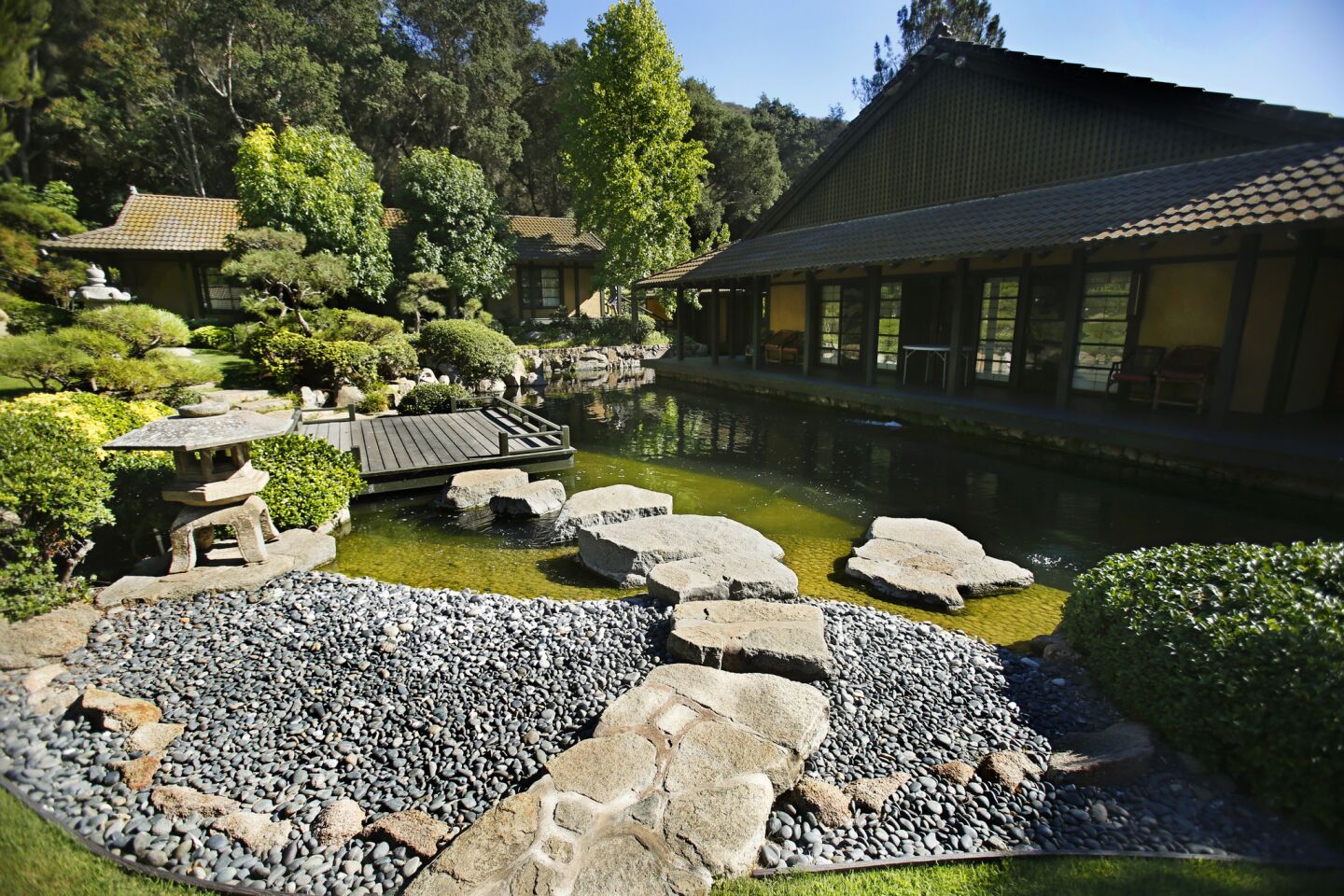 The Golden Door's definition of luxury is more about less. Visitors can travel light, as the spa provides basic workout wear and casual yukata kimonos.
(Kirk McKoy / Los Angeles Times)
The Golden Door is modeled after the minimalist aesthetic of a Japanese inn. The retreat includes a traditional bathhouse and gardens, a bamboo forest, labyrinths and koi ponds.
(Kirk McKoy / Los Angeles Times)
The Golden Door's spa room guests are treated to heated rock or spa scrubs with skin care and beauty lines locally produced.
(Kirk McKoy / Los Angeles Times)
Yesterday you devoured the leftover party meatballs and washed them down with a double-chocolate fudge milkshake, thus shattering your day-old resolution to shape up in 2016. Slacker. Maybe it's time to put your money where your mouth is, so to speak, and try a fitness camp vacation.
If you're ready, we're ready to help. We've gathered info to aid in your search for the perfect weight-loss resort, a place where you can see new scenery, grab a little R&R and — perhaps most important of all — be barked at by an army of buff fitness coaches.
California has some of the best destination wellness spas in the world, luxury boot camps that will kick your weight-loss program into high gear. They'll help you drop pounds, learn to eat healthfully and discover how to reduce your stress level. You'll be able to tackle that weighty resolution that's hanging over your head — and showing up on your scale — on a weeklong spa vacation. Or, if your pockets are deep enough, a six-week or two-month program that may cost upward of $50,000.
The price tag is high, but the results often are stunning. In late December, I visited Palm Desert, striking up a conversation with a 31-year-old Montreal resident who had lost 46 pounds in six weeks at the new Biggest Loser Resort there.
"I still have a long way to go," the program participant said, asking that his name not be used. He added that he had started his diet at 348 pounds, "but I'll make it. I've learned how to be healthy here." He also learned how good it feels to put on his old clothes and have them hang on him, he said. "And I've learned to like to work out."
The Palm Desert Biggest Loser Resort opened late this summer at the JW Marriott Desert Springs Resort & Spa, replacing a smaller facility in Malibu. It joins other Biggest Loser resorts in Chicago; Niagara, N.Y.; and Amelia Island, Fla. All are loosely modeled on the NBC TV show of the same name.
But there are differences, said Dawn Ferraro, the Marriott Desert Springs spa director. "The focus … is on safety and good form. Everyone works at their own pace." Participants have their own dining room, chef, lecture hall, gift shop and hospitality area. But instead of wine-and-cheese happy hours, they indulge in veggies and hummus. And the mini-bars in their rooms have been stripped of high-calorie snacks and drinks.
The tariff is $2,995 per week (excluding taxes), which includes hotel accommodations and amenities, lectures, meals, workouts and "tools for healthy shopping and cooking back at home," according to a brochure ([844] 253-3901, www.biggestloserresort.com).
In the world of destination wellness spas, the Biggest Loser program is relatively inexpensive. Some weeklong plans cost upward of $9,000. Others are as low as $1,820. Or you can make up your own program at a spa of your choice.
But sometimes you can't do it alone. You need someone to motivate you, help you stick to your goals and steer you in a new direction. And that's when a fitness resort — and an army of buff coaches — may be able to help.
Here's how to plan a DIY fitness vacation that won't break your budget
If you're not convinced that you should drop several thousand dollars on a weeklong vacation at a weight-loss resort, we have an alternative plan for you: DIY.
You may not have succeeded with other reducing schemes in the past, but who knows? Maybe this will be a winner for you. And you'll have fun in the process.
Step 1: Shoot your "before" photos and video just in case things work out the way you hope. Maybe they will go viral.
Step 2: Decide on a locale. We picked the California desert. Because most weight-loss programs include hiking, and we love Joshua Tree National Park, that's our base. We'll hike four to five hours per day, or fewer if we decide to spend part of the time rock climbing, which burns zillions of calories.
To save money on accommodations, we will camp; to avoid high restaurant bills, we'll cook out.
And for the touch of luxury every dieter owes himself or herself, we'll spend time lolling in a pool at one of the 19 spas and resorts in Desert Hot Springs, which calls itself California's Spa City.
Because we're on a tight budget, we might try the pools at Desert Hot Springs Spa Hotel, where day trippers (8 a.m. to 10 p.m.) fork out only $3 to $8 a day to use eight natural hot mineral spring pools ranging in temperature from 90 to 104 degrees.
Even if we if don't lose any weight, we'll have a good time. And don't they say hot water shrinks things?
8 wellness spas in and around Southern California to start 2016 with a blast
No one calls them fat farms anymore, but the goal is the same: to help participants regain control of their lives. Most wellness resorts and spas encourage healthful living and try to educate vacationers about nutrition, fitness and stress relief. Here's a look at some of the best-known facilities in and around Southern California.
Cal-a-Vie: This luxury spa, which straddles a ridge in northwestern San Diego County, isn't just a hotel, it's a 200-acre Provençal-style village, complete with a 400-year-old French chapel and 32 plush guest cottages with antique-filled rooms that feature oversized beds and fine linens. A regular "World's Best" winner in polls by Travel & Leisure and Conde Nast Traveler magazines, Cal-a-Vie draws wealthy clients from around the world.
The workout: Start your day with a hike, then choose from 120 classes such as CrossFit, Zumba, weight training, yoga and stretching. If you need motivation, don't worry, Cal-a-Vie has a 5-1 employee-to-guest ratio. Daily spa treatments — massage, facial, etc. — are part of the program.
Details: Three-, four- and seven-night programs are available, starting at $4,150 for three nights to $8,650 for seven nights. Plans include accommodations, three meals a day, spa treatments, unlimited fitness classes, nutritional lectures, cooking demonstrations and workout garb.
Info: 29402 Spa Havens Way, Vista; (866) 772-4283, www.cal-a-vie.com
Golden Door: Despite its venerable age — the Golden Door opened in 1958 — this spa in northwestern San Diego County was named the top destination spa in the world for 2015 by Travel & Leisure magazine. Designed to replicate a Japanese village, the spa encourages guests to leave behind their worries and stress when they enter the shiny golden door at the entrance. Inside they find an emphasis on mind, body and spirit, along with rigorous physical activity.
The workout: Guests hit the dramatically landscaped trails daily at 5:30 a.m. for hiking. There are two pools, group exercise studios, tennis and a hilltop retreat for private fitness sessions. Each guest has an individually planned program and receives a daily in-room massage.
Details: Seven-day programs throughout the year, with some men's and coed weeks. The rate is $8,850 and includes accommodations, meals, activities, workout clothing and robe.
Info: 777 Deer Springs Road, San Marcos; (760) 744-5777, www.goldendoor.com
The Oaks at Ojai: This downtown Ojai fitness hotel calls itself "America's best spa value" because of its weekly rate of $2,415 per person ($1,820 double occupancy). Just need a day or two? Oaks at Ojai has a plan for you too, with a daily rate of $345 ($260 double occupancy). The program is popular with guests; 60% return for a few more days of activities and treatments at the restored 1920s Mission-style hotel.
The workout: Choose from 14 activities each day, including walking, hiking, swimming and fitness classes such as stretching, dancing, cardio sculpting, yoga and Pilates. Guests are encouraged to take as few or as many classes as they would like.
Details: Nightly, five-, seven- and 15-day programs available. Accommodations, meals, activities and health-oriented lectures and cooking demonstrations are included.
Info: 122 E. Ojai Ave., Ojai; (805) 646-5573, www.oaksspa.com
Premier Fitness Camp, Carlsbad: Backsliders note: If you think a week or two won't cut it, check out Premier Fitness Camp, which sets up a 12-week accountability program for guests after they leave the camp. Based at Omni La Costa Resort & Spa, PFC emphasizes behavior change, nutritional guidance and low-impact fitness training. Participants stay at the resort, use a custom training facility and attend nutrition lectures and cooking classes, take grocery store tours and receive dining-out tips.
The workout: Fitness activities include beach boot camp, calisthenics, weight training, tennis, yoga and other cardio routines with personal trainers. Guests can work out for up to six hours a day. PFC also emphasizes mental wellness through weekly group sessions with licensed therapists.
Details: The base program is for one week, with rates starting at $4,195. Included are accommodations, meals, fitness training, counseling and an accountability program after leaving the camp.
Info: 2100 Costa Del Mar Road, Carlsbad; (888) 732-6198, www.premierfitnesscamp.com
The Ranch Malibu: If you're looking for a tough-love program that will help you get serious in a hurry, check into the Ranch Malibu, which prohibits meat, caffeine, alcohol, sugar, gluten, processed sugars and artificial sweeteners. No surprises here — with a regimen like that you're going to succeed. Guests may experience lower cholesterol levels, significant weight loss, toned bodies and looser clothing when they leave. And they learn to love vegetarian food, especially when it's prepared Ranch Malibu-style. The spa, which attracts a fair share of A-listers, is an A-lister itself, with top awards from Travel & Leisure and Lonely Planet.
The workout: Great food isn't the only plus at this rambling hillside property in the Santa Monica Mountains. Participants love the program, which requires a four- to five-hour hike each morning in addition to participating in other workouts. Meals total 1,400 calories a day, and participants have afternoon massages and take a daily nap.
Details: One-week minimum stay is $6,800. If you're looking for a longer-term improvement plan, you can opt for six weeks for $35,900. Included are accommodations, meals, cooking and nutrition classes and activities.
Info: 12220 Cotharin Road; (888) 777-2177, www.theranchmalibu.com
Rancho La Puerta, Tecate, Mexico: Rancho La Puerta, three miles across the border in Baja, is the first true fitness resort and spa in North America, founded in 1940 and still considered a leader in the field. Set on 3,000 acres of gardens, mountains and meadows, the program's approach to wellness seeks a mind, body and spirit balance. The resort was named best destination spa in 2014 by Conde Nast Traveler.
The workout: Although the resort considers its program to be a mix of food, nutrition, exercise, relaxation, education and expression, it doesn't impose anything on guests. Take a morning hike up Mt. Kuchumaa or an easy meadow walk, then choose from instructor-led exercise classes. Or spend the day reading in a hammock.
Details: Participants can choose from three- to seven-day stays, with specialized men's fitness, adventure and spa programming available. Rates range from $3,200 to $4,800 per person, including accommodations, vegetarian meals, activities and special presentations. Spa treatments, personal training sessions and cooking classes are extra.
Info: Carretera Federal Mexicali Tijuana, Tecate; (800) 443-7565, www.rancholapuerta.com
Ranch 4.0, Westlake Village: If you can't commit to a weeklong fitness break, you might like Ranch 4.0, based at the Four Seasons Hotel Westlake Village, which offers a four-day program from Thursday afternoon through Monday morning so you can jump-start your fitness plan with a long weekend break. An offshoot of the Ranch Malibu program, Ranch 4.0 is a luxury boot camp held in conjunction with the California Health & Longevity Institute at the hotel.
The workout: As with its sister program in Malibu, participants take part in eight hours a day of rigorous exercise, including four hours of mountain hiking every morning. There are afternoon exercise classes and stretching, massages and cooking demonstrations. Meals are organic vegetarian cuisine.
Details: $4,100, which includes accommodations at the Four Seasons, activities, meals and massage.
Info: 2 Dole Drive, Westlake Village; (888) 777-2177, www.theranchmalibu.com/R4.0/program.php
Rancho Valencia Resort & Spa, Rancho Santa Fe: This Forbes five-star resort in north San Diego County doesn't have an all-inclusive weight-loss program, but it illustrates the possibilities available at some high-end resorts. You can build your own program, creating a weeklong menu of activities and spa treatments. Rancho Valencia is set on 45 acres of gardens and olive groves and has extensive recreation facilities.
The workout: Build it yourself at one of the resort's 18 tennis courts or at the yoga pavilion, Pilates studio or pools. Then join exercise programs and fitness sessions led by resort instructors.
Details: Nightly rates begin at $568, which includes accommodations, fitness classes and tennis. Meals and spa treatments are not included.
Info: 5921 Valencia Circle, Rancho Santa Fe; (866) 233-6708, www.ranchovalencia.com
ALSO:
Hoover Dam, an engineering marvel, is surrounded by natural wonders
Tips to ease the journey when traveling with portable medical devices needing power
16 things travelers should know before planning their 2016 adventures
---
Get our L.A. Goes Out newsletter, with the week's best events, to help you explore and experience our city.
You may occasionally receive promotional content from the Los Angeles Times.