Death Valley temperatures may hit 128 on summer's first day. The heat may give you bragging rights. Or it can kill you
Visitors to Death Valley on Tuesday won't need reminder that summer has arrived. The forecast is for sunny and 128, with — surprise — a zero chance of rain.
On Saturday, rangers at Death Valley National Park recorded the first 120-degree day of the year, and even hotter temperatures are predicted through at least Sunday, according to the National Weather Service.
Forecasters said temperatures at the Furnace Creek Visitor Center, where the elevation is 190 feet below sea level, are expected to reach 126 to 128 degrees Tuesday, prompting park rangers to urge visitors to take precautions.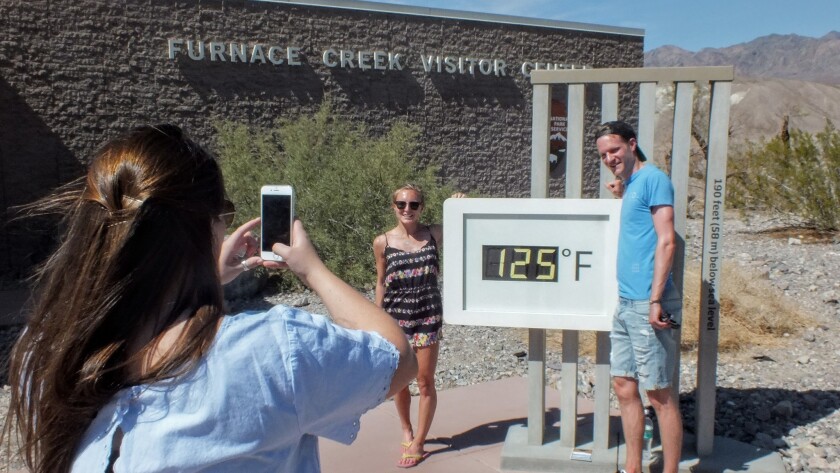 Such temps may make for terrific selfies beside the digital thermometer at the visitor center, but they are no laughing matter. Every couple of years, someone dies in the park due to overexposure to the extreme heat.
Earlier this month, a woman was hospitalized with third-degree burns to her feet after walking barefoot across the Mesquite Flat Sand Dunes. Park officials said she had lost her sandals.
Summertime ground temperatures of 200 degrees and more have been recorded, a news release noted.
Such otherworldly heat is precisely what draws some summer visitors to the park: They get bragging rights. Visitors are welcome to enjoy — we use the term loosely — the experience, but rangers urge them to heed some common sense tips:
♦Carry lots of water, at least one gallon per person per day.
♦Eat light snacks throughout the day, even if you don't feel hungry.
♦Wear a hat and use sunscreen.
♦Limit direct exposure to the heat and sun to no more than 15 minutes at a time. Spend the rest of your visit in the comfort of an air-conditioned vehicle.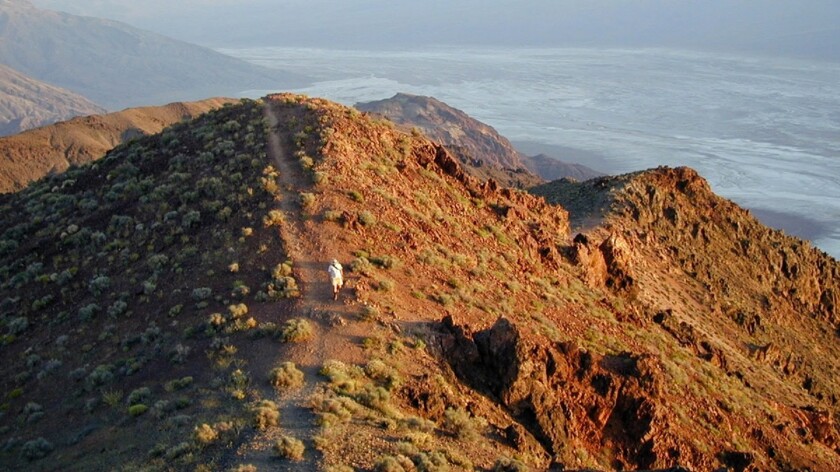 ♦Head for the hills — literally. Instead of focusing on the below-sea-level destinations, consider spending more time at the park's higher elevations. Dante's View, for example, has an elevation of nearly 5,500 feet.
♦Stay on paved roads. If your vehicle breaks down, stay with it rather than trying to walk somewhere for assistance.
ALSO:
Paddle the strange, saline waters of ancient Mono Lake. And keep an eye out for critters.
Tanzania's Tinga Tinga style, the African version of velvet Elvises, leaves an indelible print on visitors
Trump's proposed changes to U.S.-Cuba travel rules won't affect cruises, group tours
travel@latimes.com
@latimestravel
---
Get inspired to get away.
Explore California, the West and beyond with the weekly Escapes newsletter.
You may occasionally receive promotional content from the Los Angeles Times.