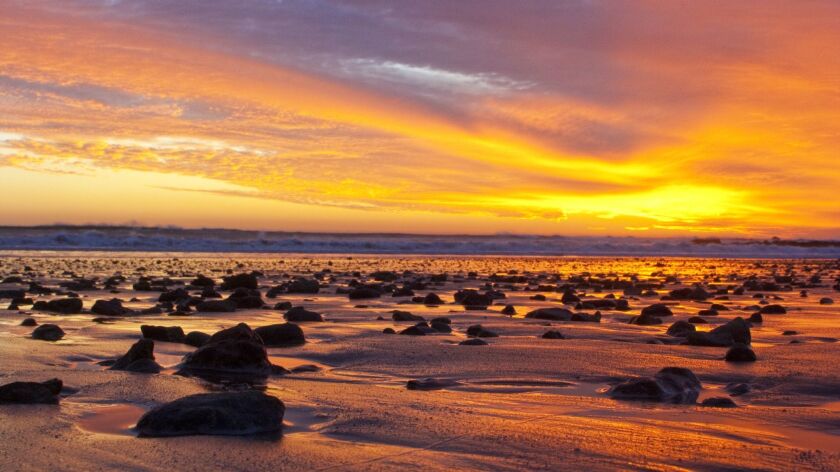 By design or default, Cayucos has remained an unfussy little beach community sitting quietly off Highway 1 on California's scenic Central Coast. On a recent weekend, my husband and I succumbed to its laid-back rhythm: walking Ocean Avenue (the main drag) and exploring its shops and eateries; meandering the beach with its abundant tide pools; strolling on the Cayucos Pier, where we were treated to a whale sighting as well as a pod of frisky dolphins; lunching on smoked albacore tacos at Ruddell's; hiking along the Estero Bluffs as the sun disappeared into the sea; and ending the day with friends for dinner at the Grill. The tab for two: $249 for a downstairs ocean-view room at On the Beach Bed & Breakfast and $90 for our cost of a shared meal, including wine and tip, at the Grill. The stress relief — priceless.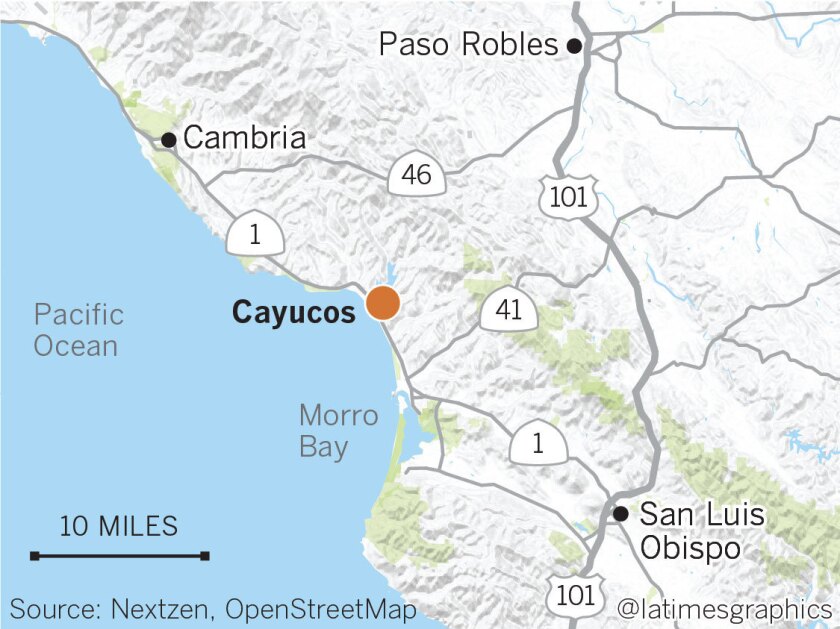 THE BED
On the Beach Bed & Breakfast offers 14 lovely rooms, half with ocean views, all with fireplaces and decks. Rooms are spacious, well-appointed and quiet, and a daily freshly cooked breakfast as well as an evening social hour are included. The location is ideal for exploring the town and outlying areas.
THE MEAL
The historic Cass House, across the street from On the Beach, offers both hotel rooms and the Grill. Food is sourced from its garden or local farms and ranches, and you can eat a "sharing" meal or order individual entrees. Because there was so much we wanted to try we ordered a sharing meal and were not disappointed sampling cauliflower empanadas, heirloom tomato panzanella, vegetable quinoa salad, oak-grilled prawns, roasted salmon and Moroccan-spiced tri-tip.
THE FIND
The Estero Bluffs just north of town. The Trust for Public Land has preserved 353 acres, managed by California State Parks, of pristine coastline in perpetuity. The flat, open trails, accessible to almost anyone, feature expansive views of the bay and Morro Rock in the distance. You can walk north from town or drive the short distance on Highway 1. There are several well-marked parking pullouts.
THE LESSON LEARNED
Cayucos will either resonate with you or it won't. If it doesn't, that's OK, because it will continue to be ideal for those of us with whom it does.
On the Beach Bed and Breakfast, 181 N. Ocean Ave., Cayucos; (805) 995-3200. Rooms from $199, including breakfast and evening social hour. One wheelchair-accessible room.
Cass House, 222 N. Ocean Ave., Cayucos; (805) 995-3669. Five boutique rooms from $265. One wheelchair-accessible room.
Grill at Cass House, 222 N. Ocean Ave., Cayucos; (805) 995-3669. Open noon-4 p.m. Saturdays and Sundays for lunch; 4.-8:30 p.m. Thursdays-Sundays for dinner. Wheelchair accessible.
Ruddell's Smokehouse, 101 D St., Cayucos; (805) 995-5028. Open 11 a.m.-6 p.m. daily. Smoked fish tacos $6.
---