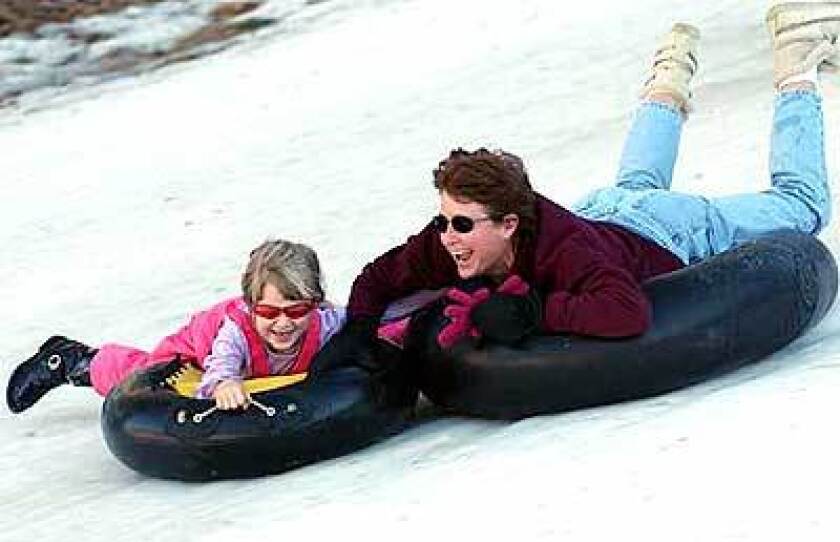 Times Staff Writer
Skyforest —
As we waited for the proprietor to open the front door of the Storybook Inn, I thought: So far, so good. We had found the inn perched off Highway 18 in a stretch of remarkable vistas that made it plain why this road is called the Rim of the World. The neatly renovated 1940 clapboard structure was even more attractive than it appeared on the Web.
But my husband, Sean, and I were bringing our two kids, 6 and 8, and kids are at best a question mark at a bed-and-breakfast. These places can be loaded with antiques and tend to draw child-free couples, people who don't just recall peace and quiet but come in search of it.
This could go either way, I thought.
Richard Teachout, a tall, ruddy blond, opened the door and greeted us, then turned to my son, Devin, and shook his hand heartily. And didn't stop.
"Nice to meet me, isn't it?" Richard said. "Hey, you can let go of my hand now. Really, you can stop now." He continued to pump Devin's hand, arm and upper torso rapidly while beseeching him to let go, and all of us -- Devin included -- got the giggles. I like this place, I thought.
We had driven to the Lake Arrowhead area looking for a respite from some unseasonable L.A. heat and the kids' growing boredom with Christmas break. I had found the Storybook Inn on an Arrowhead Web site listed under "Hotels and Inns," though it is a bed-and-breakfast. The Storybook offered options many B&Bs don't: two suites and, separate from the main house, a cabin.
Richard told me in an e-mail that the cabin wasn't available for the nights we had in mind, but the Tom Sawyer Suite was. I checked it out on the inn's Web site. A 360-degree virtual tour began with the Jacuzzi bathtub (prophetic, since it would be a highlight of our stay), then moved on to a wood-burning stove before a flagstone wall, French doors letting in sunlight, an overstuffed sleeper sofa and a partial wall dividing the sofa from a king-size bed.
The room looked bright, big and well configured for four people, and the site also promised stunning mountain and valley vistas. We requested the room for Saturday (usually $179) and Sunday ($149) nights; Richard waived the $5-per-kid charge and gave us both nights at $149 each.
That kind of warm reception was still waiting for us when we arrived in Skyforest, a hamlet of 300 that was a two-hour drive away and about 20 degrees cooler than home. After showing us through the inn's living room, with a closet full of videos for the in-room VCRs and another closet full of board games, Richard took us out on the veranda overlooking the valley and, beyond it, in the clear Santa Ana winds, Santa Catalina Island. The view was framed by massive old pines.
We plunked our stuff down in the Tom Sawyer Suite. The literary theme was subtle: An 1850 quilt made from tobacco pouches hung on the wall near the bed, and propped gracefully across another was a long, sloping bamboo fishing pole. Two vintage copies of "The Adventures of Tom Sawyer" were on a side table. The suite, with its own entrance from the outside, was more private than most bed-and-breakfast arrangements. Because we were on the ground floor, we didn't have to worry about our running and jumping kids disturbing neighbors downstairs.
As the sun dipped in the persimmon sky, we had glasses of wine and sodas -- free on guests' first night. (Sodas, snacks and candy are 50 cents after that.)
We took one of Richard's two tips for family-friendly dining, the Original Cottage in Rimforest. It's a minimal-decor diner with wide booths, cramped aisles and an Italian and Mexican menu. He had alerted us that portions were huge, so Sean and I shared the spicy chicken linguine; the kids ordered a burger and chicken strips from the children's menu, and we all tried a house specialty: garlic knots, a fancy take on garlic bread. The food was prompt, excellent and ample. More than half of the garlic knots came back with us to the inn.
There we fired up the two-person Jacuzzi for Devin and Susannah, our son discovering with delight that he could watch the Lakers game using the mirror over the tub. We didn't light the wood-burning stove because of the many provisos Richard had reeled off. (The Fire Department had been called out several times when it wasn't operated correctly and the room filled with smoke.) The warning that impressed me most was the danger of burns from touching the surface. With two kids in the room, I thought, let's pass.
A meal with magic
The Teachouts serve breakfast from 8:30 to 9:30. We were among the first in line the next morning, and I was slightly jittery because Richard had tapped Devin to be his assistant in magic tricks, and I had volunteered to be the subject. Richard draws on his experience in the women's undergarment business to offer, as he puts it, "the only bed-and-breakfast with brassiere tricks." Though my daughter was horrified at my participation, it was all G-rated and fun.
The breakfast would satisfy nearly any early morning appetite: in one corner, eggs, bacon, sausage and French toast; in another, bagels, pastries and fruit; on a third buffet, cereals, milk and yogurt. An added attraction is the array of antique implements on each table. Richard circulates and makes guests guess what the items are. Ours were a packing screw and a pharmacists' measure.
Another mystery was where we could take the kids for sledding and building snowmen -- someplace better than dirty berms of plowed snow on the side of the road.
It was the last Sunday of the holidays, though, and Richard warned us of bad traffic coming back from higher elevations. He encouraged us to postpone our snow adventures for another day. Instead, we drove over to Lake Arrowhead Village and looked around.
The village is charming, though Starbucks-quality coffee still hasn't arrived. We spent about an hour skating at a small rink set by the lake, gradually progressing from rail hugging to tottering in first gear. Then we took sandwiches back to the inn and ate at a little table outside our room, on a deck with its lovely mountainside overlook.
After lunch we hiked over to the nearby Santa's Village. The old amusement park is being renovated but had enough snow in its parking lot for sledding and snow play.
Santa had brought board games for the kids, so when we got back to the inn we camped at the Teachouts' dining room table with sodas and snacks and played our new Taboo as the sun set in full view. It was a lovely place to be, and with its heavy wood furniture and eclectic antiques, it felt like a warm, grand hunting lodge.
That night we tried Richard's other restaurant recommendation, the Cedar Glen Inn, where the waitresses instantly lapse into lengthy conversation and the meals are of the meatloaf-and-potatoes variety.
Weather proved less comforting. We were awakened by cries from our daughter, who was alarmed by a pitch-dark room. The Santa Anas that had cleared the mountain air of smog also had whipped through Los Angeles and brought down power lines for only the third time since the Teachouts bought the inn.
The next morning, though, they still had a full breakfast, and we had the dining room to ourselves. We heard more of Richard's plan to put in a few tables for dinner, or even do a weekly common-table dinner for locals. Throughout our stay, he was garrulous, great with the kids (he and his wife and business partner, Patty, have four) and clearly born to be a bed-and-breakfast owner.
After checkout we headed up the hill toward Snowdrift Winter Park just as it was opening. Snowdrift had a long expanse of hard-packed snow -- finally! -- and we spent an hour speeding down the hills on colorful tube-boggans. The sight of the kids' rosy cheeks and pure joy as they slid down the slopes, belly first, was a happy ending to a Storybook weekend.
Kelly Scott is Sunday Calendar editor.
---