Mineral King's beauty worth a beastly drive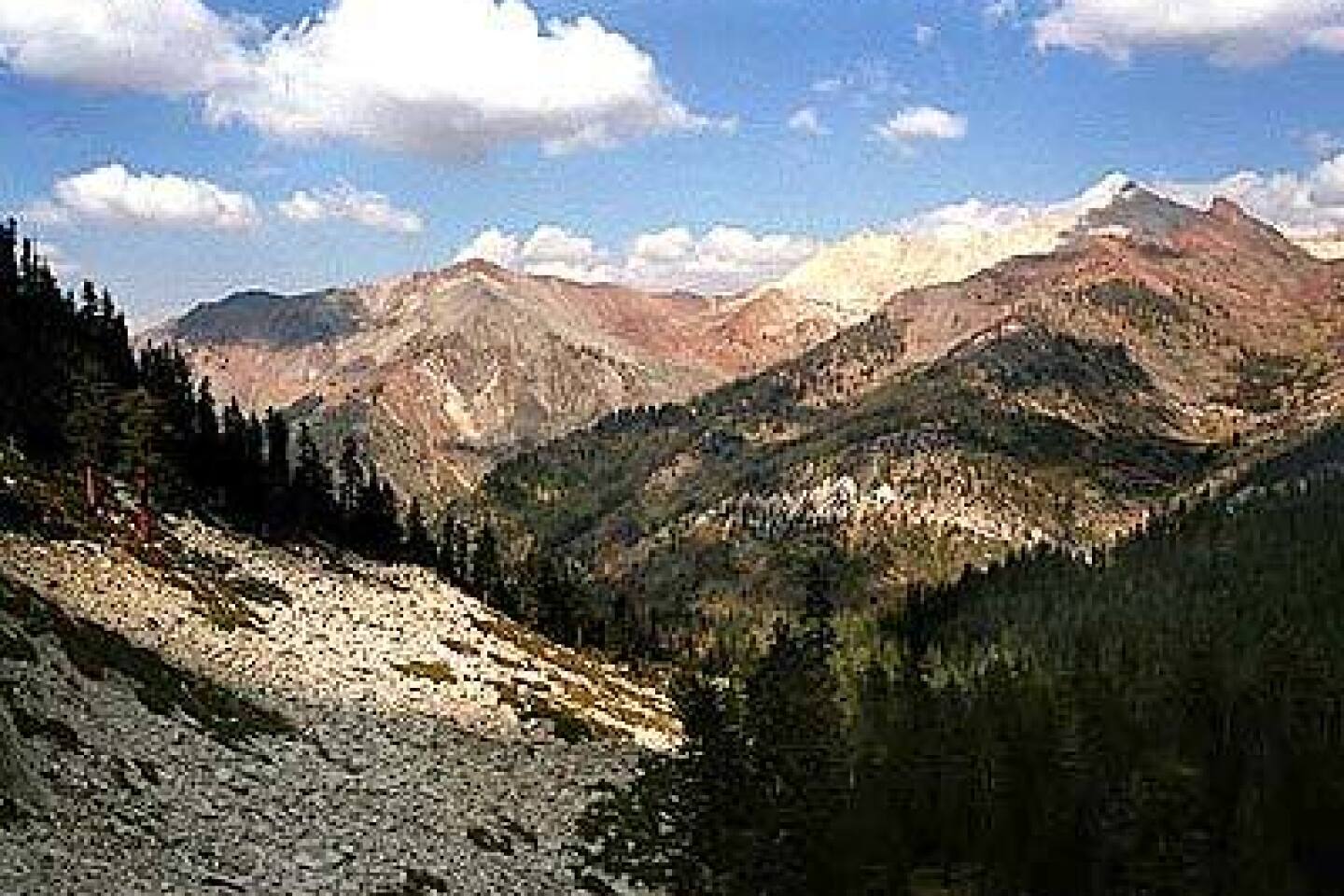 A seven-mile round-trip hike to Eagle Lake offers a stunning view of Mineral King Valley. The trail is a challenging climb through mostly pine forest. Mineral King was annexed to Sequoia National Park in 1978.
(Vani Rangachar / LAT)
Deer are part of the tranquil mountain scenery.
(Vani Rangachar / LAT)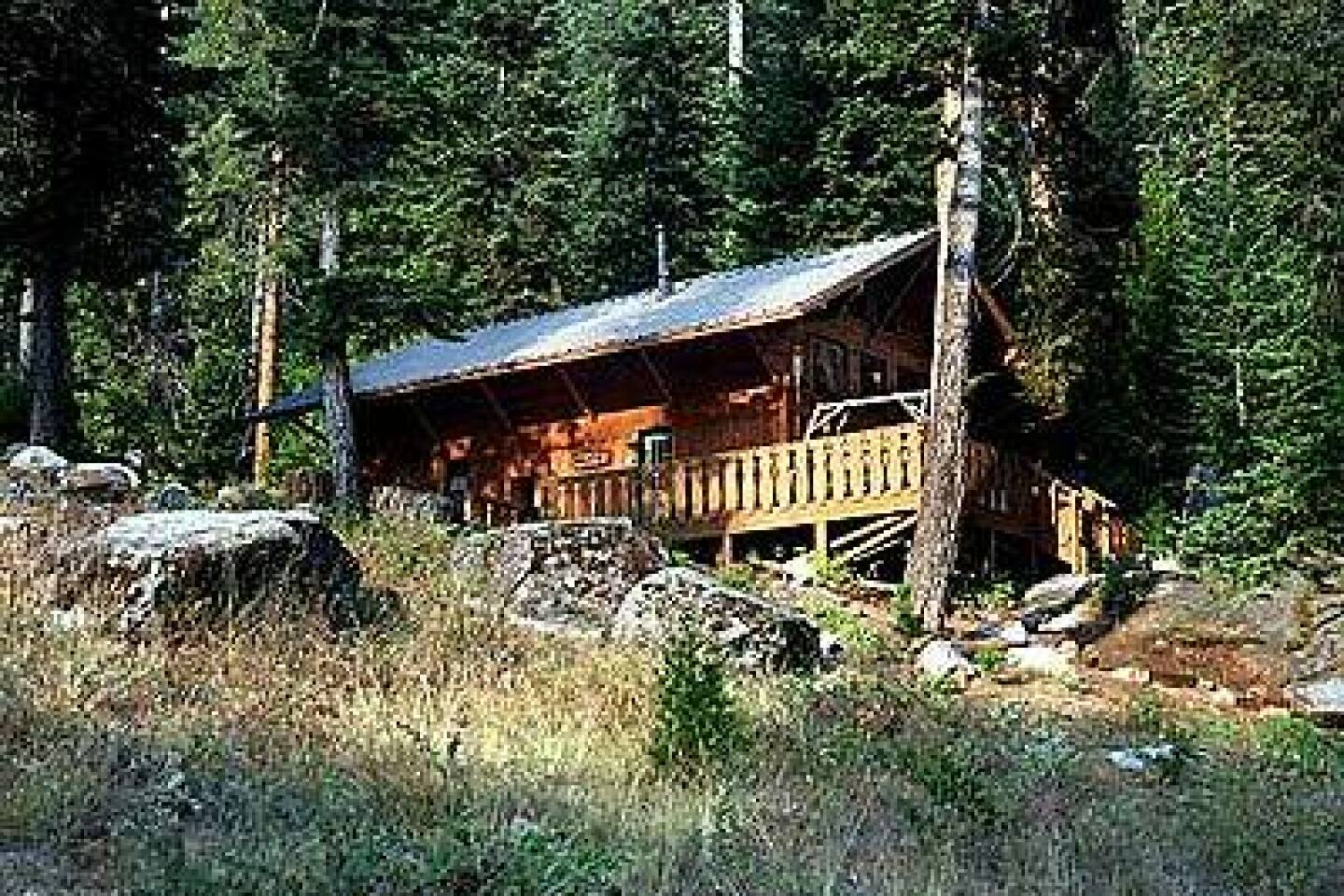 The resort's three-bedroom Alpine Chalet has a paneled living room, fully equipped kitchen and a porch. There are no TVs or phones in rooms.
(Vani Rangachar / LAT)
Times Staff Writer
For those who find comfort in numbers: There are 698 curves on the 25-mile road from Three Rivers to Mineral King in southern Sequoia National Park.
Our family clearly was flirting with danger on 1 1/2-lane-wide Mineral King Road, part paved, part potholed and more kinked than a Slinky.
By the time we completed the six-hour drive north from Los Angeles to this 7,500-foot-high mountain community last October, I was exhausted from pushing the passenger-side brake pedal.
But sometimes a place that takes some effort to reach is all the sweeter. That's what I thought when I pulled up with my husband, Barry, and my daughter, Meera, to the general store at the Silver City Mountain Resort, bedecked with an American flag and an old-fashioned gas pump in front. The sight took me back to an earlier time. My pulse slowed; my calf muscles unclenched.
The century-old road does its part to prevent crowds. For the few visitors who meet its challenge each year, a treat awaits: Mineral King's take-your-breath-away-gorgeous valley, sculpted into a bowl by glaciers and framed by 11,000-foot peaks. Add meadows studded with wildflowers and soaring sequoias and aspens, and bisected with clattering brooks, and it's almost fairy-tale perfect.
To get a picture of just how scenic Mineral King is, it helps to know that in the mid-'60s, Walt Disney Co. planned to put a 27-lift ski resort here. Disney did not succeed with its grandiose vision, thanks to the efforts of environmentalists and Mineral King's residents. In 1978 Mineral King was annexed to Sequoia National Park, and further private development stalled.
Boom to bust
Lucky for us, Mineral King probably looks much as it did in 1873, when Porterville farmer and prospector James Crabtree filed a mining claim among these peaks. Rumors that the ore was as abundant as Nevada's Comstock Lode sparked a silver rush. The next year 166 mining claims were filed, and the valley held 36 mill sites. But the boom turned out to be a flash in the pan, and within 10 years most mining operations had gone bust.
Soon afterward, Mineral King's potential as a vacation retreat was recognized. At the turn of the last century, Central Valley residents escaped scorching summers here, and later the area served as a hunting preserve. Many of the cabins that line Mineral King Road date to the 1920s and 1930s, and their owners have ties to the area that go back generations.
That's the case with Connie Pillsbury, who owns Silver City with her husband, Norman. Her family has owned the resort's cabins, restaurant and general store for 70 years.
They're open May 28 to Oct. 16 this year, and if you want a warm bed and citified comforts, the resort is the only choice in Mineral King. The park service runs two campgrounds that are filled first come, first served.
Scattered across the Pillsburys' 15.2 acres are 14 cabins, which range from a rustic hiker's hut with only a double bed, sink and shared showers and bathroom for $70 a night, to the three-bedroom Jungfrau Chalet with two queen beds and four twins for $275 a night.
We rented the Alpine Chalet, a small, honey-pine, Swiss-style cabin with a steeply pitched roof and a porch for $187 plus tax a night, a discounted rate offered off-season (before June 11 and after Sept. 19). With three bedrooms and a cozy, paneled living room, the tidy, clean cabin held more than enough room for three adults to spread out. The wood-burning stove came with wood, and the fully equipped kitchen included a stove and refrigerator.
For a place with no TV or telephone, there was plenty of entertainment — of the quiet kind. An alcove held two shelves of newsmagazines, "Chicken Soup" books and a couple of John Grisham novels, plus Monopoly, Scrabble, Taboo and jigsaw puzzles.
We had to bring sheets and towels, but the beds had pillows, blankets and quilts, which we needed because the nights turned chilly fast.
We also brought groceries for one dinner and a couple of breakfasts and lunches. Silver City has a restaurant with fewer than a dozen tables, and during the summer it serves breakfast, lunch and dinner Thursdays through Mondays. But when we were there, it was open only for Saturday dinner.
So Friday night I made lamb chops and spinach in our chalet's kitchen, and we went to bed soon after the sun did, falling asleep to the murmurs of a creek.
Saturday morning we got a late start, in part because of my failure to remember elemental physics. Cooking at 7,000 feet takes more time. So far I had accidentally overcooked lamb chops and pancakes but under-heated water for tea. At least, I figured, no thermal alchemy was needed to prepare our picnic lunch on the mountain.
We drove four more miles to the road's end, passing under aspens yellowing with the passing of summer. Determined to mine Mineral King's natural riches, we set off on a seven-mile round-trip hike to Eagle Lake, passing the frames of a couple of 100-year-old cabins along the way.
The trail to Eagle Lake gains 2,200 feet in 3.4 miles, an unrelenting climb through mostly pine forest. For the last mile or so we spread along the trail and picked our way through a boulder field that required sure footing, all the while keeping an eye out for bears. We saw none but did catch the flash of a golden marmot as it scurried under a rock, and Meera was charmed by the audacity of the deer, which stopped and stared as boldly at us as we did at them.
A lake destination
At times along the way, we kept company with a trio of day-tripping young fishermen hoping to catch rainbow trout at the trail's end and an older couple from Holland who, oddly, were in a hurry, though time here is recorded in eons, not minutes. They needed to reach Eagle Lake by 1:30 p.m., but it was about 2 before we all reached the 10,000-foot-high tarn. They paused long enough to catch their breath, then turned back.
Slightly lightheaded from the altitude and too tired to make much conversation, Barry, Meera and I rested on logs in companionable silence, watching the anglers cast their lines and the sun sparkle off cliffs girding the still lake.
The hike was harder than we had expected. On the way down, we crossed paths with couples panting from the ascent. They quit and turned back.
Our walk had taken six hours, and by the time we stumbled back to Silver City, I was immensely grateful to sit down to someone else's home cooking. At Silver City's restaurant, we had a filling meal of salad and lasagna prepared by the Pillsburys. We finished off dinner with glasses of Two-Buck Chuck wine and slices of Connie's apple pie — so celebrated in the valley that a man ran nearly a dozen miles for a piece, Connie's husband told me. As we dined, we talked with a couple who had been coming to Silver City annually for decades.
I could see why. By the time of our departure at noon Sunday, I was planning to return in fall for a longer stay among these pine-scented peaks.
We took one last mercifully short hike to a waterfall and then started down that unmercifully twisting mountain road. We finally spotted a bear, a small one foraging alongside the road. It stopped, stared, then went down the mountain, and so did we.
---
Vani Rangachar is deputy Travel editor.
Get our L.A. Goes Out newsletter, with the week's best events, to help you explore and experience our city.
You may occasionally receive promotional content from the Los Angeles Times.