Warmest wishes (and gear ideas) for toasty travels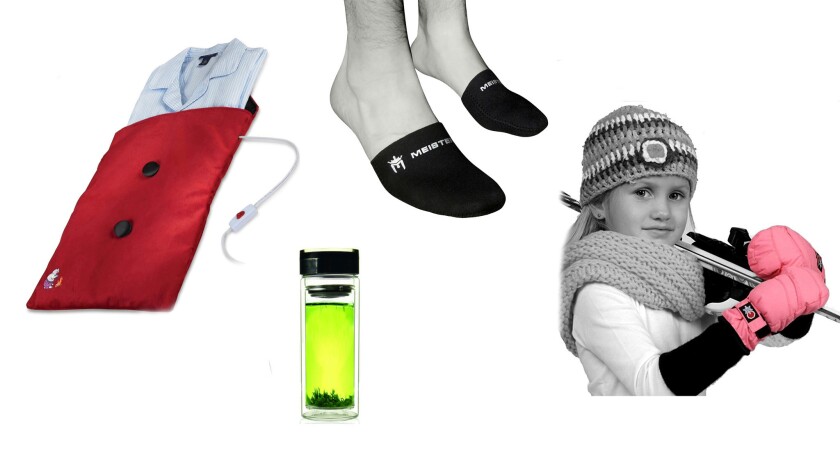 Traveling to a cold-weather destination for the holidays? Here are some neat new take-alongs for warming up inside and out.
Big sippers
When I take my coffee on the road, I want it to stay hot, but not in those off-tasting, thick-lipped metal or plastic mugs. The tough, sipper-friendly, double-wall thermal Borosilicate Glass Tea Tumbler from Sun's Tea fills the bill.
The 18-ounce cylinder is a comfortable grab that doesn't get hot on the outside, and the rim feels made for lips. The twist on/off thermal lid seals airtight.
You'll have to brave the open container when you want a sip.
Borosilicate is tougher than regular glass but not unbreakable. For packing, wrap the tumbler in a layer of bubble wrap.
Info: Sun's Tea 18-ounce Double-Wall Borosilicate Glass Tea Tumbler with removable tea strainer costs $21.
Toes froze?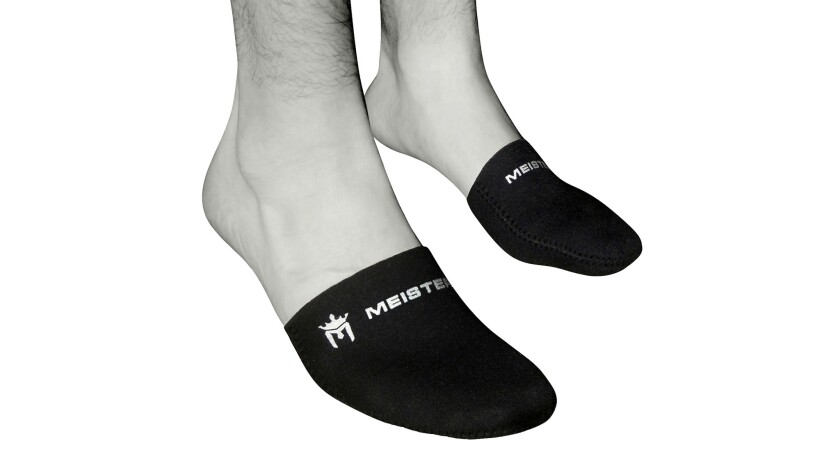 Meister, a fitness gear manufacturer, offers the Neoprene Thermal Toe Warmer Bootie for those with cold feet.
The toe warmer, made of the same material as wet suits, is meant to be worn as a base layer under your socks. At 2.5 millimeters thick, it stops just short of the instep to keep toes toasty without adding bulk inside your shoe.
The toe warmers also work great with slippers and inside booties on long flights.
Info: Meister Thermal Neoprene Toe Warmer Booties in black, pink or orange cost $8.99 a pair.
Electrifying PJs
Take the chill off indoors wherever you roam by sliding your pajamas or sleep socks into Hammacher Schlemmer's electric Pajamas Warming Pouch.
Plug the cord into a standard wall outlet and in about 10 minutes the integrated heating elements will warm up whatever you have stashed in the 20-by-16-by-2-inch-deep red-fleece-covered sack.
The thermal satin interior retains the heat after shut-off. The 5-ounce pouch folds in half for storage.
Info: Pajamas Warming Pouch costs $39.95.
Lost and found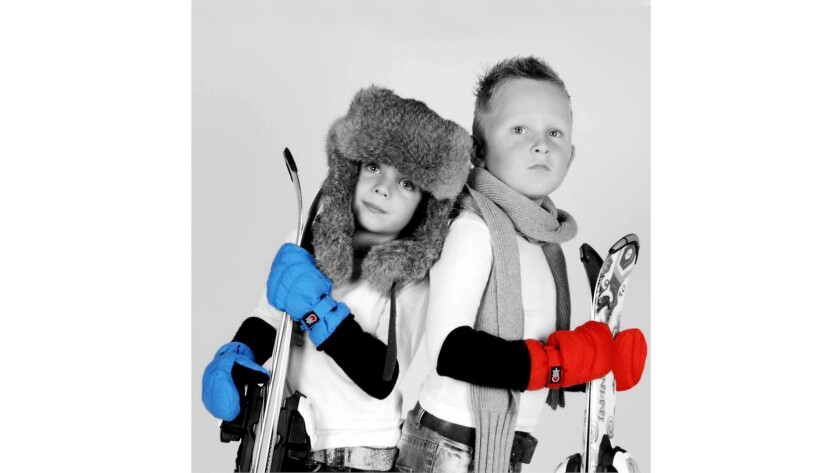 Children cling to most of their possessions except, it seems, mittens. Well, ho, ho, ho, here come SnowStoppers Mittens for Kids, which won't so easily part with the little hands under their protection.
The secret is in the long acrylic knit cuffs that extend up junior's arm and under his coat sleeves (easiest if you put the mittens on before the coat).
The stretchy cuffs stay put, add extra arm warmth and keep snow from getting between the coat sleeve and the mittens.
A high-tech membrane sandwiched between the nylon outer shell and the polyester lining keeps the wet out, and 40-gram Thinsulate insulation provides warmth without bulk.
SnowStoppers come in bright colors and five sizes, from XS for infants 6 to 18 months old to XL for 7- to 12-year-olds. The infant size has no thumb section, making it easier to get on and off.
Info: SnowStoppers Nylon Mittens for Kids cost $16.95 a pair
---
Get inspired to get away.
Explore California, the West and beyond with the weekly Escapes newsletter.
You may occasionally receive promotional content from the Los Angeles Times.