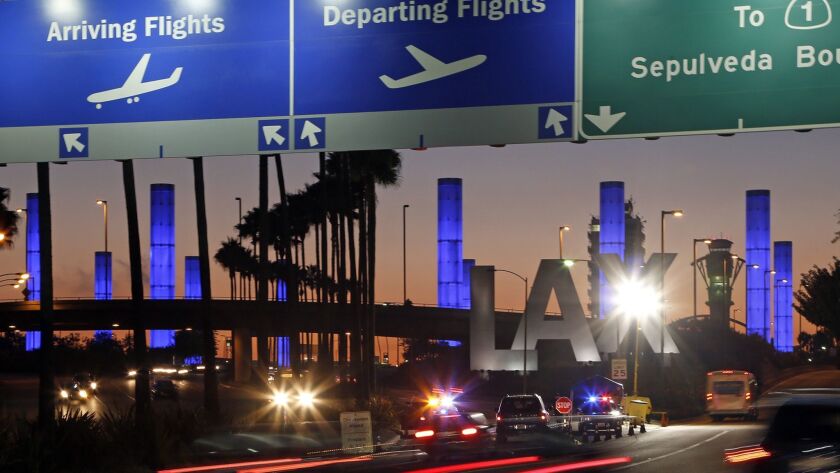 LAX parking spaces will be scarce during the holidays, so what's a traveler to do? First, try a private lot. Second, try to make a reservation. Third, a lucky charm couldn't hurt either. Otherwise you could end up spending the holiday with your car—in your car.
In fact, some private lots already have stopped taking online reservations for Thanksgiving weekend. Some might take a drive-up, based on availability; this is where that lucky charm comes in.
And while you're thinking about parking, just go ahead and book your spot for Christmas.
Public parking lots at LAX
You can't reserve a spot at any of LAX's parking lots; it's strictly first come, first served. So before you put all your eggs in the LAX basket, check out how many parking spaces are available and plan accordingly.
LAX's parking lots (1 through 7 as you go around the airport's horseshoe) charge a maximum of $30 for 24 hours. Lot C, an off-site lot that requires a free shuttle to get to terminals, costs $12 for 24 hours. By the way, Lot C has been shrinking to accommodate airport construction. It now has about 1,700 spaces available to travelers.
Check out LAX's website to calculate how much parking would cost, depending when you drop off and pick up your car.
Private lots near LAX
There are at least 10 private parking lots within a mile of LAX. "It's recommended that they have a reservation," said Wesley McCoy, manager of the Parking Spot. "We do anticipate reaching capacity, and booking a reservation guarantees entry to the lot."
Thanksgiving week is the busiest time of the year for the Parking Spot, which has locations at 9101 S. Sepulveda Blvd. and 5701 W. Century Blvd. Daily rates range from $19.95 to $25.95 daily, but you may score a discount by making a reservation online or through the app.
Other private lots that accept reservations (and often are cheaper if you reserve online or through their apps) include:
QuikPark LAX, 9821 Vicksburg Ave., (310) 645-7754; $21.95 daily.
Sunrise LAX Parking, 6155 W. 98th St.; $13.91 to $17.99, depending on vehicle size, according to its website.
WallyPark, 9600 S. Sepulveda Blvd., lowest online prices are $19.95 to $24.95. The website says it is not accepting reservations at the Sepulveda Boulevard location until Sunday and later. There is space at a second site, WallyPark Premier, at 9700 Bellanca Ave. Call (310) 645-6600 to check availability and prices.
Park 'n' Fly @ Park One, 6351 W. Century Blvd. I found daily prices of $20.99 to $27 for a parking space from Wednesday to Sunday when I checked online.
Airport Center Express, 5959 W. Century Blvd. Prices start at $16.95 daily, but a note on the website says online reservations are closed through Sunday.
Joe's Airport Parking, 6141 W. Century Blvd., $18.95 daily. Online reservations are closed through Saturday; call (310) 670-0290 to check on drive-up availability.
LAX Airport Marriott, 5855 W. Century Blvd., doesn't post prices online, but does take online reservations. I couldn't find availability Wednesday through Sunday when I checked. Call (310) 641-5700 or email marriottlaxparking@marriott.com for information.
Parking apps and websites
Some apps and websites allow you to comparison shop for a reservation at private LAX lots. At SpotHero, for example, you can enter time and date of your departure and return, and receive a number of options and calculated prices.
Go to SpotHero online to get started.
Alternate transportation
If you want to ditch the car altogether, consider Uber, Lyft or taxis to take you to or from the airport. The LAX FlyAway Bus is a good deal at $8 to $10 each way, with pickup locations in downtown L.A., Hollywood, Long Beach, Van Nuys and Westwood.
ALSO
Yosemite to close Tioga and Glacier Point roads Tuesday ahead of winter storms forecast through Thanksgiving weekend
Yes, you can bring Thanksgiving dinner in your carry-on bag, except for these items
Plan your Thanksgiving travel to avoid L.A.'s worst holiday traffic times and the worst time to drive to LAX
---