Hungary's solution for controversial statues: A museum/sculpture park that doesn't glorify but doesn't ignore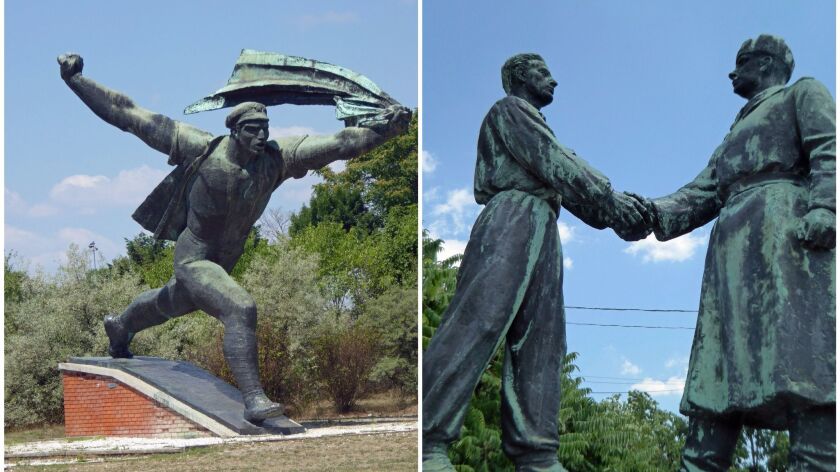 BUDAPEST, Hungary — On the outskirts of Budapest, sculptures of heroic workers, waving comrades and triumphant revolutionaries, preside over an empty field.
A giant pair of bronze boots recalls a towering statue of Josef Stalin, toppled during a rebellion against Soviet occupation.
While the U.S. debates the fate of its controversial statues and memorials, Hungary offers a possible solution: It preserves its past in a plaza filled with Communist-era monuments.
Memento Park acknowledges history without glorifying it. Part-museum, part-outdoor sculpture garden, it attracts busloads of tourists every day during the busy summer season.
When the park opened in 1993, its architect acknowledged the project's difficult mission: "These statues are both reminders of an anti-Democratic society, and at the same time pieces of our history," Akos Eleod wrote.
"They are symbols of authority, and at the same time works of art."
The analogy to the United States isn't perfect. Hungarians generally weren't willing partners with the four-decade Communist dictatorship that followed World War II. The country was one of the first to rebel against the Soviets, launching a revolution in 1956 that was brutally repressed.
The park takes visitors to the heart of the Soviet era, with soaring statues that functioned as three-dimensional propaganda.
Among the 42 pieces is a rare cubist sculpture of Karl Marx and Friedrich Engels, authors of the "Communist Manifesto." There's also a monument to Soviet friendship, showing a grand Russian soldier reaching out to a humbled Hungarian worker.
The park's museum building runs a black-and-white film compiled from secret agent training videos, which is both amusing and horrifying.
Indeed, there is an element of retro kitsch to the entire park. Its Red Star Gift Shop sells Soviet medals, propaganda posters and a "Best of Communism" CD of revolutionary marching music.
But humor, the park suggests, can tame tyranny.
The site's most striking statue, "To Arms," shows a Communist revolutionary rushing into battle, a billowing flag in hand. During occupation, Hungarians ridiculed the statue and gave the work another name: "The Cloakroom Attendant."
The soldier, they whispered to one another, could just as easily be a restaurant employee chasing after a patron who had forgotten his scarf.
Info: Memento Park
ALSO:
What travelers need to know about California's wine country fires: Napa winery and Santa Rosa's Round Barn destroyed
Colorado? No, that's California, where the aspent are finally putting on their fall show
How two can fly L.A.-London for $739
---
Get inspired to get away.
Explore California, the West and beyond with the weekly Escapes newsletter.
You may occasionally receive promotional content from the Los Angeles Times.