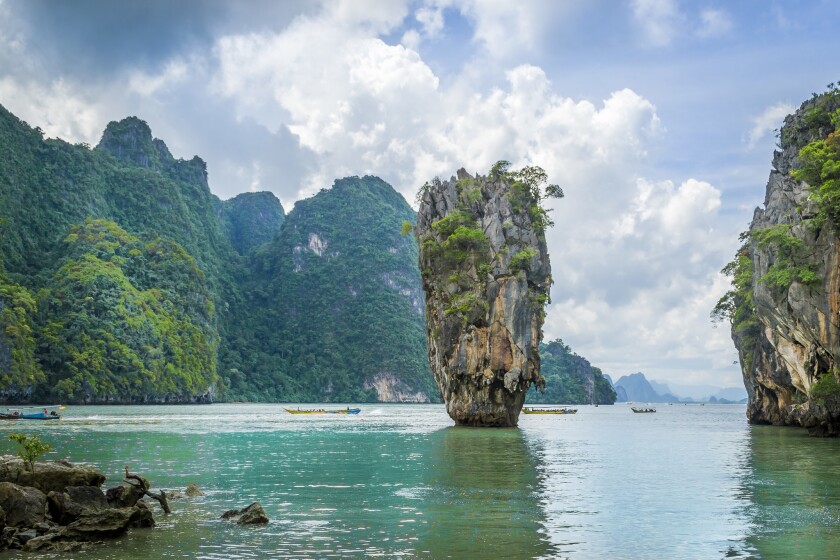 What a terrible idea on Page 1 of Sunday's Travel section ["Hidden realms await," Dec. 2]. You recommended that travelers "go now" to visit this "fragile ecosystem." That is not responsible travel. Ecosystems that are fragile should be protected from travelers.
Bruce Schelden
Playa del Rey
Coffee pot in a hotel bathroom?
The article about AAA inspections of hotels reminded me of an experience I had at a four-star Seattle hotel ["Here's a Closer Look at the Hotel Inspection Process," On the Spot by Catharine Hamm, Nov 25].
I was shocked to find a pod-style coffee maker plus all accouterments in the bathroom. The bedroom was large, so there was no need for it to be in the bathroom. My shock turned to horror when I tried to remove it only to find it was gripped in position by some kind of slime. I told the front desk about my concerns, and they just didn't get what I was talking about.
I got the coffee maker replaced but decided to stick to the coffee available in the foyer as I had, and still do have, a lack of confidence in the hotel's attitude about hygiene and safety if they think it's OK to brew coffee next to a toilet.
I won't be staying there again.
But is it just me? I told several friends about this, expecting to hear a loud chorus of "yucks," but a significant minority gave me the same blank look as the Seattle hotel front desk.
Peta Noble
Rolling HIlls
'Casablanca' lives on
Regarding the letter on Rick's Café Américain ["'Fake' Gin Joint," Dec. 2]: Because the original Rick's never existed but was a fake restaurant on the Warner Bros. lot, it seems a bit silly to be upset that someone has re-created it in Casablanca, where it was supposedly located in the film.
For anyone traveling in Morocco and visiting Casablanca, Rick's is a wonderful restaurant with very good food and a clientele from around the world. It's just a fun stop and nothing to take so seriously.
I am sure that people who love to travel "and see interesting historical places around the world," as the letter writer said, can still enjoy an evening of nostalgia.
I am always amused when someone says, "But it's not the real Rick's Café."
Patricia Shepherd
Los Angeles
Quite a site in Cleveland
As someone with family in northeast Ohio, I enjoyed the story about downtown Cleveland and Severance Hall ["Classical's Luxe Cleveland Home" by Christopher Reynolds, Nov. 25].
The article mentions Heinen's Grocery Store but did not include it in the highlights section. This store, in a restored historic bank building, is the most beautiful one I have ever seen. It offers prepared foods and a salad bar along with seating under a glorious rotunda. A second level serves wine.
Visitors to downtown Cleveland should make time to see Heinen's — really.
Robin Pittman
Manhattan Beach
---