Ultra-cool and ever more costly Mammoth Lakes in winter isn't just about the celebrated downhill skiing and snowboarding on the big mountain.
I recently found some low-cost — and lower impact — cold-weather options that cost practically nothing. You can take a naturalist-led snowshoe tour on Mondays and an introduction to ice skating session on Fridays, and take snowy trail walks in between for free.
Snowshoeing
Tamarack Cross Country Ski Center [(760) 934-2442] in Mammoth Lakes offers a free guided morning excursion on weekends and holiday Mondays.
No experience or reservations are necessary, but you must bring your own gear
Tip: Try the town option at Brian's Bicycles & Cross Country Skis, which costs $15 for an all-day rental. Or rent at Tamarack's ski center for $30 per day.
Either way, practice the high-step snowshoe stomp as your guide rhapsodizes about lodgepole pines and the hibernation habits of the local bears. Along with the observations about flora and fauna, there's a real trek up the backside of Panorama Dome (and I thought it was tough in the summer with the kids), but the views are stunning, as promised.
Ice skating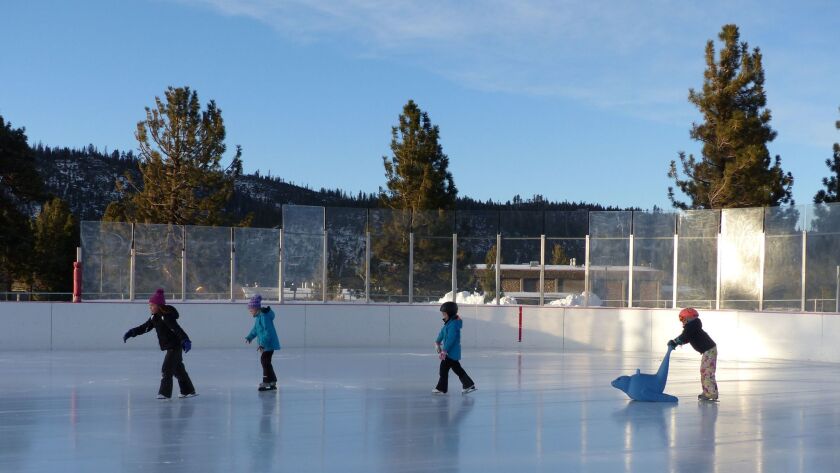 On Fridays at the spectacular outdoor Mammoth Ice Rink, there's the promise of a 20-minute "free skate assist session" during public skating hours.
Can a baby boomer who last glided during the Wayne Gretzky hockey days still summon the ankle strength to get across the ice? Turns out that, yes, there's hope for older skiers who turn to skating -- though the practice "getting up" bit is almost impossible.
As I focused on not falling, I fervently wished for an adult-size, blue-plastic seal "skate aid" like the kids swirling around me were using.
The afternoon lesson is free, but the adult rental/admission is $13.50
Explore other options, such as public, sometimes free skating nights; midweek rates; and kids programs at the rink's website or by calling (760) 965-3695
Tired? Sore? Need even less exertion?
Practically outside your door there's endless no-cost walking along the well-posted Town Loop section of the Mammoth Lakes Trail System, even when the asphalt path is buried in snow.
And if you wander a bit too far along the scenic trail, well, the town's shuttle system (free in winter) will scoop you up for a ride back to your cabin.
---