Libya the newest hot ticket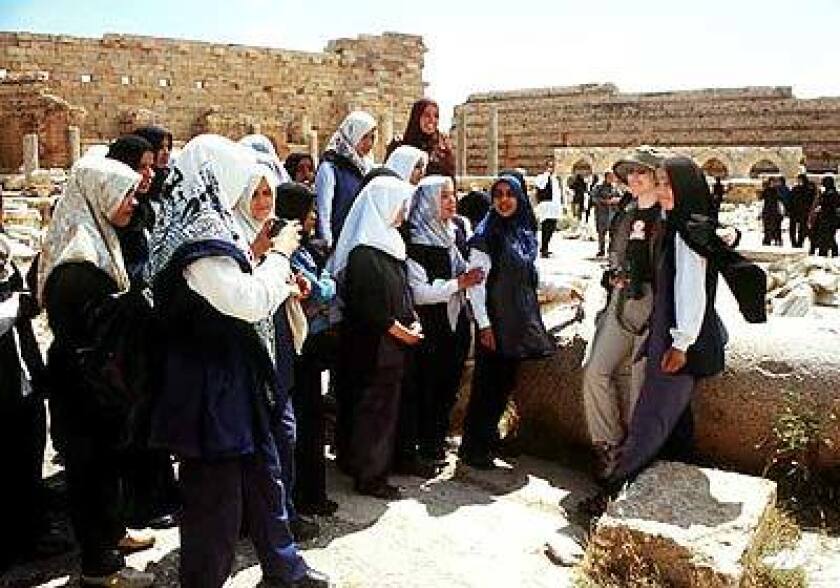 Times Staff Writer
The latest chic ports of call for the jaded or adventurous cruiser are in Moammar Kadafi's socialist Libya, despite a U.S. State Department warning discouraging visits there. Little more than a year after the U.S. lifted its long-standing ban on travel to the North African nation, Holland America, Silversea and several other cruise lines are putting Libya on their itineraries. And it's a hot ticket.
The appeal: a forbidden-fruit country with extensive, well-preserved Roman ruins and memorable Saharan scenery. The most popular Libyan ports of call, usually found on 10- to 16-day Mediterranean cruises, are Tripoli and Benghazi.
Two of Silversea's four cruises that call on Libya this year have sold out. They're so popular that the luxury line, based in Fort Lauderdale, Fla., plans nine next year, said spokesman Brad Ball. "There's a large group of travelers out there [who] are always looking for bragging rights in regard to being the first person to visit new and exotic places," Ball said.
The State Department takes a dimmer view. True, the U.S. in February 2004 lifted its travel ban after Kadafi's government accepted responsibility for the bombing of Pan Am Flight 103 in 1988. And by September, the U.S. had dropped most trade and economic sanctions against Libya. But the U.S. still lists Libya as a state sponsor of terrorism, and in a Dec. 29 warning still in effect, the State Department tells U.S. citizens to "exercise a high level of caution" there.
Companies offering cruises in Libya (all prices per person, double occupancy) include:
Travel Dynamics International, a small company based in New York that runs education-focused programs, stops in several Libyan cities on its 11-night cruise. It has three such voyages scheduled this fall, starting at $6,995 per person, double occupancy, plus airfare; (800) 257-5767, https://www.traveldynamicsintl.com .
Silversea: Among cruises that include Libya this year are a 12-day itinerary from Port Said, Egypt, to Barcelona, Spain, that departs April 12, and a 10-day cruise from Monte Carlo, Monaco, to Port Said that departs Oct. 26. Cruise-only prices start at $3,767. Nine are planned in 2006; (877) 760-9052, https://www.silversea.com .
Holland America: Its first calls on Libya will be in April 2006. It plans 10 visits next year, including on its 108-day Grand World Voyage. Cruise-only prices start at $1,799 for 10 days; (877) SAIL-HAL (724-5425), https://www.hollandamerica.com .
Clipper Cruise Line: Its two cruises with Libyan port calls this year are sold out, said spokesman Doug Bolnick. Two more are planned for spring 2006. Prices, including airfare, start at $4,770 for 13 days; (800) 325-0010, https://www.clippercruise.com .
---
Get inspired to get away.
Explore California, the West and beyond with the weekly Escapes newsletter.
You may occasionally receive promotional content from the Los Angeles Times.