Savoring Manhattan a cup at a time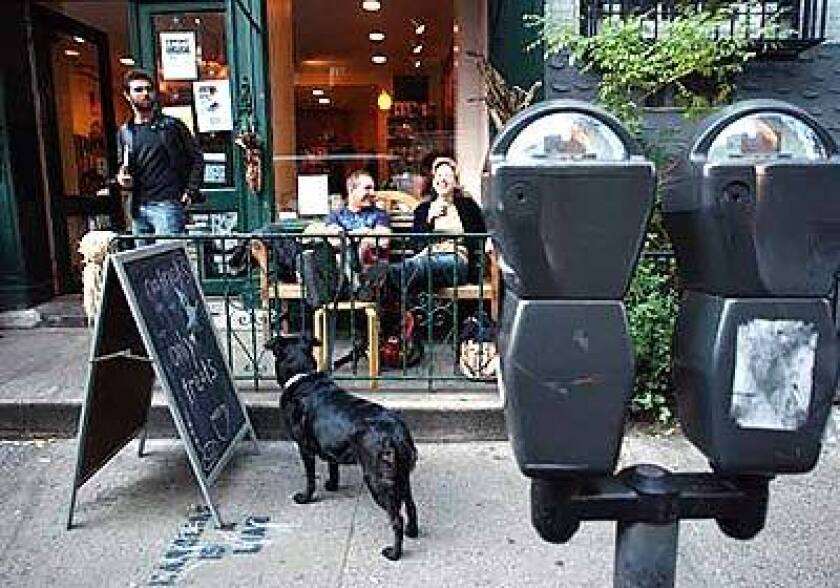 Special to The Times
It's tough to shake any value from that expensive hotel room when Lower Manhattan so alluringly insists that you stay up all night.

Here, a midnight dinner in an adventurous bistro like the Spotted Pig is not only possible but ordinary. Music lovers can relish a gospel hillbilly jam from sextet Ollabelle, whose members harmonize and pluck guitars past 3 a.m. at the Living Room. Or visitors might dissect novels with bookish cocktail waitresses at hundreds of sexy bars until 4, then effortlessly catch the never-stop subway back to their beds.

But if you're resolved to take such a sizable bite out of the Big Apple, you'll probably covet a heavy infusion of coffee in the morning. And probably in the afternoon too.

Sure, Starbucks outlets litter the avenues of the city. But if you surrender to that corporate familiarity, you'll miss one of Manhattan's sweetest and least expensive treasures: its singular downtown cafes.

Offering atmospheric refuge from the chest-to-chest pedestrian hockey game of Manhattan's sidewalks, these genial havens comprise their own universe of delicious espresso, mega-star sightings and public restrooms (more than a collateral luxury when ambling rootlessly around New York). For my tour, I was unerringly guided by my buddy Danny Lorber, a New York screenwriter who spends the bulk of his days with a PowerBook slung over his shoulder roaming from soy latte to latte.

Space Untitled

Our first stop: the cobblestone streets of SoHo and Space Untitled. Housed in a ground floor loft, this spacious emporium dished up without fanfare the best coffee I sampled in all of New York — a whole milk double latte that tasted like a first kiss.

Even if it brewed black vinegar for coffee, this eccentric cafe would beckon like a caffeine mecca. Exposed red brick runs the length of the high-ceilinged loft. Doric columns bisect the room, which reverberated with the moody indie sounds of Jeff Buckley and Rufus Wainwright. And an opaque skylight in the rear filtered daylight onto scores of round marble tables and orange and yellow scoop chairs.

Dozens of NYU students, writers and graphic artists routinely co-opt squares of the distressed hardwood floor as their surrogate offices. A young man with an afro and Che Guevara T-shirt pored over books on cinematic story technique. Handfuls of fresh-faced, sleeveless brunets, their hair swept back in ties and scrunchies, steadily pounded the keys of their laptops for hours.

The long, spotless counter dispenses bagels, sandwiches, fresh-squeezed carrot, apple or ginger juice, and wine by the glass. Battered couches offer respite for sole-weary SoHo shoppers laden with bags from Rem Koolhaas' weird and whimsical Prada store around the corner. And most New York-ish of all, the floor-to-ceiling windows up front, accessorized with a wood bar and leather stools, look out onto the entrance of the Ford modeling agency directly across the narrow street.

Danny concedes that for a long while he landed daily at Space Untitled to write but the incessant parade of striking 6-foot-tall 18-year-olds rendered productivity impossible. Now he limits his visits to this inimitable sanctuary of caffeine, light and beauty to weekends, when the modeling agency is closed.

Housing Works

Several streets to the east lies another New York gem, the nonprofit cafe and bookstore called Housing Works. It occupies another huge loft with tables, shelves and two narrow balconies overflowing with used books.

Profit from the sale of books and beverages is channeled into housing, healthcare and job-placement services for the homeless and those with HIV and AIDS. Between the cathedral ceilings and weathered wood floors, readers and writers lounge around a dozen small tables and several plush armchairs. Browsers can't help but stumble upon recent hardcover releases, donated by publishers, on sale for $10.

In the back, a small cafe supplies pastries and coffee doled out by volunteers. Danny said Michael Cunningham, the Pulitzer Prize-winning author of "The Hours," steamed up his decaf cappuccino one day. Housing Works' in-store events have included performances by Lyle Lovett and Roseanne Cash, as well as readings by Jonathan Franzen, Zadie Smith, Paul Auster and Jonathan Lethem. This warm, elegant oasis is the only place I know where you can indulge simultaneously a love of literature and that philanthropic urge with the simple purchase of a decent macchiato.

Doma

A more selfish pleasure awaits a 15-minute hike northwest to Greenwich Village and Doma, a studious little place humming with classical music and a palpable camaraderie. The cafe lovingly maintains a shelf of books written by Doma regulars, who root themselves like talking house plants around communal tables and window benches from morning until midnight.

One recent afternoon, I roosted with a reclaimed copy of the New York Times across from John Cameron Mitchell, the co-creator of "Hedwig and the Angry Inch," as he worked on the script for his next movie.

All around us, pretty women in glasses nibbled on muffins and relentlessly banged out pages of their novels. The patrons chatted amiably about their projects or goings-on and politely ducked outside to make cellphone calls.

Late in the evening, small bands of prototypical mad scientists — including a think-tank economist who investigates the correlation between life expectancy and personal income — debated art and world affairs over beers, mochas and tasty chocolate cupcakes.

Doma trades in comforting egg dishes and grilled sandwiches, and, unfortunately, rather mediocre coffee. But that's the sacrifice one makes for the chance to gossip with Monica Lewinsky or spy neighborhood residents Nicole Kidman, Calvin Klein or Sarah Jessica Parker rushing in to scoop up a to-go order.

Sant Ambroeus

A superior cappuccino and equally splendid stargazing can be found a few steps down the street at Sant Ambroeus. This full-menu Italian restaurant sports a beautiful marble stand-up espresso bar right out of Tuscany. West Village denizens report that when Gwyneth Paltrow and her rock star husband, Chris Martin, are in town, they can be spotted many a lazy afternoon leaning their lanky fabulousness against that counter while slurping from tiny cups.

Joe

Authentic coffee aficionados will joyously sprint a few blocks east to sample the exquisite brews at Joe and then around the corner at Jack. Both these small cafes take the exacting art of making espresso desperately seriously, and they trumpet this noble calling with signage and literature that verges on braggadocio.

Joe, blessed with Time Out's tag for "Best Coffee in NY," is frequently packed despite its bland decor. It touts an ultra-expensive La Marzocco, the Maserati of espresso machines, as the key to luring a relentless stream of young Wall Streeters with a dash of three-name movie stars like Daniel Day-Lewis and Philip Seymour Hoffman.

Even with the extra lump of hype, the cup at Joe made my taste buds dance. Still, I preferred the coffee and the ambience at the adorable exposed-brick Jack about 200 paces away.

Jack

Jack employs a less pricey machine but crows about its organically shade-grown beans and stirred-grinds brewing process designed to unleash flavor. I'll admit to a prodigious drowsiness that day, but Jack's lattes were so good that I returned for a second and then a third mug one rainy afternoon.

Here moms with tots in strollers loitered around the small wood tables, savoring the caffeine and the excellent muffins supplied by Brooklyn's Blue Sky Bakery. The lovely staff behind the counter seemed eager to become my best friend, at least for a few minutes.

Cafe hunting can make for a full-time vacation. Still, you'll probably want to squirrel aside a few hours to visit the Empire State Building, Central Park and the haunting emptiness that was the World Trade Center. But pit stops at any of these stimulating coffee palaces, inhabited by surprisingly friendly locals, will enable you to embrace every late-night Manhattan thrill. And stay awake as you do so.
---
Steve Weinstein is the co-author of "A Wish Can Change Your Life," published by Simon & Schuster.

*

(BEGIN TEXT OF INFOBOX)

A sip of New York

GETTING THERE:

From LAX, United, American, America West and Delta offer nonstop service to New York's Kennedy airport. Northwest offers connecting service (change of plane).

To New York's LaGuardia airport, Continental, Frontier, Northwest, ATA, United, US Airways and Delta offer connecting service.

To Newark, N.J., Continental, American and United have nonstops. Delta, America West, US Airways and American Trans Air have connecting service.

Restricted round-trip fares to all airports begin at $198.

WHERE TO DRINK:

Space Untitled, 133 Greene St., SoHo; (212) 260-8962. This gigantic refuge from the rain and rest stop for weary shoppers' soles teems with delicious coffee, juices, art, the trendy and the studious.

Housing Works, 126 Crosby St., SoHo; (212) 334-3324, https://www.housingworks.org/usedbookcafe . Beautiful books, cafe fare and readings and live music in support of charity.

Doma, 17 Perry St., Greenwich Village; (212) 929-4339. Respectable coffee and cupcakes amid a revolving horde of laptop-wielding writers and academics.

Sant Ambroeus, 259 W. 4th St., Greenwich Village; (212) 604-9254. The scrumptious cappuccinos and espresso bar make this pricey eatery the haunt of Gwyneth Paltrow.

Joe, 141 Waverly Place, West Village, (212) 924-6750. Exquisite lattes (deemed the best in New York by Time Out and the Village Voice) in a cozy room packed with affable crossword buffs.

Jack, 138 W. 10th St., West Village; (212) 929-0821, https://www.cupajack.com . Fair-trade, shade-grown beans and as tasty a cup of regular American coffee as you'll find in any city.

ALSO NEARBY:

Teany, 90 Rivington St., Lower East Side; (212) 475-9190, https://www.teany.com . Spiffy tea emporium in NYC's hipster haven is co-owned by electronic music maestro Moby.

Balthazar, 80 Spring St., SoHo; (212) 965-1414, https://www.balthazarny.com . Mobbed at night, the bar at this hopping institution delivers a lively respite throughout the day.

Dante, 79 McDougal St., near Washington Square Park; (212) 982-5275. Old-school Italian cafe with sidewalk tables, gelati and an amazing sugared berry cheesecake.

Cafe Gitane, 242 Mott St., Nolita/Little Italy; (212) 334-9552. Hearty food and foamy cappuccino accompanied by tiny squares of Belgian choco- late.

Ruby's, 219 Mulberry St., SoHo; (212) 925-8959. A cheerful hole-in-the-wall that dispenses superb chicken burgers, sticky date pudding and caffeine.

— Steve Weinstein
---
Get inspired to get away.
Explore California, the West and beyond with the weekly Escapes newsletter.
You may occasionally receive promotional content from the Los Angeles Times.