Seeking a short cruise that's a bargain to boot? Check out repositioning trips, available as lines shift their ships to other ports
Every spring and fall, as major cruise lines reposition their vessels from the Caribbean and elsewhere to Alaska for the summer, residents of the West Coast and beyond get the chance to sample short cruises at bargain prices.
Pacific Coast cruises generally take place in April, May, September and October. Many stay for a night or two in Seattle and Vancouver, Canada; another popular run is for three or four nights between Vancouver and Los Angeles or San Diego.
My wife and I joined five relatives aboard the Emerald Princess on May 9 for a four-night cruise from Los Angeles to Vancouver. Here are some highlights on-board ship and on the two port calls:
At sea
The ship had not even escaped San Pedro Bay before we saw our first whale spouts just beyond the Los Angeles harbor lighthouse. Less than an hour later, we spotted more spouts from our veranda, but a strong headwind and choppy seas banished us indoors for most of the next two days as we headed north.
Not to worry: Like all cruise ships, Emerald Princess (launched in 2007) is built and programmed to entertain its 3,000-plus passengers.
Want to move your feet? Take a cha-cha lesson in the morning or mix it up in Skywalkers Nightclub after dark, with DJ Gonzalo Riff urging you to learn the Bachata ("1-2-3, hips; 1-2-3, hips").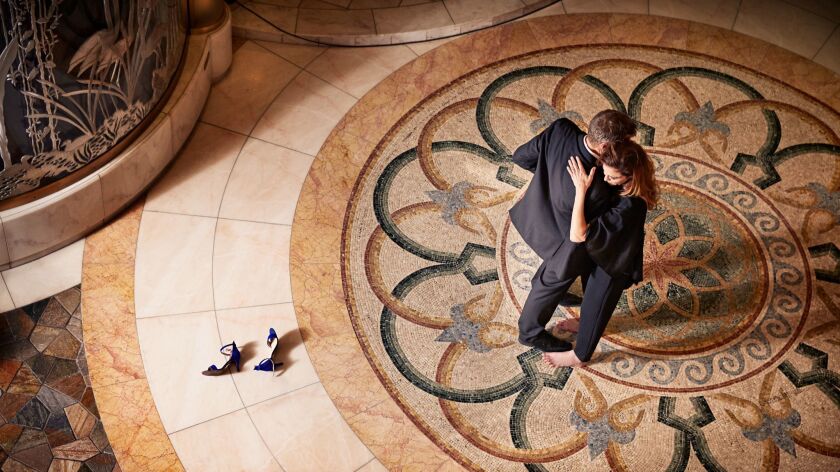 Want to relax, or buff and polish your body? We did both in the Lotus Spa, sampling a couples massage, a facial (both of us) and hair treatment (my wife, niece and sister-in-law).
You'll find silly fun (launching paper airplanes in the central atrium Piazza) and serious fun (gambling in the on-board casino) and serious study (a researcher's presentation on whale migration).
And you will eat. Notably, both of the on-board specialty dining experiences, which carry an extra charge per diner, made for memorable family dinners of three-plus hours. Crown Grill is patterned after a classic steakhouse, and Share by Curtis Stone takes fresh ingredients to a level rarely seen aboard the big ships.
Victoria
Whether by foot or by bike, Victoria, British Columbia's capital, is a treasure to traverse from its vibrant Chinatown to the lovely Inner Harbour, ringed by the stately Fairmont Empress hotel, parliament buildings and Royal BC Museum. Do not miss Chinatown's whimsical Fan Tan Alley, a sliver of pavement billed as the country's narrowest street.
On Saturday mornings in summer, the Moss Street Market has been bringing farm produce and more into the city for 27 years. A half-hour drive from the city, Butchart Gardens lives up to its international reputation with a stunning display of color, from rioting rhododendrons to waves of tulips in reds, pink, yellows and purples.
Nearby, Victoria Butterfly Gardens complements Butchart's vivid flora with a glimpse into the life of winged creatures, from colorful butterflies and moths to even more vibrant macaws and parrots. Just around the corner is Church & State Wines, Vancouver Island's largest winery and, from May to December, an ideal lunch stop for bruschetta, a charcuterie platter or cedar-baked brie for two.
Vancouver, Canada
Vancouver, the beginning or ending for many Pacific Coast cruises, is one of the world's great cities, worthy of a layover of a long weekend and more. Harborside high-rises compete with snow-capped mountains for attention, and its Chinese and East Indian influences make for incredible cultural and dining opportunities.
If, as we did on this trip, you elect to cram your visit into a single day, find time for the short drive or bus ride to Capilano Suspension Bridge Park.
There, we spent a couple of pleasant hours reliving our sea legs on the swaying bridge over the Capilano River and on the Treetops Adventure, a series of bridges and platforms set amid giant Douglas firs. For a final adrenaline boost, we tackled the narrow walkway along a granite cliff face known as the Cliffwalk.
Downtown, visit the country's largest Chinatown. Stroll the multitudes of shops, including in Gastown. The city's historic original downtown has partially gone to seed but maintains some lively businesses, such as Rogers' Chocolates and the labyrinthine Steamworks Brewing Co. brew pub.
On the brewery floor, copper fermenting tanks gleam, a promise of good things to come.
Prices
Four nights in a cabin with veranda were priced at $299 per person, plus taxes and fees. A May 2019 three-night sailing from Los Angeles to Vancouver starts at $249 per person for an interior cabin, plus taxes and fees ($55).
Four-day fall cruises on the reverse course — from Vancouver to Los Angeles — start at $224 for an inside cabin, plus $75 taxes and fees per person. Cruises depart Sept. 15 and Oct. 19 from Vancouver.
Info: Princess Cruises, (800) 774-6237
ALSO
Las Vegas buffets are legendary — and now, reinvented. Here are four offering fresh takes
Visit French Polynesia on a family-oriented cruise where you can swim with sharks, take nature hikes, watch Tahitian dancers
Ready to get away from it all? Try a world cruise. Four will depart from Los Angeles next year
---
Get inspired to get away.
Explore California, the West and beyond with the weekly Escapes newsletter.
You may occasionally receive promotional content from the Los Angeles Times.