Romance is in the air at London's green spaces
Visitors enjoy a break from the rain at Kew Gardens in London.
(Dan Kitwood / Getty Images)
Kids run from the Woodland Tree House at Royal Botanic Gardens, Kew, which holds a world-class collection of rare plants.
(Dan Kitwood / Getty Images)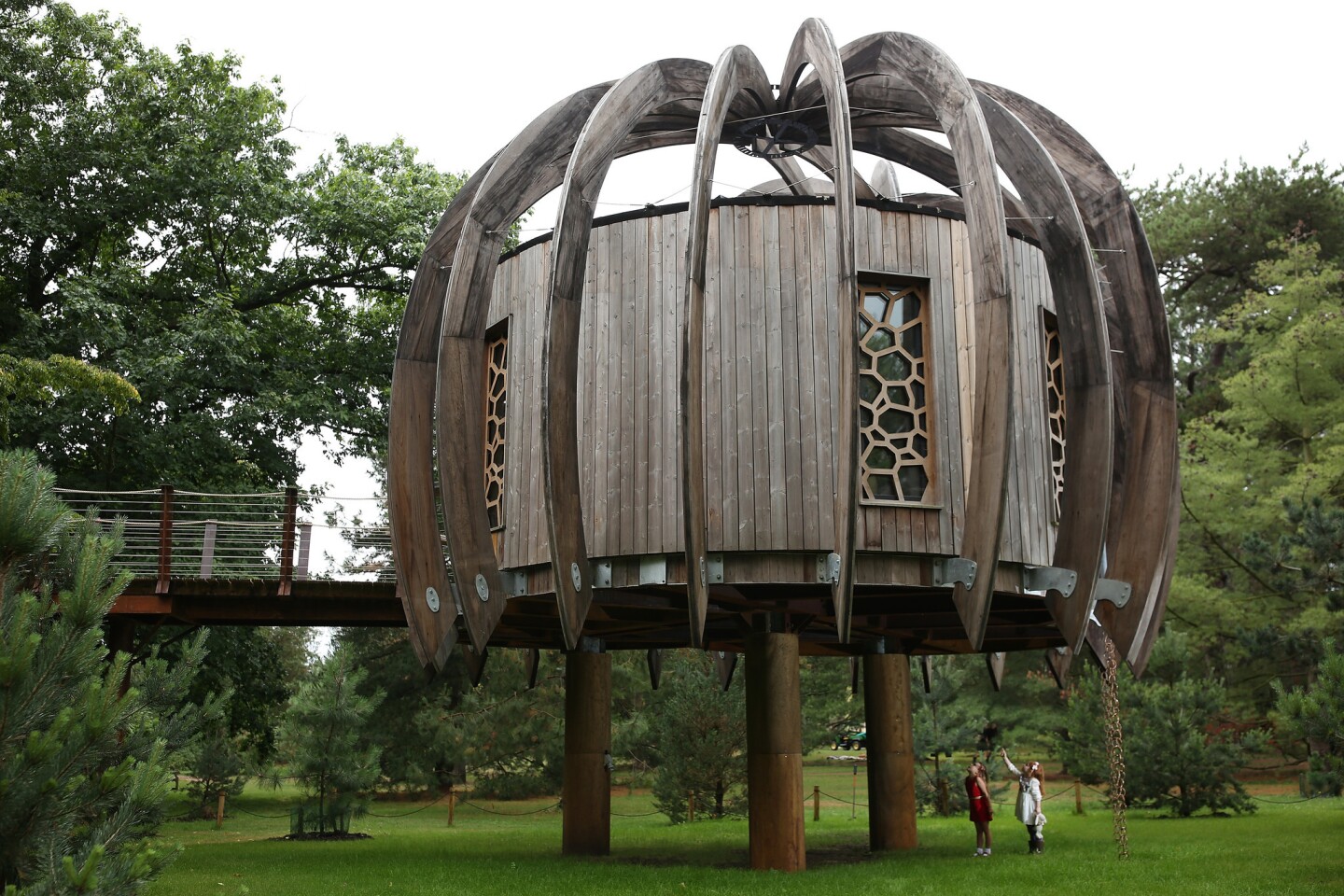 Children stand underneath a Woodland Tree House during a summer festival.
(Dan Kitwood / Getty Images)
Children play inside an area designed to look like a badger's sett.
(Dan Kitwood / Getty Images)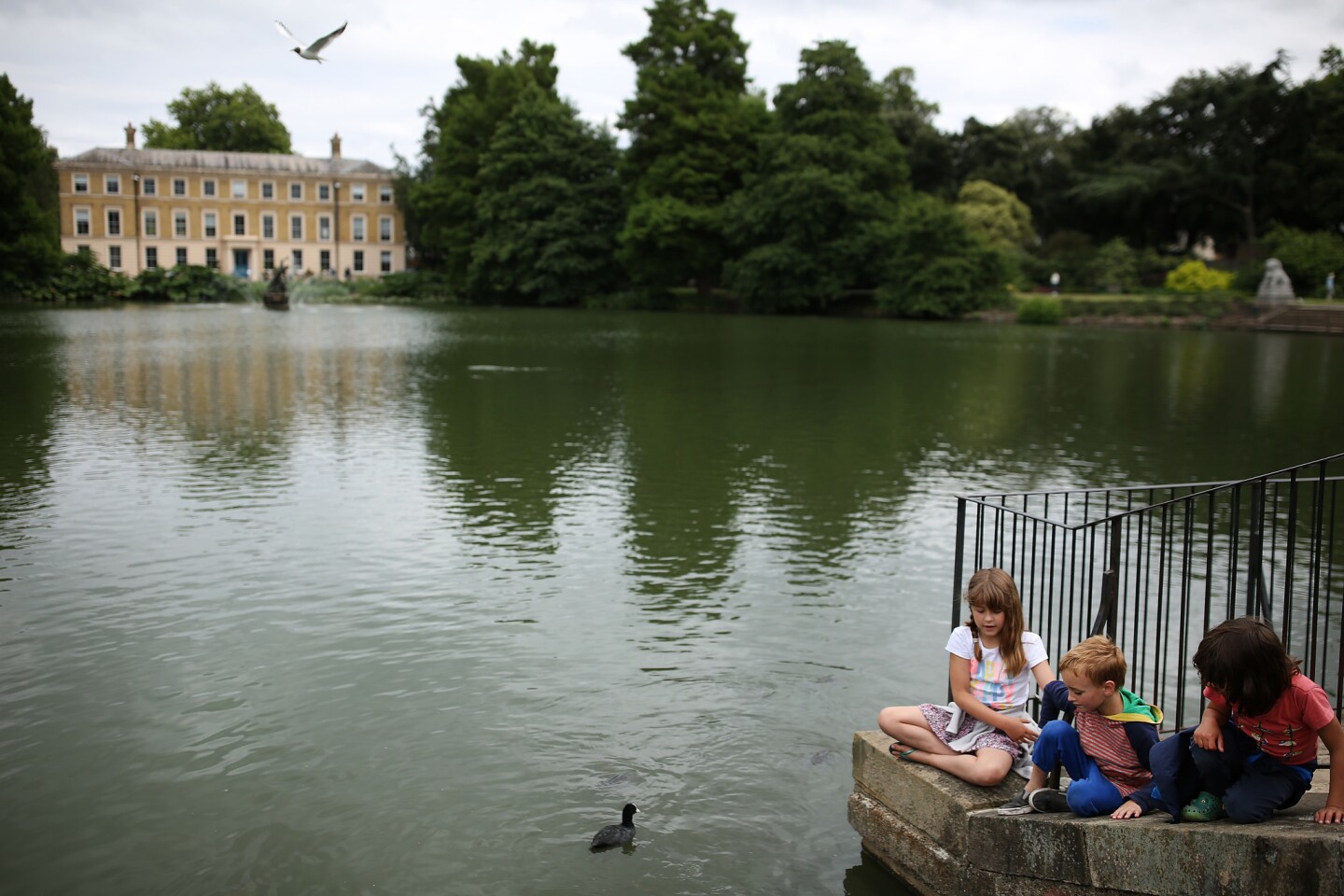 Children look at the koi carp in the lake.
(Dan Kitwood / Getty Images)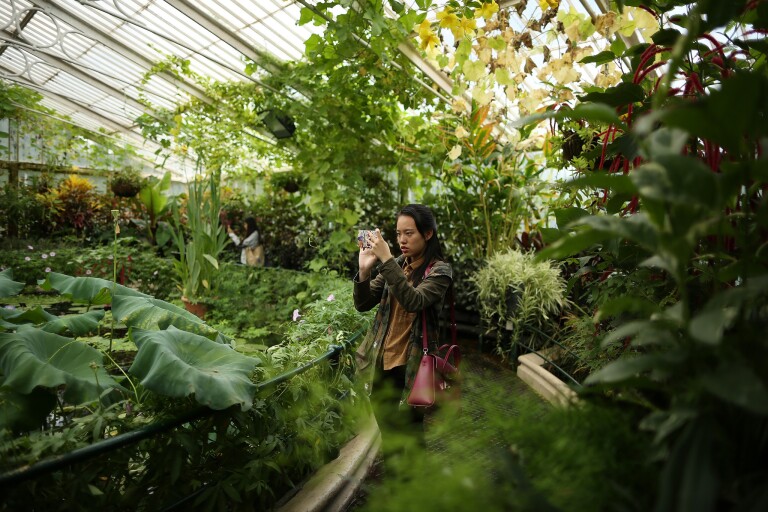 A visitor takes a photograph in the Waterlily House.
(Dan Kitwood / Getty Images)
Children play in the Hive, an installation at the gardens.
(Dan Kitwood / Getty Images)
Reporting from London —
Like love and marriage, London's green spaces are inextricably linked to Britain's royal family — and the Royal Botanic Gardens, Kew, are no exception. This spring there is much talk of romance in the run-up to Meghan Markle's marriage to Prince Harry. What better place to feel the love than among the acres of blossoms, rolling green lawns and ancient woodland that make up these royal gardens.
Kew, founded in 1840, is London's largest UNESCO World Heritage site and contains the world's biggest collection of rare and exotic plants. Here, you can find musk roses, sweet violets, bergamot and heartsease — otherwise known as the love potion in Shakespeare's "A Midsummer Night's Dream"— among lily pads the size of coffee tables and flowers so tiny you need a magnifying glass to see them.
Early in May, Kew's magnificent Temperate Greenhouse — the largest Victorian glasshouse on Earth — was unveiled after a five-year restoration and showcases more than 10,000 exotic plants from around the world. On the surrounding grounds, cornflowers, foxglove and lily of the valley will be in full force this month, and the air, even in smoggy London, will be scented with apple blossom.
The Palm House with its ornate spiral staircase, wrought-iron gallery, canopy of giant palms and tropical plants is another ideal backdrop for your romantic rendezvous.
If it's views you're after, try the Treetop Walkway, which connects 200-year-old chestnut, lime and oak trees above the lake and surrounding gardens.
Picnic on the grass
Kew's magnificent green lawns are ideal for spreading out a blanket and lying in the sun with an alfresco lunch. The British take their picnics seriously — I know this firsthand as I met my husband at one many years ago.
If you don't want to spend your morning cutting the crusts off cucumber sandwiches, Newens, a short walk from the gardens, will make you a picnic lunch for about $19.50, including Maids of Honours for which Kew is famous.
Countdown to the Royal Wedding » Your complete guide to the royal wedding 2018
These flaky, curd-cheese delicacies date to Henry VIII. Story has it that Henry caught Anne Boleyn nibbling one and declared them as delicious as her real-life maids of honour. He confiscated the recipe and kept it locked in an iron box for the sole use of his cook.
In the 18th century, the recipe was leaked by a lady at court, and Maids of Honour became high society's must-have culinary treat.
One baker who got his hands on the recipe was Robert Newen, who set up shop on Kew Road in 1850. Newens is no longer operated by the same family, but the current owners are in close contact with the original family and everything is still made by hand every day on the premises.
A house fit for a king, a queen — and 15 children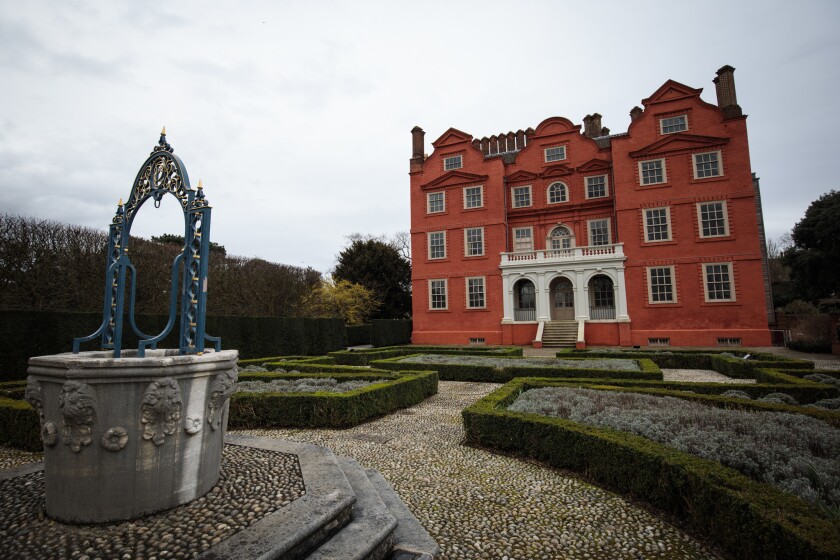 Kew Palace, the oldest building in Kew Gardens, is the smallest of the royal palaces and a delight to visit (a ticket to the gardens gets you admission).
The palace, built in 1631 for a Flemish merchant, then became the summer residence for King George III, Queen Charlotte and their 15 children. The couple's marriage was an arranged political union, but history tells us they were happy together; apparently George was the only member of his extended family not to take a mistress.
Not invited to Prince Harry and Meghan Markle's wedding? Here are five places where you can feel like a royal »
King George III, best known for his role in the American Revolution, which led to Britain's defeat and American independence (and a hilarious turn in "Hamilton"), is also notorious for his bouts of "madness."
In 1811, when he was no longer fit to be king, George was incarcerated in Windsor Castle, the couple's other, much larger, residence.
Charlotte and George's children were not producing offspring, and with a succession crisis looming, the royal sons, now in middle age, headed to Germany. They returned home with the princesses Adelaide and Victoire.
In July 1818, a double wedding took place in one of the rooms at Kew Palace. The king was too ill to attend, and an ailing Queen Charlotte just made it. A race now was on for these two couples to produce an heir to the throne. Duchess Victoire and Edward, duke of York, won the "baby race" — their daughter, born exactly nine months after the wedding, would become Queen Victoria.
In November 1818, Queen Charlotte was taken ill at the palace and died in her bedroom. You can see the chair where she took her last breath. Her coffin was taken from Kew to Windsor for her burial, and the cobbled courtyard of Windsor Castle was muffled with straw, so that the king, now suffering from severe dementia, would not hear the funeral carriage of his beloved wife.
Queen Charlotte's Cottage
Charlotte is immortalized in Kew Gardens with the pretty, thatched Queen Charlotte's Cottage. This cozy retreat is set in a quiet patch of Kew where you can walk in the couple's footsteps through London's finest bluebell wood, some of which is more than 300 years old.
In 1898, Queen Victoria made it a condition that the surrounding woodland be kept as wild and natural as possible, and it retains a magical old-world feel.
Kew has always had intimate ties to the royal family: Victoria's great-great-granddaughter, Queen Elizabeth II, celebrated her 80th birthday here in 2006 with a small family dinner party.
Cunard's cruise ships plan Prince Harry and Meghan wedding-watching parties »
And in 2009, she cut the cake for Kew's 250th birthday celebration. With such natural beauty on display, Kew's royal connections are not surprising.
So why not relax on a picnic blanket with your very own Maids of Honour among the exotic flora and fauna, lakes, ponds and ancient trees. There would be no better way to celebrate the upcoming royal wedding than with your own spot of alfresco romance in these royal gardens — just don't forget the bubbly.
If you go
Royal Botanic Gardens, Kew, Richmond, London; 011-44-20-8332-5655. Open 10:30 a.m.-5:30 p.m. through Sept. 30 (summer hours). Queen Charlotte's Cottage, open 11 a.m. - 4 p.m. weekends and bank holidays in summer. Online tickets for adults, $21; children 4-16 $5, children 3 and younger, free. If traveling by tube, get off at Kew Gardens station and walk to the Victoria Gate.
Newens The Original Maids of Honour, 288 Kew Road, Richmond; London; 011-44-20-8940-2752. Open 9 a.m.-6 p.m. Mondays-Fridays; 8:30 a.m.-6 p.m. weekends. Guests for afternoon tea are seated on a first-come, first-served basis, so you might have to wait.
Sidebar: A Round-up of London's Top Royally Romantic Parks
Richmond Park: Just one stop on the tube (the green line) from Kew Gardens, Richmond Park is London's largest royal park. Created by Charles I in the 17th century, it is home to 300 red deer as well as the Isabella Plantation, a 40-acre swathe of evergreen azaleas.
Bushy Park: Known as the spot where Gen. Eisenhower planned his D-Day landings, Bushy Park is a warren of trails, woodland and an unusual water garden built in 1710. It's also a beautiful walk from Hampton Court Palace. You can also reach it by train from Richmond. If you didn't bring a picnic, the Pheasantry Café has a lovely on-site bakery.
Kensington Gardens: Start your visit at the Lancaster Gate entrance with the Italian Gardens — a gift from Prince Albert to Queen Victoria. One of the most popular features of the park is the bronze statue of Peter Pan. The Diana, Princess of Wales' Memorial Playground is a must for anyone traveling with children. The seven-mile Diana Princess of Wales Memorial Walk, which also goes through Hyde Park, Green Park and St James's Park, will burn off the delicious cakes from the Broad Walk Café in Kensington Gardens. You can also visit Kensington Palace, the official London residence of William and Kate as well as Harry and Meghan.
Primrose Hill and Regent's Park
These are technically one park but separated by the Royal London Zoo. Primrose Hill offers amazing views over London, which were immortalized by the poet William Blake: "I have conversed with the spiritual sun. I saw him on Primrose Hill." Regent's Park was captured on-screen in David Lean's tear-jerker, "Brief Encounter," where Trevor Howard and Celia Johnson row in the lake. Disney's "101 Dalmatians" does it for me though, when Pongo meets Perdita in Queen Mary's Gardens, where in real life you can smell the roses — more than 12,000 of them in London's largest rose garden. This summer, you can also sip on a Pimm's while watching a performance of "Peter Pan" under the stars.
---
Get inspired to get away.
Explore California, the West and beyond with the weekly Escapes newsletter.
You may occasionally receive promotional content from the Los Angeles Times.