Watching the royal wedding on the telly? Here's what you need to know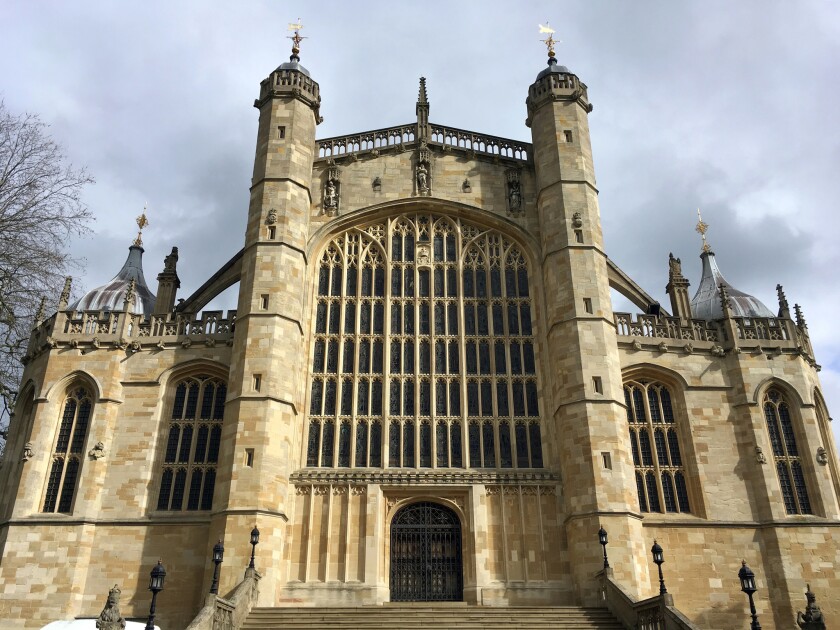 Reporting from Windsor, England —
As I boarded the train at London's Waterloo Station, I could not get that infernal pop song by the Dixie Cups, out of my mind.
I was indeed going to the chapel, but not to get ma-a-a-rried. I was going to get a good look so that when the clock strikes noon on Saturday, I can toast my TV with a glass of bubbly knowing a bit more about the site of Meghan Markle and Prince Harry's royal wedding.
St. George's Chapel is on the grounds of Windsor Castle, the oldest continuously inhabited royal residence on the planet. With 13 acres, the castle is also the largest.
William the Conqueror chose this spot overlooking the Thames in 1070, and since then, it has been home to 39 monarchs.
On the early spring day I visited, the clouds spit intermittently and cast a gray light. From the train station, I followed the tall, fortified walls of the castle, and although I was here to check out the chapel, I couldn't resist following signs to the State Apartments. They'll give me extra context, I told myself, but really, I was just curious.
Grandeur and glitz
They were even grander than I had expected — shimmering gold furnishings with satin and silk upholstery and wallpaper in ruby red and emerald green — the result of Charles II's attempt to outdo France's Louis XIV in splendor.
The ceilings, painted by Antonio Verrio, show gods and goddesses in shades of bubblegum pink and baby blue frolicking above the Queen's Audience Chamber, the Queen's Presence Chamber and the King's Dining Room. It is difficult to imagine that these are working rooms regularly used for ceremonial occasions and not film sets.
Countdown to the Royal Wedding » Your complete guide to the royal wedding 2018
Amid the glitz are paintings by Holbein, Van Dyck, Rubens and Canaletto. I was particularly struck by Rembrandt's thoughtful "A Young Man Wearing a Turban" and his 1642 "Self-Portrait in a Flat Cap" with its earthy palette. What would he make of his glittering surroundings?
I stepped outside under glowering skies and caught sight of a building that is more filigree and air than stone. This was it — one of the finest examples of Gothic architecture in the world. I wandered inside St. George's Chapel, and once my eyes adjusted to the darkness, I gasped.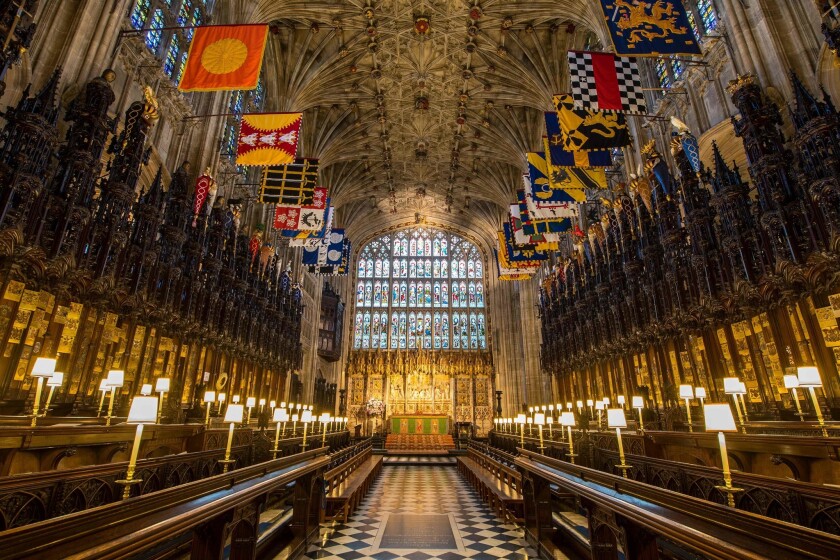 One of the volunteers heard me and laughed, admitting that after years of working here, she still can't believe her surroundings.
The chapel is a classic cross-shaped structure with a transept, nave and two side aisles. The ceiling looked as though skeins of lace had been stretched across it and magically turned to stone; the windows shimmered as if gemstones had been pressed into glass.
The original building dates to the 13th century, but the chapel was finished in 1483 during the reign of King Edward IV.
The chapel seats 800, far fewer than the massive St Paul's, where Harry's parents, Diana Spencer and the Prince of Wales, were married in 1981. And it doesn't have the political associations of Westminster Abbey, a stone's throw from Parliament, where Harry's brother, Prince William, married Kate Middleton in 2011.
St. George, the chapel's namesake, is a bit of a mystery. He was probably an officer in the Roman army who died around 300, and King Edward III chose him as the country's patron saint in 1350, although he had never been to Britain.
Edward III, inspired by the chivalry of King Arthur and the Knights of the Round Table, set up his own chivalrous order, the Order of the Garter, whose spiritual home is St. George's.
Nearly 700 years after the order's founding, the monarch recognizes men and women from a variety of backgrounds who have devoted their lives to public service, appointing them into the order. Every June, the queen, knights and ladies parade in their grand velvet robes and plumed hats in the Garter Day procession held here.
'Fine, peaceful and hallowed'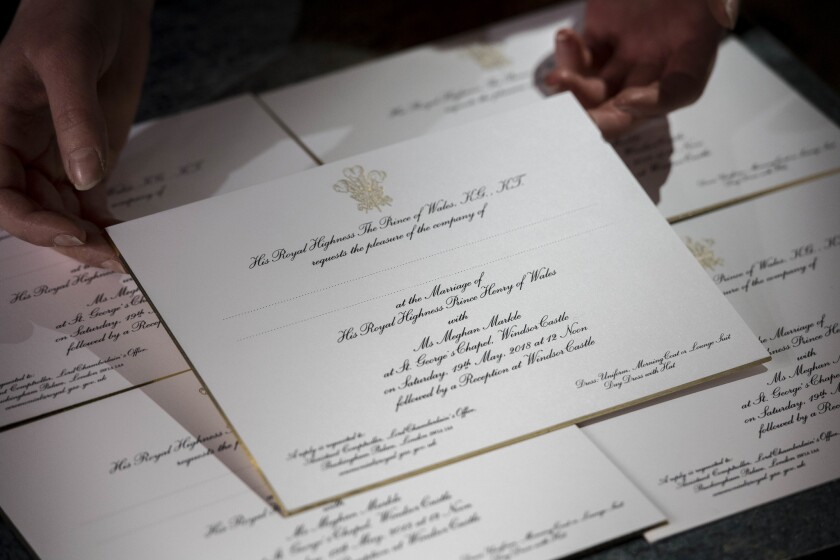 The chapel has also been the site of royal baptisms, communions, marriages and burials. I wonder whether Prince Harry chose this site partly because of his baptism here in 1984 and also as a nod to his father, the Prince of Wales, whose prayer service was held here in 2005 after his marriage to the Duchess of Cornwall, better known as Camilla.
One of the most beautiful statues in the church is Matthew Wyatt's memorial to Princess Charlotte, who died in 1817 during childbirth, along with her son. Artists from the Regency era really know how to do death — possibly because there was so much of it.
A robed Charlotte points upward while a winged angel carries her baby heavenward and mourners draped in white marble "fabric" surround the scene.
Charlotte's death hit Britain hard. The entire population went into mourning, much as it did after Diana died in 1997.
St. George's feels somewhat mournful and far away. It is no surprise that Queen Victoria adored the chapel, calling it "fine, peaceful and hallowed."
Her eldest son, Edward VII, is the only royal to be baptized, confirmed, married and buried here. His marriage to Alexandra of Denmark in 1863 came two years after the death of Victoria's husband, Prince Albert. The widowed queen entered the chapel by a private walkway and shed a tear as she observed her son's wedding from an oriel window — a decorated bay window Henry VIII had built for his first wife, Catherine of Aragon.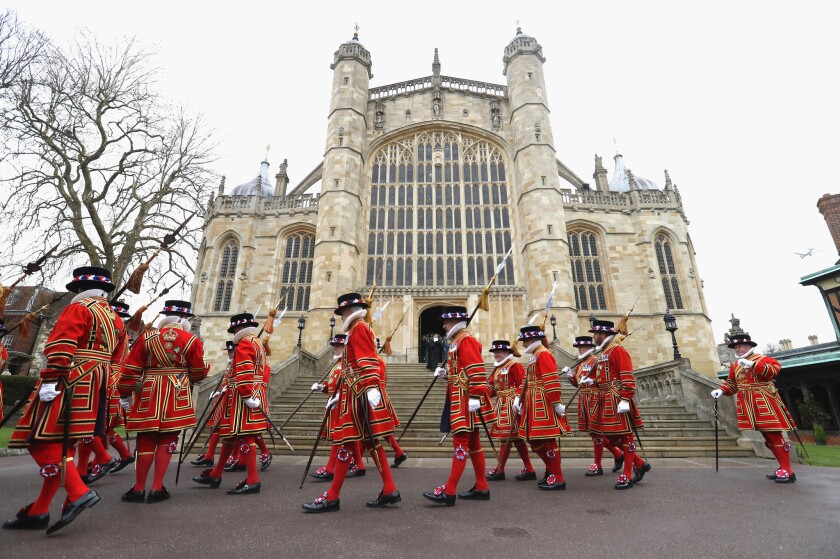 After hours in the chapel, I stopped in the gift shop, where I asked a volunteer whether he could show me Victoria's secret walkway. He pointed to a courtyard behind the shop. Above was a tiny wooden door and a raised boardwalk.
"She used to go out there and walk around at night," he said. Then, with a twinkle in his eye, he gestured to the courtyard, "That's where Henry VIII saw Jane Seymour for the first time."
She was the third of his seven wives and is buried next to him under a marble slab — I almost didn't see it as I walked through the choir. You need to look where your feet are stepping.
On Harry and Meghan's wedding day, the couple will be given titles by Queen Elizabeth II. The Duke of Sussex is thought to be the likeliest choice, which would make Markle Her Royal Highness the Duchess of Sussex.
Sticking to the couple's plans to make this royal wedding a joyous celebration "of the people," the first to congratulate them as husband and wife will be the 2,000 charity workers and local schoolchildren who have been invited to watch from inside the castle walls.
At 1 p.m., the couple will ride through the pretty Berkshire town of Windsor in a carriage before returning to the castle for their reception. The picturesque route will offer plenty of opportunity for the newlyweds to share their day with the public.
As I left the chapel to undertake the route on foot, the clouds parted and an early spring sun emerged — a good omen, I think.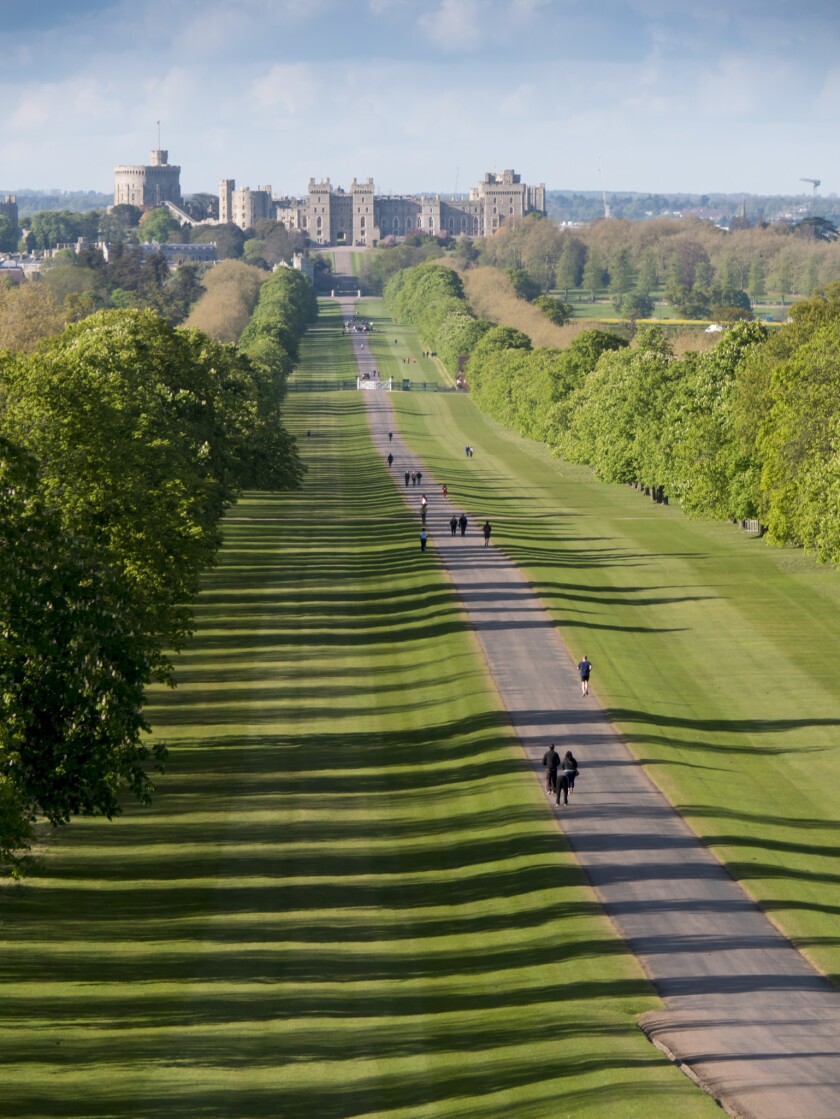 Spring is here (the-uh-uh)
The sky is blue (Whoah-oh-oh)
Birds all sing
As if they knew
Today's the day
We'll say "I do"
and we'll never be lonely anymore.
"Chapel of Love," The Dixie Cups
If you go
THE BEST WAY TO LONDON
From LAX, American, Air New Zealand, British, Delta, KLM, Lufthansa, Norwegian and Virgin Atlantic offer nonstop service to London. United, Delta, KLM and American offer connecting service (change of planes). Restricted round-trip airfare from $772, including taxes and fees.
Trains from London's Waterloo Station leave every half hour for the Windsor & Eton Riverside station. The journey is an hour. For tickets, go to National Rail. Tickets cost about $17 to $28.50, depending on the day and time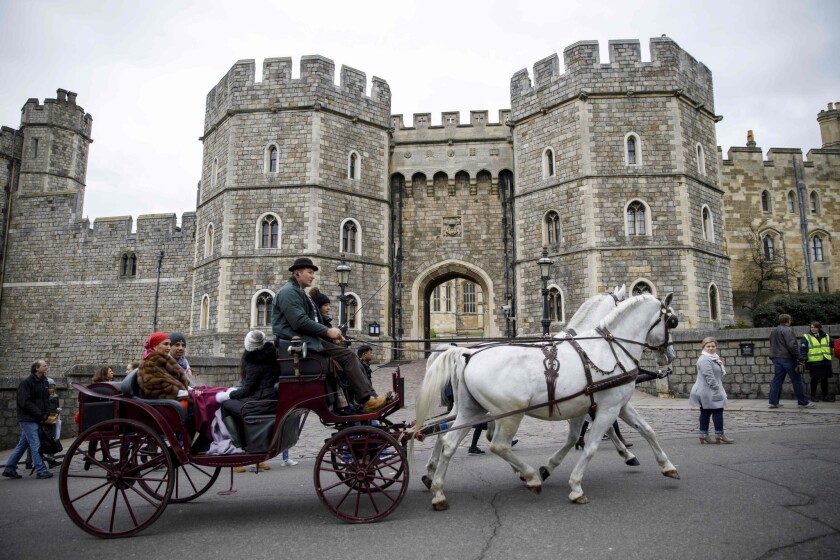 Windsor Castle, Open 9:30 a.m. to 5:15 p.m. through October. Last entry is 4 p.m. Admission, adults, about $25.30; children 17 and younger, about $14.75; seniors and students $23, children 5 and younger, free. The Castle is completely closed May 17-19 and June 17-18. It will have different closing times on May 24 and June 15 (last admission 3 p.m., closes at 4 p.m.)
St. George's Chapel, closes at 4:15 p.m (last entry 4 p.m.) Mondays-Saturdays in order to prepare for the evening church service at 5:15. The chapel is closed to visitors on Sundays, as services are held throughout the day. Worshipers are welcome to attend the services.
---
Get inspired to get away.
Explore California, the West and beyond with the weekly Escapes newsletter.
You may occasionally receive promotional content from the Los Angeles Times.