Don't think of San Antonio, Texas, as even close to cool? Prepare to be seduced, pardner
The Sternewirth bar in Hotel Emma invites Pearl District visitors to kick back.
(Ray Whitehouse / For The Times )
Hotel Emma occupies an old brew works in San Antonio, Texas.
(Ray Whitehouse / For The Times)
Mary Jo and Kevin Haselhorst relax beside the Hotel Emma pool.
(Ray Whitehouse / For The Times)
Pipes from the old Pearl Brewing Co. days lend a steampunk vibe to Hotel Emma.
(Ray Whitehouse / For The Times)
Hotel Emma is one of the most visible residents of San Antonio's vibrant Pearl District.
(Ray Whitehouse / For The Times)
One-of-a-kind seating at Sternewirth bar in Hotel Emma.
(Ray Whitehouse / For The Times)
An ofrenda for the Hotel Emma's namesake Emma Koehler.
(Ray Whitehouse / For The Times)
Leftover pipes make an architectural statement inside Hotel Emma, which occupies an old brew works.
(Ray Whitehouse / For The Times)
The Pearl houses a branch of Ten Thousand Villages, which sells items made by artisans around the world. This ring from Cambodia was made from bomb shells and bullet casings.
(Ray Whitehouse / For The Times)
Southerleigh Fine Food & Brewery serves "Texas coastal comfort food" and an adventurous selection of beer and ale.
(Ray Whitehouse / For The Times)
Adelante is part of the shopping scene in the Pearl District in San Antonio, Texas.
(Ray Whitehouse / For The Times)
Alexa Bertolini serves artisan ice cream at Lick Honest Ice Creams.
(Ray Whitehouse / For The Times)
Susan Wrayton, Trish Fearing, and Jo Avin (L-R) order ice cream at Lick Honest Ice Creams.
(Ray Whitehouse / For The Times)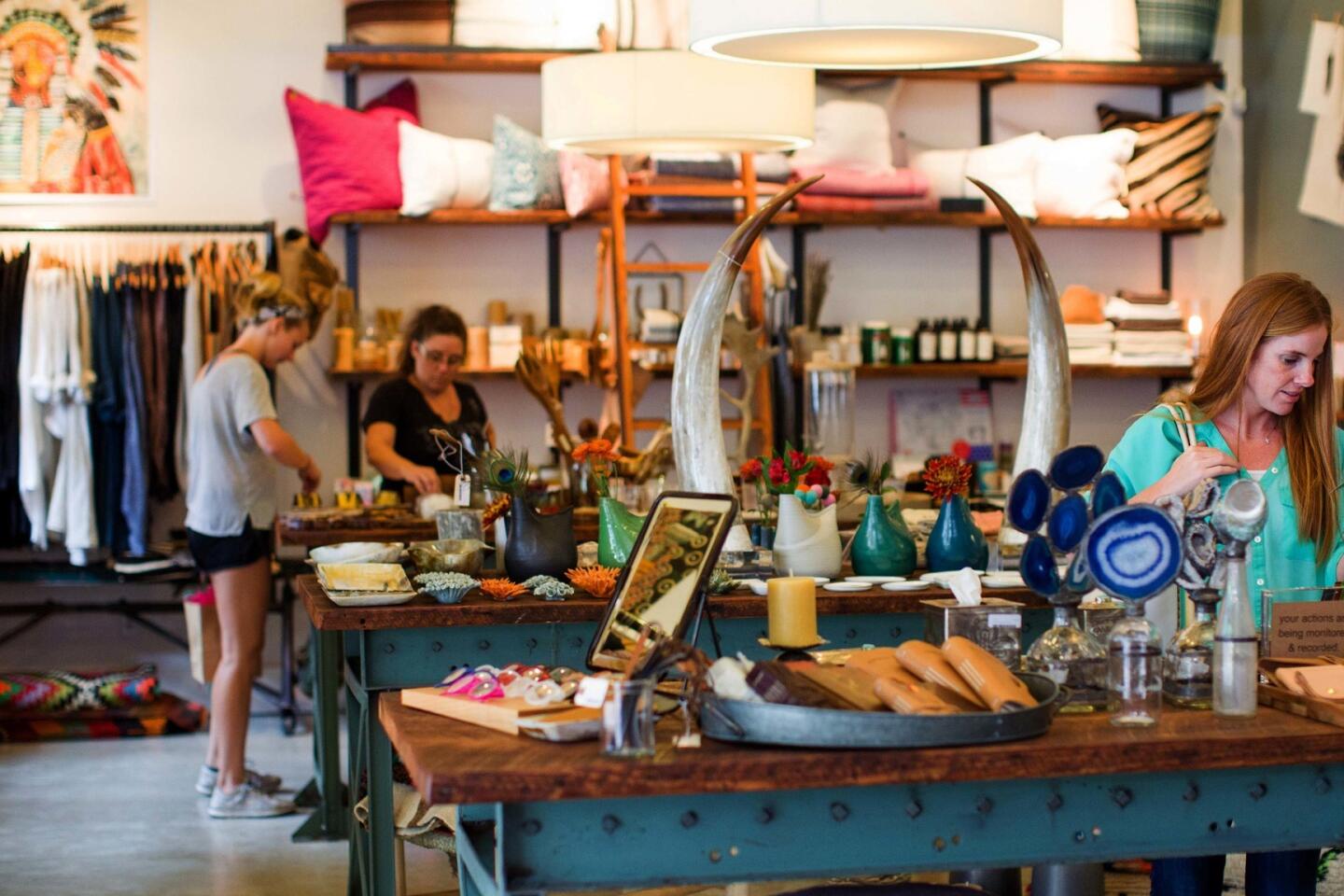 Shoppers peruse The Tiny Finch, an earthy home goods store.
(Ray Whitehouse / For The Times)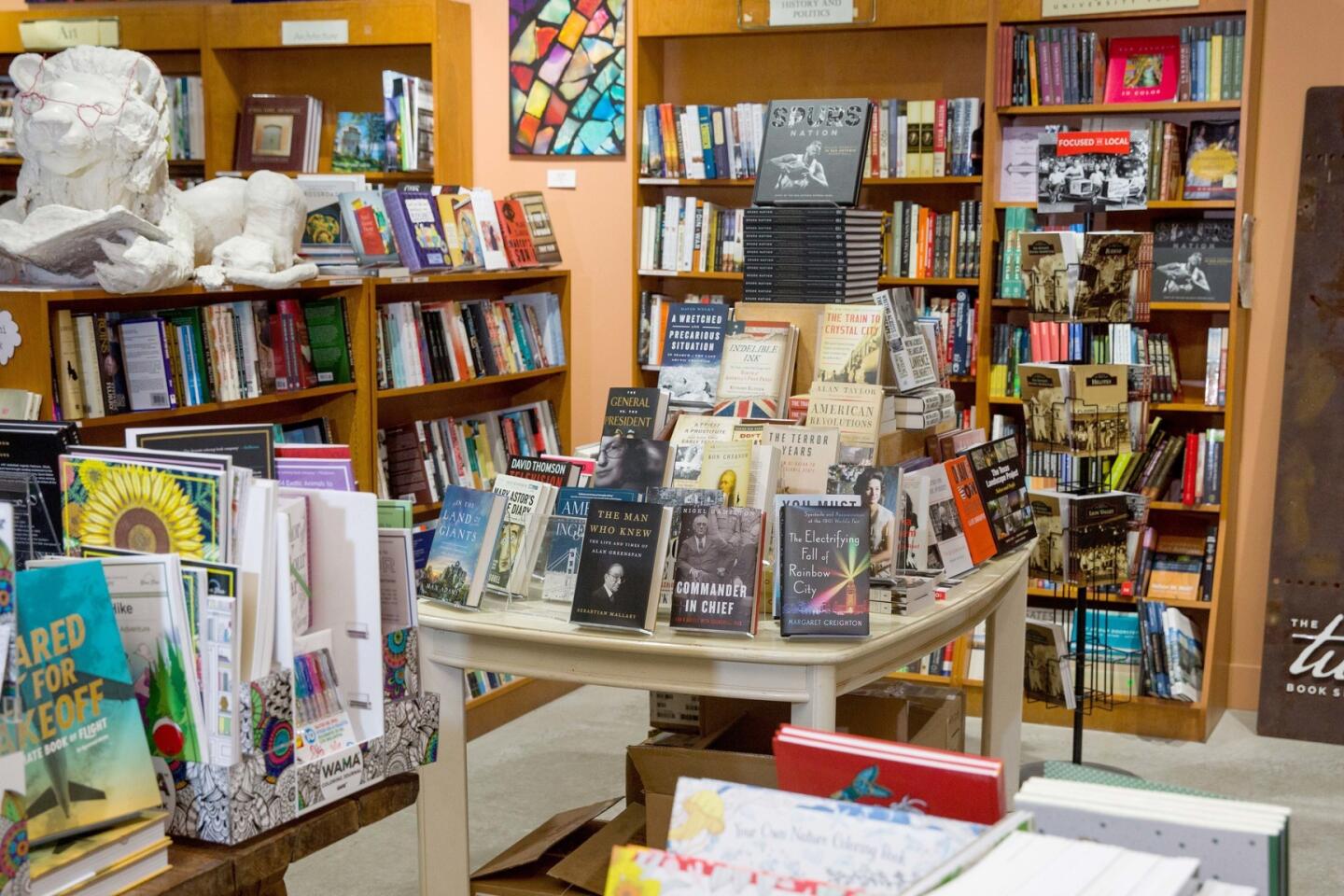 The Twig Book Shop is an independent book store located in the Pearl brewery.
(Ray Whitehouse / For The Times)
Reporting from SAN ANTONIO, Texas —
Hear the words "San Antonio" and you might flash on an image of the Alamo, the city's best known building. Or you might recall conversations with friends who have indulged in fajitas and margaritas along the River Walk.
You might even think, "Oh yeah, San Antonio, the homey, hospitable first cousin, once removed, to hotter, hipper Austin."
If you haven't been to San Antonio in a while — or ever — you probably aren't envisioning Frette linens, Champagne ketchup and coffee shops that rival high-end L.A. purveyors Intelligentsia or G&B.
A visit to the Pearl in San Antonio should change all that.
The small neighborhood, north of downtown, is a tribute to smart design and good taste.
I had heard about the Pearl, so when I made arrangements for a business meeting in Austin, I added a stop in San Antonio, about 80 miles southwest of the Texas capital.
The Pearl District is a highlight of the new San Antonio.
I arrived in August, which meant temperatures topped 100 degrees, but the heat couldn't stifle the charm offensive that designers, hoteliers and restaurateurs had conjured.
Alamo as a focal point
The Alamo, where Davy Crockett and 200 other rebels died in 1836 fighting the Mexican army for Texan sovereignty, is the focal point of the city's $13-billion-a-year tourism economy, attracting more than 1 million visitors a year.
It's also the center of a debate among local officials about how best to promote the city: Should they spend their marketing dollars on traditional attractions such as the Alamo or push the "new San Antonio," with its hot restaurants and shops in the hopes of attracting more national and international visitors?
The Pearl District is a highlight of the new San Antonio. It gets its name from a brewery that introduced Pearl Beer in the 1880s and eventually was rechristened the Pearl Brewing Co.
The facility was closed in 2001, paving the way for the eventual development of the 22-acre property into an adult playground.
The Hotel Emma, which was Pearl's brew house, opened last year and is at the center of it all with 146 rooms (including 11 suites) and a series of tempting shops and dining areas.
The lobby, complete with an early 20th century compressor that once pumped cool air into the brewery, is furnished with antiques, leather couches and big coffee tables, the better to hold morning pour-over coffee or drinks in the evening.
The hotel site includes new construction, but every guest room, every shop, indeed every space, looks all of a piece, thanks in large part to Roman & Williams, a design firm behind New York's buzz-worthy Viceroy, Ace and High Line hotels.
After I checked in, a bellman suggested I visit the hotel library to sample a complimentary margarita. Then, in the elevator, he launched into a short history lesson: The hotel, he said, was named in honor of Emma Koehler, who ran the brewery after her husband (and Pearl president), Otto, died in 1914.
She was, the hotel website says, an "ingenious CEO who kept the brewery going during Prohibition by converting operations to dry cleaning and auto repair, and making near beer, ice cream and soda."
I would soon learn that there was more to her story than good business sense.
Meanwhile, there was a hotel room to inspect.
The furnishings included a queen-size bed with a striking black headboard and bedposts; a Western-motif rug on the concrete floor; a small table with two chairs; and a handsome armoire that held a safe and a refrigerator stocked with local beer and "farmers market provisions."
The bathroom was equally noteworthy, with handmade Spanish porcelain tiles and Malin + Goetz toiletries.
Nothing, it seemed, was left to chance, including the offerings in the Sternewirth bar, where I waited for friends to arrive and sipped a cocktail called the Three Emmas (gin, Gran Classico, absinthe and apricot liqueur) and learned more about Emma Koehler.
Most of the narratives, official and otherwise, include the following "facts": When she was injured in an accident in 1910, her husband hired a young, attractive nurse named Emma to help at home. Otto and the younger Emma had an affair, and if that weren't confusing enough, he also took up with a friend of the younger Emma, also named … Emma.
On Nov. 12, 1914, the third Emma shot and killed Otto and later skipped town. (She eventually returned, was tried and found not guilty.)
After my friends arrived, we toasted the original Emma several times before walking across the street to NAO Latin Gastro Bar for dinner.
The Pearl is home to an impressive array of restaurants, no doubt attracted by the master planning and a campus of the Culinary Institute of America, one of country's most prominent hospitality and food-service schools.
Students at CIA San Antonio can specialize in Latin American food. Many of them end up working at NAO, just a few steps from the school.
At 9 p.m. on a Tuesday, only a few tables were taken, which contributed to the relaxed atmosphere. The wait staff was friendly and attentive; empty dishes disappeared and Pisco sours arrived as if by magic.
We ordered heirloom tomatoes, roasted seasonal vegetables and steak that was cooked to a bougainvillea pink, and consumed everything in sight.
Relaxation time
Everyone has to stop eating, if only briefly, and the grounds of the Hotel Emma, which abuts the San Antonio River, are a good place for solitude and contemplation of handsome landscaping.
The location is also a short walk from the Museum Reach section of the River Walk and the San Antonio Museum of Art. If you need wheels, the hotel offers loaner bikes to guests.
Many of the streets near the Emma are lined with restaurants known for their local and artisanal offerings. Bakery Lorraine's includes a savory bread pudding; barley, farro and toasted almond porridge; and bostock, something akin to French toast.
The menu at Cured, which emphasizes "hand-crafted" and cured foods, includes a charcuterie plate with an impressive list of choices: lamb terrine, goat merguez, apple jalapeño pork rillettes and smoked duck ham among them.
Southerleigh Fine Food & Brewery serves "Texas coastal comfort food" with an adventurous selection of beer and ale.
Consumers in need of a caffeine jolt can stop at Local Coffee, home to baristas who approach an order with something akin to reverence.
Boutiques in the Pearl sell an array of goods — hand-made bath salts, a crocodile iPad case, a side table topped with a slice of agate, vintage silver cuffs, a jalapeño griller shaped like the state of Texas and handmade guayaberas.
After a morning of shopping, I stopped asking, "Do I need it?" and instead asked, "How much will fit in my suitcase?"
Is that an indication that San Antonio is approaching Austin-like status? It looks as though the first cousin, once removed, is about to emerge as an original.
travel@latimes.com
If you go
THE BEST WAY TO SAN ANTONIO, TEXAS
From LAX, From LAX, Southwest, Delta, United and American offer both nonstop and connecting service (change of planes) to San Antonio. Restricted round-trip fares from $306, including taxes and fees.
WHERE TO STAY
Hotel Emma, 136 E Grayson St., San Antonio; (210) 448-8300, www.thehotelemma.com. Doubles from $325 a night. The Emma, with a steampunk-meets-luxury-vibe, once was a 19th century brewhouse.
WHERE TO EAT
Nao Latin Gastro Bar, 312 Pearl Parkway, San Antonio; (210) 554-6484, www.naorestaurant.com. The restaurant focuses on Latin cuisine with dishes such as empanadas, duck carnitas and charred octopus. Main dishes $18-$68.
Cured, No. 101 306 Pearl Parkway, San Antonio; (210) 314-3929, curedatpearl.com. Cured is all about regional ingredients and "lovingly hand-crafted cured foods," so don't be surprised if you find yourself ordering pork belly. Main dishes $24-$42.
Southerleigh Fine Food & Brewery, 136 E. Grayson St., No.120, San Antonio; (210) 455-5701, www.southerleigh.com. Modern Texas meets modern South aesthetic, with cracker-crusted Gulf redfish and cheddar, bacon and chive biscuits. Main dishes $20-$35.
TO LEARN MORE
Get our L.A. Goes Out newsletter, with the week's best events, to help you explore and experience our city.
You may occasionally receive promotional content from the Los Angeles Times.