Two scenic San Diego hikes, mountaintop and seaside
A hiker takes a leap at Potato Chip Rock in Mt. Woodson, northeast of San Diego.
(Christina House / Los Angeles Times)
A couple shares a kiss atop the distinctive Potato Chip Rock on the Mt. Woodson trail.
(Christina House / Los Angeles Times )
A trailhead for Potato Chip Rock starts along Lake Poway.
(Christina House / Los Angeles Times)
A hiker takes in the views near Mt. Woodson's Potato Chip Rock.
(Christina House / Los Angeles Times)
Hikers make their way along a Mt. Woodson trail.
(Christina House / Los Angeles Times)
Potato Chip Rock at Mt. Woodson near San Diego is a popular spot for photos.
(Christina House / Los Angeles Times)
A hiker takes in the view from Mt. Woodson's Potato Chip Rock.
(Christina House / Los Angeles Times)
The view from Potato Chip Rock in Mt. Woodson is a sight to behold.
(Christina House / Los Angeles Times)
A hiker rests on Potato Chip Rock while another gets a shot in.
(Christina House / Los Angeles Times)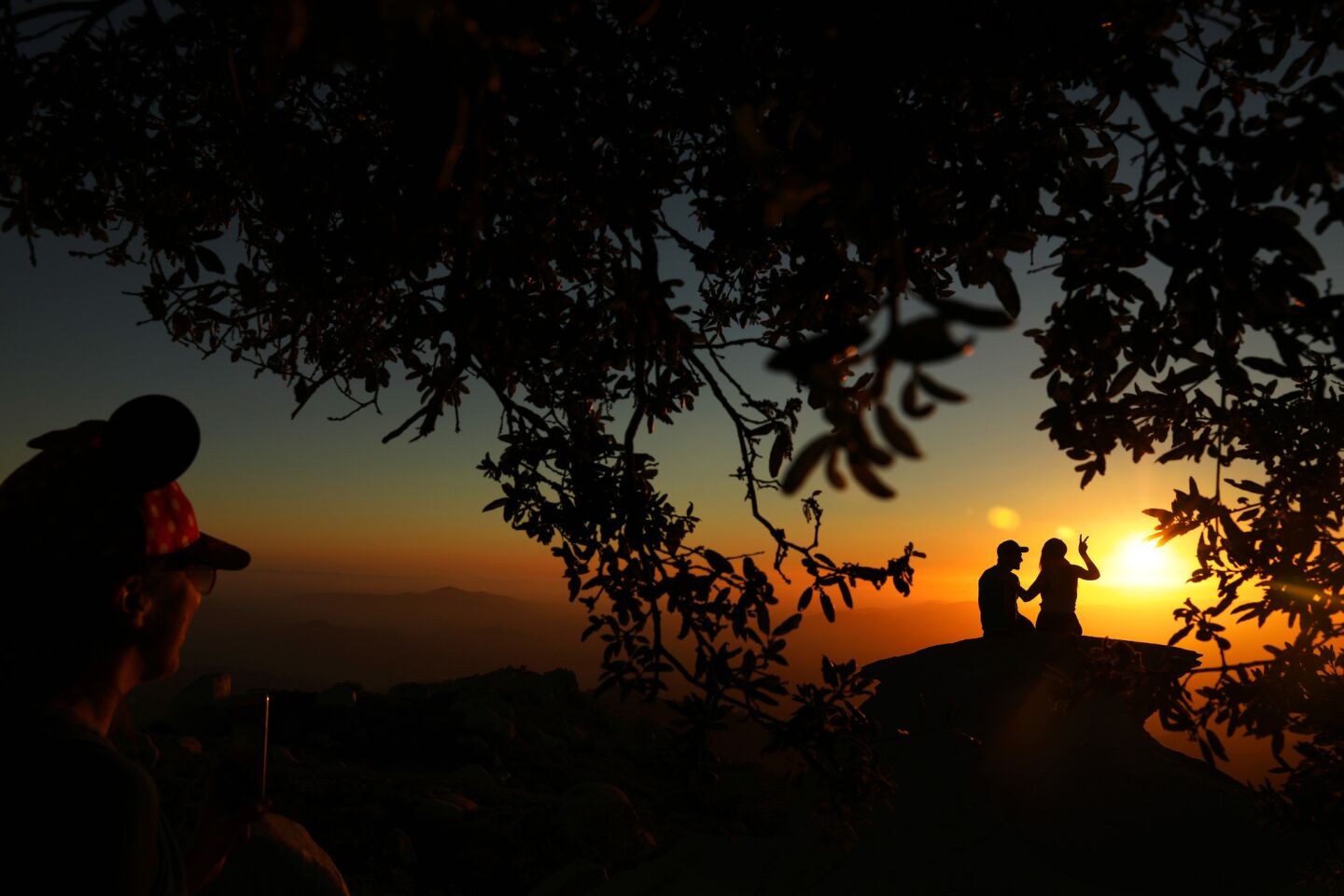 Hikers catch the sun at Mt. Woodson's Potato Chip Rock.
(Christina House / Los Angeles Times)
Reporting from San Diego —
During my four years in San Diego, I did some hiking. Like many residents and visitors, I preferred the coastal waters, where I went scuba diving and tried to learn to surf.
But the area has dozens of places to hike, from strolls on paved, handicap-accessible trails to some that are downright challenging.
Here are a couple I tried recently.
Mt. Woodson
Chris Carriker, the chef at the Rancho Bernardo Inn, is married to an avid hiker and recommended the route up Mt. Woodson, which is less than five miles from the resort.
Two-thirds of the way up the strenuous, 3.3-mile hike (one way) to the summit of Mt. Woodson, northeast of San Diego, the winding trail enters a series of steep switchbacks that left me dripping with sweat on a recent Wednesday morning.
I stopped in the shade of one of the few trees beside the trail, which snakes up the southwest shoulder of the 2,881-foot peak. I gulped some water and gazed west over Poway and Rancho Bernardo in the near distance to Encinitas and the blue Pacific beyond.
The trail weaved around huge, tan-colored boulders that littered the slopes. Local lore has it that those big, igneous granodiorite stones led the native peoples to call the peak the "Mountain of Moonlit Rocks." Settlers, alas, chose to name it after Confederate Army surgeon Marshall Clay Woodson, who in 1875 homesteaded near here.
Weathering has softened the giant rock forms over time, turning them into nearly round boulders that I fancifully thought might have been rolled uphill by giants or dropped from the sky by giant birds.
Photographer Callie Godiska accompanied me on our trek, the goal of which was to see Potato Chip Rock near the summit. (She's a trail runner and was, ahem, a bit farther up the route.)
Although many of the boulders on the peak looked as though they had been split in half by a giant cleaver, a big hunk of Potato Chip Rock is missing, leaving a thin flake hanging above a drop-off. Hence its name.
I took another swig from my water bottle and continued up the trail. The switchbacks soon ended, and I was pleasantly surprised when I reached a saddle several hundred feet below the summit. From there, the hiking was easier and I could see the communications towers on the top of the eak.
I figured I was close when I heard voices just up the trail where a gaggle of hikers — and several dogs — had stopped to inch out onto Potato Chip Rock to take pictures.
So many Mt. Woodson trekkers stop here that there can be quite a traffic jam on weekends, but Godiska and I continued up another fifth of a mile to the summit, which we had to ourselves.
To the northeast, we could see open fields and the town of Ramona. And to the southwest, more hills and range land.
We found a spot under a tall tree, rested a bit in the shade, toasted with our water bottles and soon were heading back down the path.
Info: The Potato Chip Rock/Mt. Woodson trailhead begins at Lake Poway, five miles east of Interstate 15 off Lake Poway Road. Be sure to take water and plan to leave early in the day for cooler temperatures. Parking is $10 for non-Poway residents on weekends and holidays.
Torrey Pines
The terrain was different but equally striking on another favorite hike. The trails in Torrey Pines State Natural Reserve, none more than about a mile long, were easier; the climb from the beach to the visitor center ascended just 300 feet.
The 1,750-acre reserve, a National Natural Landmark that's home to the rare Pinus torreyana, has about eight miles of trails, several of which lead through eroded canyons to dramatic overlooks.
To the south, we could see the pier jutting into the Pacific at the Scripps Institute of Oceanography in La Jolla. And to the north, Los Peñasquitos Lagoon and Del Mar.
The rocks at Torrey Pines are sedimentary — not the type of tough granite found on Mt. Woodson — and have eroded into sometimes jagged and bizarre shapes. In one spot above the beach, we found a series of formations that looked like huge morel mushrooms, which have a honeycombed surface.
We started with the Guy Fleming Trail, which took us under trees, beside sculpted sandstone formations and by blooming spring wildflowers. The path was named for a botanist and former district superintendent of state parks for Southern California who pushed for the bluffs' protection in the early 1900s. His modest, adobe-style home, built in the 1920s, remains in the preserve.
Farther north, we strolled the Parry Grove Trail and read signs that told us about the various flora and fauna in the reserve. We also walked to the Ellen Browning Scripps overlook, named for the philanthropist who donated land from 1908 to 1912 for what was then a city park, and to Broken Hill viewpoint, where the terrain was exceedingly broken.
The last hike, to the south, led down to a large, flat rock on the beach, where we walked under cliffs with layers of rock dating back millions of years when the coastline was a series of lagoons and barrier islands.
Info: Torrey Pines State Natural Reserve, 12600 N. Torrey Pines Road, La Jolla; (858) 755-2063. General day-use parking $10-$20.
For more ideas, see Jerry Schad's "50 Best Short Hikes-San Diego," Wilderness Press, $16.95. The San Diego Tourism Authority also has suggestions for hikes for all ages and levels of experience. The Rancho Bernardo Inn website has tips for 14 North County hikes.
Get our L.A. Goes Out newsletter, with the week's best events, to help you explore and experience our city.
You may occasionally receive promotional content from the Los Angeles Times.