Need to find a way to the airport with a child in a car seat? Oh, baby, be prepared to pay the price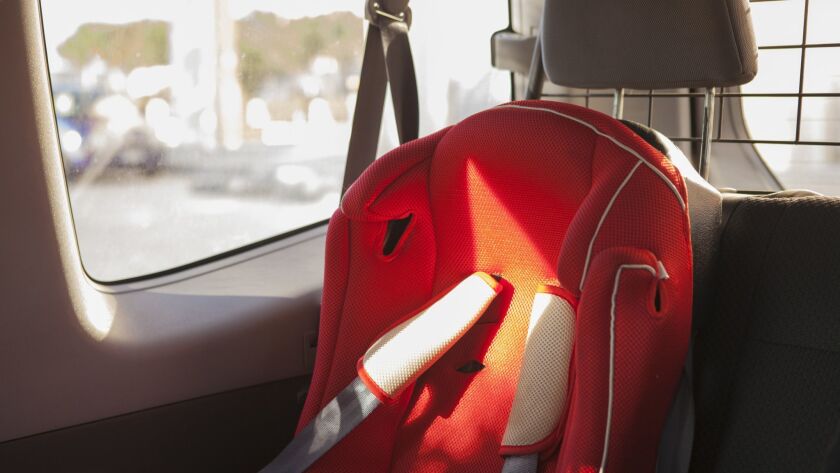 A reader writes that he and his family, including a 3-year-old, are bound for Vancouver, British Columbia, where the availability of public transportation means he won't need to rent a car. But how does he get his family to the airport legally and safely if he's not taking the car seat? He doesn't want to park his car-seat equipped car there because those costs add up, and he doesn't live close to the FlyAway bus. What's a family to do?
I consulted my built-in family panel — my oldest sister, mother of five, and my oldest niece, mother of four. Both had the same immediate response: Leave the kid at home.
Nice, ladies. You are out of the running yet again for Mother of the Year.
But Shelly Rivoli is still in contention. Rivoli is the founder and editor of TravelswithBaby.com and FamilyTravel411.com. Together we came up with solutions for this or any family or even those who are carrying something bulky and don't want it to be an albatross.
First, some background.
Uber Car Seat, which is an UberX vehicle equipped with a car seat, is available in New York, Philadelphia, Washington, D.C., and Orlando, Fla., where the service is to and from Orlando International Airport and several resorts, including Disney, Universal and SeaWorld.
Uber does not offer this service in L.A. Lyft currently offers car seat service only in New York.
SuperShuttle, PrimeTime Shuttle and the nine cab services you'll find on the City of Los Angeles Taxi Services website require you to bring your own car seat.
The FlyAway bus does not require car seats for children, but the letter writer says that's not convenient.
So among your options:
►Take a cab or shuttle and bring your own car seat, Rivoli said. "Just be ready to install and uninstall it yourself," she said in an email, noting that many airlines check car seats for free.
►If you decide not to lug the car seat on the plane, you have a couple of storage options. Because of security concerns, storage facilities are largely off-site.
LAX 24/7 Locker Rentals, 8917 S. Sepulveda Blvd., Suite B, offers medium, large, tall and closet-size lockers, but you will need to know the dimensions of your car seat to ensure it will fit. (See its size charts) This service begins at $19 a day (the per-day cost decreases the more days you rent). You will need to drop your family at the airport, and continue the two or so miles to the facility, then return to the airport.
LAX Luggage Storage, 8622 Bellanca Ave., solves the second half of that dilemma: It will pick up and return the item to you. A specialty item such as a car seat will cost you about $127 for a week of storage, pickup, return and tax.
The daily rates for both places is more than the $12 a day you'll pay to park in LAX's Lot C.
►Ask a friend to drive you. If it's to LAX, it has to be a really good friend or someone who owes you a big, big favor, or ask the friend to drive you to the FlyAway bus drop. Or, Rivoli suggested, "Pay the college student on your block" (or "freelancer friend who's in a lull") to drive you to the airport in your car.
►Another option, albeit an expensive one: Rivoli suggested hiring a private car service that is car-seat friendly. On her list: L.A. Private Car Service, which will provide an SUV plus car seat for an extra $16 for a total of about $150 from Mid-Wilshire, one way. SafeRide Transport L.A. Limo Service will send a car for up to three passengers for about $92, also from Mid-Wilshire (car or booster seat is $6 of that fee).
In the end, your most economical choices may be the friend/hired hand or parking in Lot C, which are not without hassles. If none of those works, perhaps the right choice is a variation on the sister/niece advice above (to avoid a "Home Alone" debacle) that involves Granny and Gramps or Auntie and Uncle as caregivers for your away time.
Whatever you choose, you'll owe someone — your credit card company, your mother or father, your in-laws or your friend.
When weighing these, don't forget to factor in the psychic pain of being forever in someone's debt, although in my experience, moms are much more forgiving than, say, MasterCard.
Have a travel dilemma or question? Write to travel@latimes.com. We regret we cannot answer every inquiry.
---
Get inspired to get away.
Explore California, the West and beyond with the weekly Escapes newsletter.
You may occasionally receive promotional content from the Los Angeles Times.