What you need to know about your driver's license and your car rental before you hit the road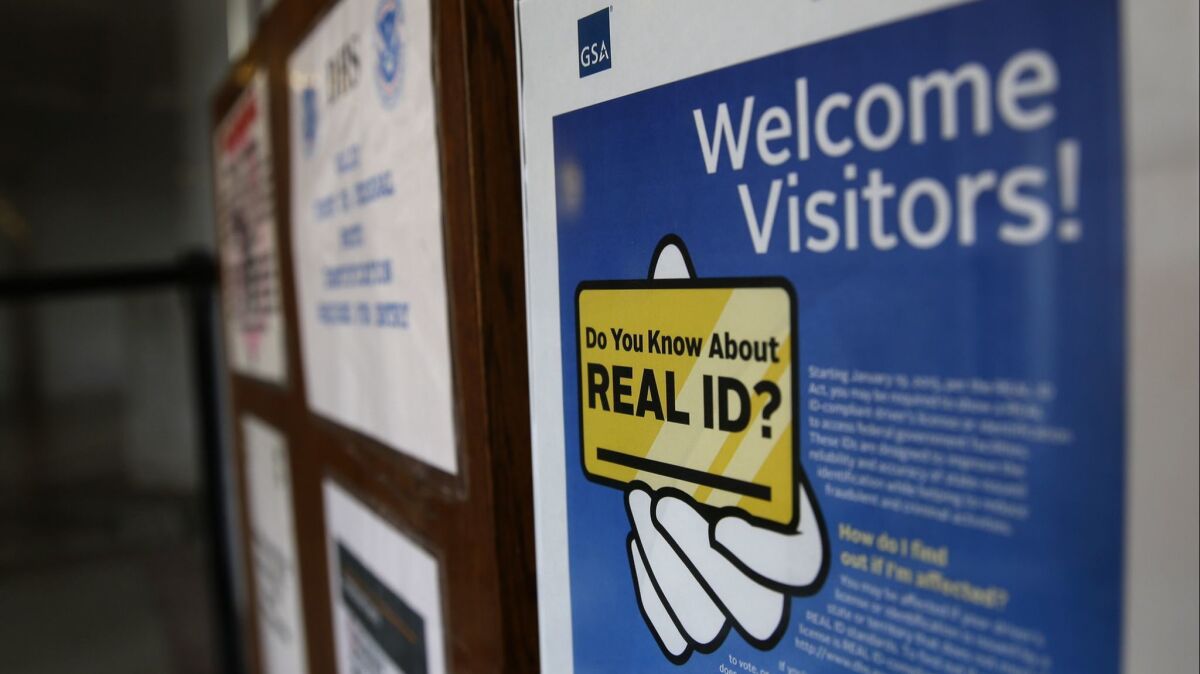 You and nearly 37 million of your closest friends are getting in the car and driving to some well-deserved respite on Memorial Day weekend, AAA told us. You can see on Page L10 five things you never want to do on a road trip, but read here for updates on stuff you may want to do (Real ID driver's licenses) and you must do (renting a car to get out of town).
Real ID, an update
By now, you're aware that you'll need a federally compliant form of identification to board a domestic flight starting Oct. 1, 2020. For domestic flights, you can still use your California driver's license until that date.
After that, you need to carry a different form of ID or have a federally compliant driver's license, which California began issuing Jan. 22.
Most important: You do not need to have federally compliant license to continue to drive legally. Second most important: You may want to have one if you want to get on an airplane without carrying another form of ID.
How long does it take to get the license? Since the license became available, about 466,000 have been issued as of May 4, and the DMV said you'll get yours in four to six weeks. I got mine in 10 business days; one reader reported he got his in a week.
Do I need a new photo? Alas, yes. I was fond of my old one, and so was another reader who had the same question. But no dice, DMV said.
Do I need additional identification to get the license? Yes. Here's the DMV checklist of what you'll need.
Do I have to go in person? Yes. Make an appointment.
Do these licenses look different? Slightly. If you have a Real ID, you'll have a bear and a star in the upper-right-hand corner. If you don't, it will say "Federal Limits Apply."
Why do I have to do this? Added security. And you don't have to do this. You can still drive with a "Federal Limits Apply" license, but you won't be able to use it to get on a domestic flight (here's what you can use) or to enter some federal facilities such as military bases.
My license is up for renewal before Oct. 1, 2020. Should I get a Real ID before then? You can, but it makes more sense to wait until its actual renewal date, assuming it will be returned in time before you get on a plane.
See more road trip ideas and tips »
Renting a car
Is it my imagination or is renting a car more complicated than it used to be? Besides the high pressure to buy the rental firm's insurance (don't, unless you don't carry auto insurance that will cover you), you have more choices about when or how to pay. (You'll pay less if you pay in advance.)
Rental car companies are not as sophisticated about yield management as the airlines. In other words, they're not quite as good at pinpointing demand and then raising the price, said Jonathan Weinberg, founder and chief executive of AutoSlash, which he estimates has saved renters $30 million since its founding in 2010.
Many travelers know that one way to save is to Google "coupon or promo code" and the name of the car rental company.
Or you could let AutoSlash do it for you. If the price drops, AutoSlash will help you get the best rate.
Other tips from Weinberg, whether you're renting for a road trip or just to get around at your destination:
Fear and uncertainty are the car rental counter agent's friend. If you're not 100% sure your personal car insurance will cover you, you're apt to pay for something you don't need.
Do two things: Call your auto insurance agent and ask, and check with your credit card company to see whether it offers primary or secondary coverage. Make sure you book with that card if you're relying on credit card services.
If you have an additional driver, make sure you add him or her when you book the car. In California, you don't pay for that extra driver; in other states, you may. If there is a charge and that other person will be driving, this is the time to fork over the extra money just to be safe.
Ask whether the car can be driven out of state. Some car agencies do not allow this. Why? This surprised me, but some smaller organizations don't have the network that allows you to get help, for instance, in case the car breaks down outside the area where you rent. Be sure.
Likewise, ask about driving to Canada or Mexico. If you don't ask in advance, you could find yourself in a world of trouble.
Know that some car companies won't rent to drivers younger than 25 or add a big surcharge for them. Again, ask in advance. The prohibition/additional costs stem from accident rates among younger drivers. The Centers for Disease Control and Prevention notes that those ages 16 to 19 "are nearly three times more likely than drivers aged 20 and older to be in a fatal crash."
What's become clear is that I've been asking too few questions and probably the wrong ones (although "What time do you close?" is important). Knowledge is power, especially when it comes to keeping you in the driver's seat.
See a list of rental car agencies »
Get our L.A. Goes Out newsletter, with the week's best events, to help you explore and experience our city.
You may occasionally receive promotional content from the Los Angeles Times.