Beyond Walker Canyon: 4 places to see the super bloom and wildflowers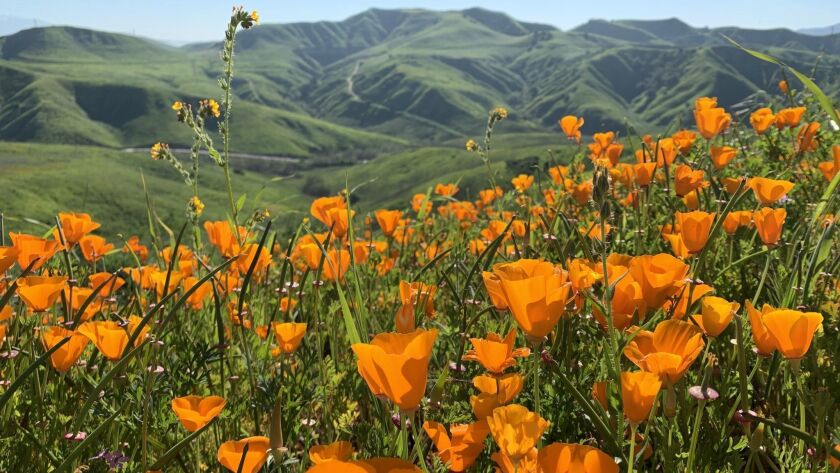 Walker Canyon, whose super bloom attracted hordes to the Lake Elsinore field, was shut down temporarily Sunday and reopened Monday with very restricted access.
The good news for flower fans: The bloom is unfolding in Chino Hills State Park, Griffith Park and Carrizo Plain National Monument. And don't despair if you can't get away just now: The bloom will last into June at the higher elevations, VisitCalifornia reports in its guide to seeing the bloom.
Chino Hills State Park
You can see by the photo above that golden poppies are putting on a show at Chino Hills State Park at the foot of the Santa Ana Mountains. They are carpeting the hills and making for those picture-perfect flower photos. The park's trail suffered damage in recent rains, but all trails reopened Friday.
On its Facebook page, the park notes that gates will be closed when capacity is reached.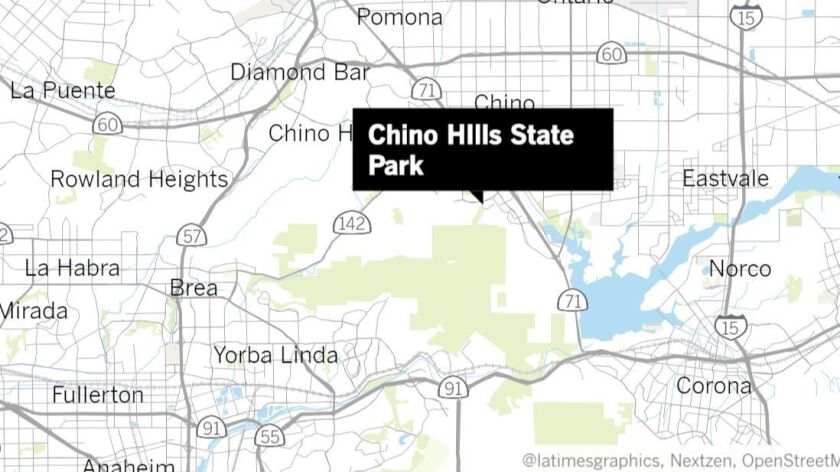 Visitors can take a free guided wildflower hike at 10 a.m. and 2 p.m. Sunday, March 24 and 31.
The two-mile hikes are limited to 25 people and filled on a first come, first served basis.
Meet at the Rolling M. Ranch Campfire Center at 4721 Sapphire Road in Chino Hills to sign up and go.
Info: Chino Hills State Park
Carrizo Plain National Monument
Hillside daisies in Carrizo and the aptly named California goldfields are blanketing the hills at the northeastern end of the park, which is about 160 miles northeast of downtown Los Angeles.
The T-intersection of California 58 and Seven Mile Road just outside the park boundary has the best show right now, with the vivid yellow wildflowers covering the northern sides of the hills, leaving the south sides darker for contrast and drama best appreciated from the west end of Seven Mile Road.
Patches of goldfields and hillside daisies as well as rancher's fireweed (small yellow flowers curving down from the top of dark green stalks) dot the plain, but about 22 miles south of the turnoff from California 58 along Soda Lake Road, the golden carpet suddenly covers much of the valley floor.
The Goodwin Education Center has lovely views of the yellow flowers on the plain. Bonus: You may see western meadowlarks in yellow breeding plumage that matches the flowers.
Where to find the super blooms in Southern California »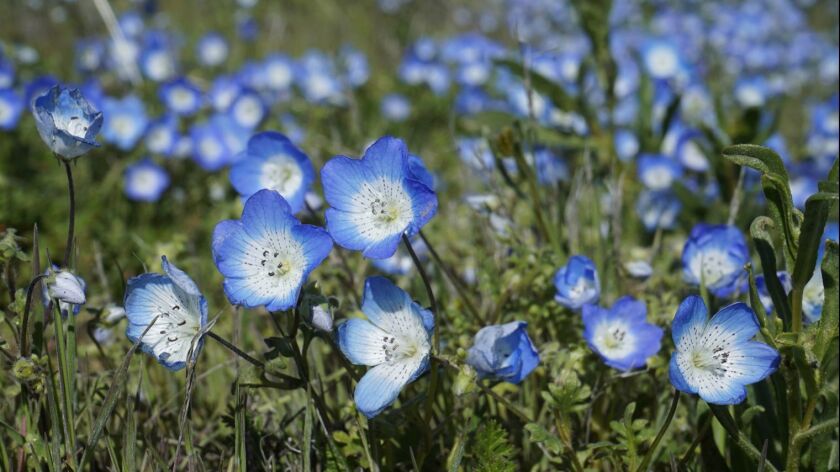 If baby blue is your color, you're also in luck. Baby blue eyes cover the eastern face of Overlook Hill. The delicate blue flowers are also in occasional patches along California 58 west of the junction with Salt Lake Road, but travel 26 scenic miles west on 58 to Shell Creek Road and turn right (north) to see a couple of miles of these beauties growing in the valleys and around oak trees.
It's unusual to see such a profusion of baby blue eyes, locals say.
There is more to come, so if you miss it this weekend, you're in luck: Poppies and lupine have not yet bloomed on Carrizo Plain. Locals expect many more wildflowers in the next three weeks.
Info: Carrizo Plain National Monument, 17495 Soda Lake Road, California Valley. Information: (805) 475-2035. Visitor center is open 9 a.m.-4 p.m. Thursdays through Sundays, December through May, (805) 475-2035.
Griffith Park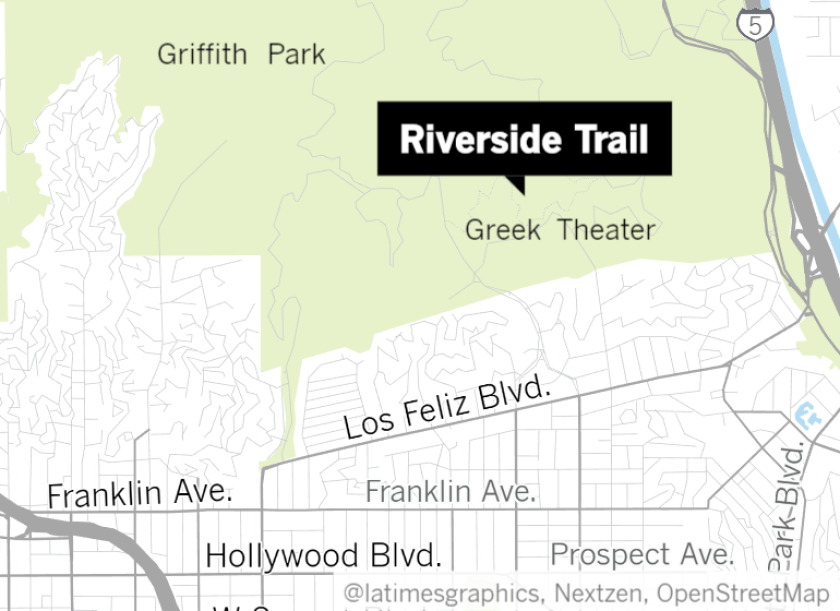 Instead of driving an hour or more to see vast displays, including the still-jammed Walker Canyon off Interstate 15, head to Griffith Park, park at the Greek Theater (Lot G), cross the street and start up the clearly marked Riverside Trail.
Ahead waits scattered patches of poppies and various other yellow, orange, blue and purple blooms, surrounded by slopes so green you may be tempted to start singing Irish folk songs.
To reach those blooms, turn right from the Riverside Trail to the Hogback Trail and continue toward Dante's View (1 mile) and the Mt. Hollywood summit (1.2 miles).
Along the way, keep an eye out for offshoot trails (a little steeper, with some scrambling) along nearby ridgelines.
Several spots yielded bright blooms during a recent hike, including one ridge above Griffith Observatory with a commanding view of the downtown skyline, another spot along the Hogback Trail after Pump House 114 and before the bridge, and a lower ridge just above Roosevelt Golf Course (where the orange and yellow blooms were not poppies, but were easily reached and all around).
The hike takes 90 minutes but could be less if you do not pause for pictures.
Remember, don't tread on the flowers but step on dirt and grass. The edges of the trails show that some people are stepping out among the flowers to get pictures—a move that will likely kill flowers and might break your neck, because some of these slopes are steep.
Santa Catalina Island
Because cars are restricted on Catalina, the best way to see flowers close up is on foot.
►From Two Harbors, follow the dirt road that leads west to Cherry Cove and Emerald Cove for wide-angle ocean views.
You'll see plenty of yellow fiddlenecks and golden poppies along the road as well as bright red Indian paintbrush, lupine in colors that range from deep purple to mulberry, and red maids (pink).
For an easy, flat walk, leave the dock at Two Harbors and take the road to Catalina Harbor, affectionately known as Cat Harbor, where bush sunflowers and shaggy coreopsis (both bright yellow) climb the hillsides. Look hard amid the bushes to find the occasional Catalina mariposa lily, a slender stemmed plant topped off with a creamy white cup.
The wildflower display is likely to get better as the season continues, helped along by abundant and late rains that filled a key reservoir on the island and prompted mandatory conservation rules to be lifted in February.
Visitors can camp at Two Harbors, stay at the Banning House Lodge or backpack/bike ride along the Trans-Catalina Trail and camp at various sites as you go. Also, Eco Tours are offered by the Catalina Island Conservancy starting at $79 for a two-hour ride and $119 for a three-hour ride.
Info: Catalina Island Conservancy
---
Get inspired to get away.
Explore California, the West and beyond with the weekly Escapes newsletter.
You may occasionally receive promotional content from the Los Angeles Times.