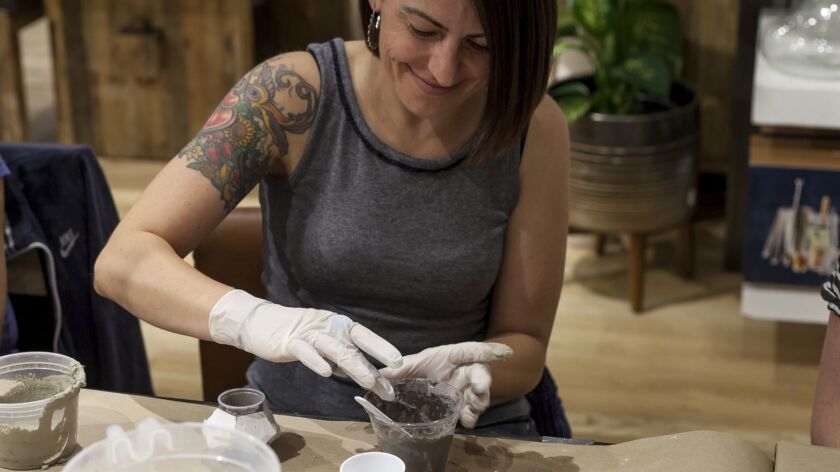 Whether you're painting with watercolors, folding origami or kneading clay, working with your hands has big benefits. If your hands work best when instruction is involved, an arts-and-crafts class is the place to be. Here are five studios in the West that will coax your creative side and send you off with a homemade souvenir.
Arizona
At downtown Phoenix's Circle 6 Studios, glassblowing novices can create delicate pieces they'd be proud to gift or display at home. Each two- to three-hour class focuses on a set object — personal paperweights, decorative bowls, glass bouquets — but you choose your colors. Now through November, make a vibrant glass pumpkin, or if Pilsener is more your speed, try a happy hour drinking-glass class.
Info: From $70. Circle 6 Studios, 2040 E. Thomas Road, Phoenix; (602) 454-9342.
California
Improve your drawing skills in a judgment-free zone at A Work of Heart in San Jose. A relaxing class for beginners: introduction to the Zentangle Method, where you draw structured patterns (or "tangles") on paper tiles to assemble into mosaics.
Check out the calendar for other classes, such as book binding, collage and calligraphy.
Info: From $45. A Work of Heart, 176 Race St., San Jose; (669) 292-5001.
Oregon
If your family can't agree on one craft to make, you could each walk into Live Laugh Love Art and try something different. The Tigard studio, about 11 miles southwest of Portland, offers six classes, from glass fusing and wood-sign painting to the laidback drinking-while-painting course.
Not the planning type? You can walk in any time during opening hours to paint a spontaneous masterpiece on pottery or a canvas. Another location is in Sunriver, about 17 miles southwest of Bend.
Info: From $25. Live Laugh Love Art, 12230 S.W. Main St., Tigard; (503) 244-7811.
Washington
No matter your skill level or taste in jewelry, you can make an accessory worth wearing at Beadworld in Seattle. Use Indian chevron beads, African goat bone pendants, vintage charms and more to make customized hoop earrings, wrap bracelets, tassel necklaces and other crafty bling.
During class, take a break to shop for finished jewelry and materials to work with at home.
Info: From $30. Beadworld, 9524 Roosevelt Way N.E., Seattle; (206) 523-0530.
Utah
Craft Lake City is a Salt Lake City nonprofit that promotes workshops by local artisans. Check the website for a variety of upcoming crafts classes, which take place about once a week.
You'll be able to dabble in paper sculptures, macramé wall hangings and floral arrangement design, all while getting to know an artist from the community.
Info: From $35. Craft Lake City, throughout Salt Lake City; (801) 906-8521.
ALSO
Island Packers marks 50 years with discounts on Channel Islands boat tours
Where to stay in Big Sur on a budget
---