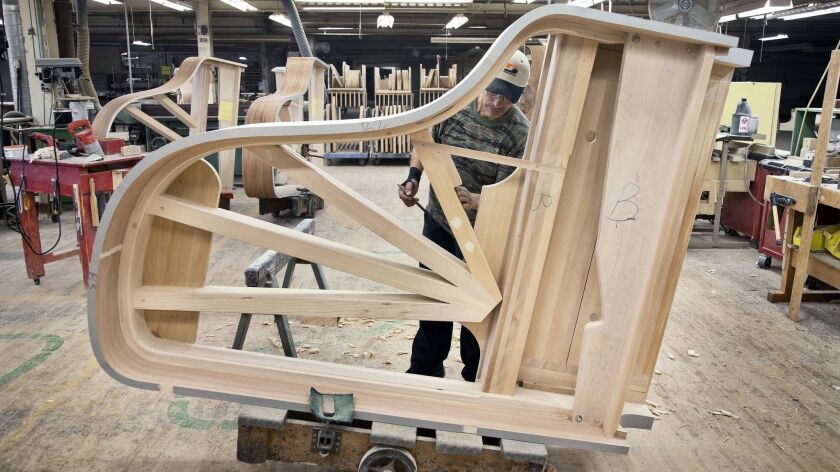 Take a fun and informative factory tour to see how made-in-the-USA goods, from jelly beans to kaleidoscopes, come to life. Here are five worth a visit.
California
The self-guided Jelly Belly factory tour in Fairfield, east of Napa, involves testing your knowledge of jelly beans, such as a computer game that asks you to swipe away misshapen candy. There also are 10 smelling stations that challenge you to identify Jelly Belly flavors based on scent.
You can try free samples, watch informative videos and peer down at the factory through a window along the path. Tours are offered daily, but go on a weekday to see the workers and machines in action.
For a more personal experience, sign up for a guided small-group tour ($39 split among up to six people) or the Jelly Belly University tour ($59 per person), where you'll get to don a lab coat and hair net, and step inside the factory. Self-guided tours are free and available from 9:15 a.m. to 4 p.m. daily.
Info: Jelly Belly Visitor Center, bit.ly/jellybellytour; (800) 953-5592
Indiana
You can concoct your own custom fragrance at the Annie Oakley Perfumery factory tour in Ligonier.
The sensory experience includes a history of the perfumery (said to be the one of the last in the U.S.), a visit to the bench lab to learn how fragrances are created and blended, and a walk through the factory to see them being bottled — with plenty of new product samples along the way.
Your ticket gets you $5 off your purchase at the gift shop, so stop by on the way out for a perfume to take home. Tours cost $5 and are offered 10 a.m. and 2 p.m. Tuesdays, Wednesdays and Fridays.
Info: Annie Oakley Perfumery, bit.ly/annieoakleytour; (800) 652-6643
Iowa
For 20 years, Leonard Olson has been making kaleidoscopes in his 25-by-50-foot shop, which he calls The Kaleidoscope Factory, in Pocahontas, about 100 miles east of Sioux City. Stop by to learn how he crafts his wooden creations and get a quick math and science lesson about how kaleidoscopes work.
There are no formal tours; just call Olson to tell him when you'd like to look around and how many people you're bringing. Tours are free and by appointment between 10 a.m. and 3 p.m. Tuesdays through Saturdays.
Info: The Kaleidoscope Factory, kaleidoscopefactory.com; (515) 408-1269
New York
You'll smell sawdust and piano polish in the air when you tour the Steinway & Sons factory, where craftspeople turn raw wood into fully tuned fine pianos. The two-hour tour provides an up-close view of the manufacturing process from start to finish, and a chance to play a few pianos at the end.
Tours cost $20 and must be booked in advance. They're offered at 9:30 a.m. Tuesdays and Thursdays from September through June.
If you're interested in buying a new piano, you can sign up for the small-group VIP tour ($125), where you'll get to test-drive brand-new concert Steinways.
Info: Steinway & Sons, bit.ly/steinwaytour; (718) 721-2600
Washington
Aviation aficionados will feel right at home north of Seattle at the Boeing factory tour, which gives guests a look at 747, 767, 777 and 787 Dreamliner planes in the works before they take flight.
You'll take a 90-minute walk through the assembly plant and learn facts from a Boeing guide about the company and its plane production. Keep in mind when booking a tour that most action happens Mondays through Fridays.
The tour costs $25 and is offered on the hour 9 a.m. to 3 p.m. daily.
Info: Boeing Factory Tour, bit.ly/boeingtours; (800) 464-1476
---